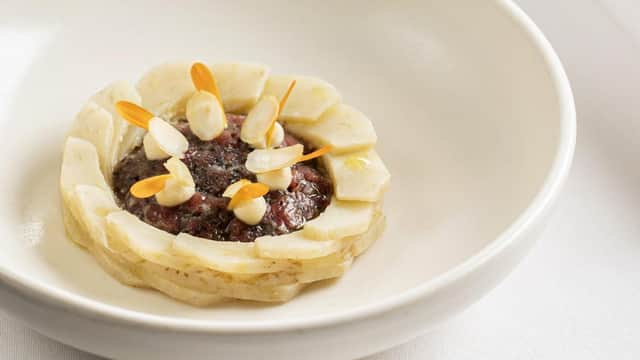 Attention to detail at Adam Byatt's Trinity. Credit: National Restaurant Awards/Trinity
From unique eateries to lively wine bars, South London has some amazing places listed at the National Restaurant Awards 2022.
Both Trinity in Clapham, and Chez Bruce in Wandsworth were highly rated by the judges.
Central London boasts a lot of the exceptional restaurants listed in the top 100.
The Ledbury, in West London headlined an array of other edgy eateries listed in the top 100.
If you're heading to East London, try Brat which is this year's highest ranked London restaurant.
Then there's South London, with its award-winning eateries and Michelin starred chefs - the area has a lot to offer any food-lover. Whether it's French and Mediterranean cuisine, or African taste infusions, there is so much variety.
So, if you're looking for dinner in south London, then look no further.
25. Trinity
Address: 4 The Polygon, Clapham, SW4 0JG
Trinity in Clapham Old Town is Adam Byatt's flagship restaurant. It has remained a player in London's fine dining scene since it launched in 2006.
The judges said: "Byatt and his brigade cook dishes that strike an equitable balance between the classic and the contemporary."
As well as the lunch and dinner menus, there is a classics menu which serves some of the dishes the restaurant has become renowned for.
There's an extravagant wine list, beautifully put together with focus on Bordeaux and Burgundy, which perfectly complements Byatt's richly flavoured cooking.
33. Chez Bruce
Address: 2 Bellevue Road, Wandsworth Common, SW18 7EG
The restaurant overlooks Wandsworth Common, which was the site of Harvey's, where Marco Pierre White made his name.
The current custodians are owner Bruce Poole and head chef Matt Christmas, who have worked together for over a decade.
A dish from Chez Bruce. (Credit: Chez Bruce/National Restaurant Awards)
The judges said: "Together Poole and Christmas have put together a menu of modern food, based loosely on classical and regional French and Mediterranean cuisine.
"Technique is all here, with the restaurant excelling in homemade charcuterie made, slow-cooked braises and offal as well as bread making and classical desserts."
According to the National Restaurant Awards, Chez Bruce's front-of-house game is "as flawless as the food and there are few restaurants that feel as professionally run as this one".
34. Restaurant Story
Address: 199 Tooley St, London, SE1 2JX
Restaurant Story is Tom Sellers flagship restaurant. It won a Michelin star just five months after opening and then went on to win its second in 2021.
The restaurant serves a multi-course menu of classic dishes, alongside more seasonally-inspired ones.
The judges said: "You can expect super-high-quality ingredients and liberal helpings of caviar and foie gras to rub shoulders with less opulent, but no less delicious items, such as chicken fat and beef extract."
After almost a decade, Restaurant Story remains one of the capital's most ambitious restaurants and one that has managed to stay fresh and relevant.
38. 40 Maltby Street
Address: 40 Maltby Street, Bermondsey, SE1 3PA
Despite its unassuming location beneath railway arches in urban South London, this is definitely no ordinary wine bar.
40 Maltby Street is situated within the warehouse of Gergovie Wines and is described as being a wine bar with a kitchen.
40 Maltby Street is ranked one of the best restaurants in South London. Credit: 40 Maltby Street/National Restaurant Awards
The judges said: "Modest in appearance, with a small open-plan kitchen, exposed brick walls and long, high tables, the restaurant is trendy, quirky and quintessentially London."
Head chef, Steve Williams revels in creating small plates that use seasonal ingredients in imaginative ways.
For the true 40 Maltby Street experience, it's best to go in a small group and then order everything.
64. Kudu
Address: 119 Queen's Road, Peckham, London, SE15 2EZ
Kudu in Peckham is Amy Corbin and Patrick Williams' flagship which launched in early 2018.
It is not a South African restaurant, but rather it follows in the spirit of South African cooking, borrowing flavours and techniques to take the expected and give it a little tweak.
The judges said: "The restaurant's hero dish, its Kudu bread, is one of the best examples of Kudu's approach. It is served to share with either Cape Malay butter and bacon, or melted seafood butter and baby shrimp (or both).
"The bread is a nod to the food of the South African vineyard workers who would use the grape must, as a bread starter. Kudu's is a less sweet version, however, spiked with cumin."
Corbin and Williams also launched a cocktail bar, Smokey Kudu in early 2020, and expanded deeper into Peckham with the opening of Kudu Grill in 2021.
86. Trivet
Address: 36 Snowsfields, London, SE1 3SU
Hidden away on a quiet street, just moments from London Bridge station, Trivet is the debut solo project from The Fat Duck alumni Isa Bal and Jonny Lake.
First opened in 2018, the restaurant takes its name from the iron tripods that were once placed over a fire for a cooking pot or kettle to stand on.
Jonny Lake's style is creative and precise, but also stripped back and unfussy.
The menu at Trivet changes regularly, but there are a few constant dishes including chicken with a vinegar sauce; and Hokkaido potato, a stunning baked potato mille-feuille with sake and white chocolate mousse.
The judge said: "Trivet's dining room is classy and muted with an open kitchen and a bar area, in which offers a menu of lighter bites designed to be paired with the restaurant's extensive by-the-glass selection."
93. Chishuru
Address: 9 Market Row, Coldharbour Lane, London, SW9 8LB
Chishuru in Brixton Village, neatly explores contemporary West African food, with a foundation of age-old recipes and techniques.
Chef Adejoké 'Joké' Bakare's originally established Chishuru as a supper club, intent on highlighting the lesser-known dishes in West African cuisine.
Chishuru has an array of contemporary West African dishes to try. Credit: National Restaurant Awards/Chishuru
The restaurant was created off the back of Joké winning the amateur category in 2019's Brixton Kitchen competition.
Joké is inspired by the dishes of her homeland and utilises modern cooking techniques 'to preserve the heart of her region's food'.
The judge said: "The restaurant's set menu changes regularly and features an array of contemporary West African dishes inspired by Joké's heritage, combining British and West African produce, much of it sourced from Brixton's bustling Market Row."