The best bars on the planet are being announced today, and all of the UK venues listed are located in London.
However before the awards, the World's 50 Best Bars 2021 has revealed those ranked from 100 to 51 - with five bars in London making the cut.
This means the UK had the most bars in this section from Europe.
The annual list is created by a voting panel comprising of more than 600 independent authorities across the globe in the drinks industry.
This includes renowned bartenders, educators, consultants, drinks writers and cocktail specialists.
Read on to find out which London bars are named in the top 100.
55. Lyaness
Sea Containers London, 20 Upper Ground, South Bank, London SE1 9PD
Lyaness, the South Bank hotel bar metres from the Thames run by Ryan Chetiyawardana, was ranked number 29 last year.
The World's 50 Best Bars 2021 said: "A light blue interior and green marble bar, things can be as simple or complex as you want them to be.
"The drinks are predicated on protagonist ingredients: purple pineapple, ultra raspberry, infinite banana, peach emoji, may sound straightforward, but a whole lot of R&D has gone into extracting the weird from the otherwise ordinary.
"Then there is vegan honey (an in-house reverse process in lieu of the bees), tea-mooth where tea meets vermouth, while golden levain is an exploration of yeast, using a sour dough starter."
57. Swift
12 Old Compton Street, Soho, London W1D 4TQ
Swift, which serves elegant crafted drinks in a former laboratory, has been named in the top 50 bars in the world.
"Part of the charm is its two distinct experiences," the awards said.
"At ground floor is the bright and clean early modernist interior – the perfect place for apertivos and light and bright cocktails.
"There's a new menu, but if you haven't had the pleasure, the Sgroppino, with lemon sorbet, prosecco and gin, is your first drink.
"Downstairs the colours deepen and the mood is relaxed. It's here, in the leather booths, you'll explore the whisky menu – or one of the rich, dark sipping cocktails.
"It is also home to Swift's Irish Coffee – the best around."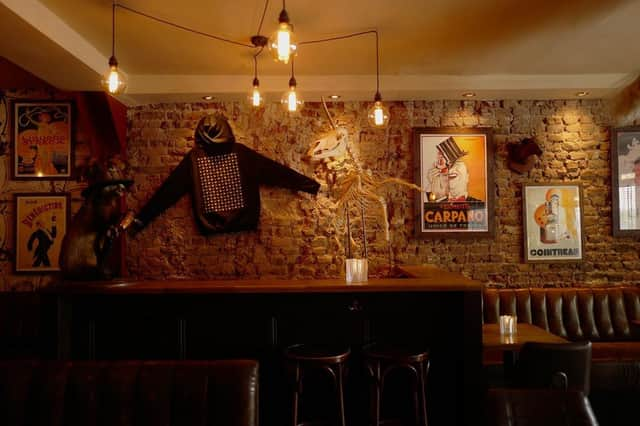 73. Satan's Whiskers
343 Cambridge Heath Road, Bethnal Green E2 9RA
Satan's Whiskers is a neighbourhood cocktail bar that serves Bethnal Green, which opened in late 2013.
This is the first time the bar has been named on the prestigious list.
Satan's Whiskers says: "We focus on delivering exceptional classic cocktails, using a line up of spirits and ingredients that we are truly proud of, all to our now infamous hip-hop soundtrack."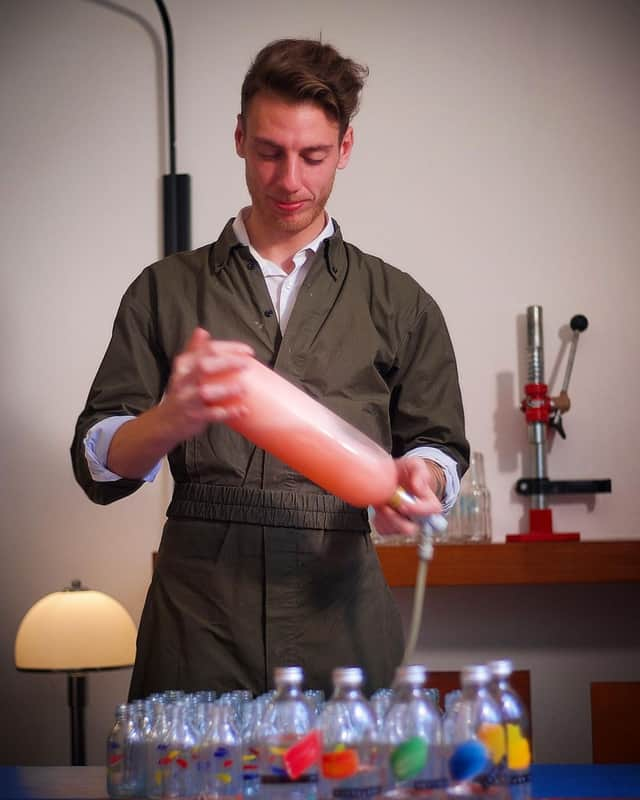 77. A Bar with Shapes for a Name
232 Kingsland Rd, Whitmore Estate, Haggerston, E2 8AX
This bar has three Bauhaus-influenced shapes for its name - a yellow triangle, red square, and blue circle.
This is its first entry in the top 100 list, and another east London bar which is making a name for itself.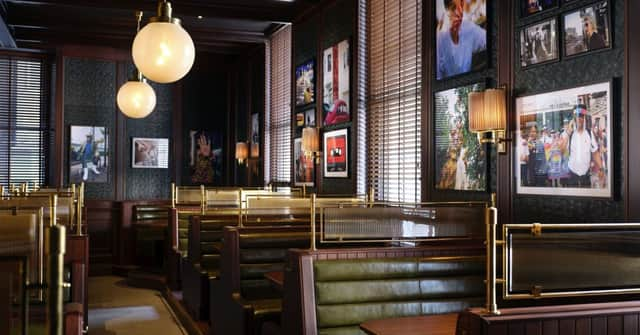 80. Side Hustle
28 Bow Street Old Police Station Entrance, Covent Garden WC2E 7AW
Side Hustle, the bar inside the NoMad London hotel which opened this year, is designed as a classic British pub.
However this isn't an ordinary boozer.
It is set in a Grade II-listed former magistrates' court, where Oscar Wilde and Emmeline Pankhurst stood trial.
So enjoy a cocktail and some food in comfy booths amongst stunning wooden decor by the marble-topped bar.
What did the World's 50 Best Bars 2021 say about the list?
Mark Sansom, content editor for the World's 50 Best Bars, said: "The extended 51-100 list of The World's 50 Best Bars sees a record number of 28 new entries from 26 countries in 2021, which reflects how brilliant bar scenes are diversifying and expanding across the world.
"The bars announced today have continued with inspiring resilience to overcome the challenges that they have been faced with in recent months and this extended list will shine a wider spotlight than ever before.
"As over half the list are new entries, we hope it will continue to be an inspiration to emerging bars around the world."
The full list of the best bars in the world from 51 to 100
51 Locale FirenzeFlorence, Italy
52 Bar Trigona Kuala Lumpur, Malaysia
53 AlquímicoCartagena, Colombia
54 Double Chicken PleaseNew York, USA
56 Byrdi Melbourne, Australia
58 Bulgari BarDubai Dubai, UAE
59 PenicillinHong Kong, China
60 Employees OnlyNew York, USA
62 Tropic CityBangkok, Thailand
65 Tesouro by Firefly Goa, India
66 ThunderboltLos Angeles, USA
67 Red FrogLisbon, Portugal
68 Dead End ParadiseBeirut, Lebanon
70 Hero BarNairobi, Kenya
71 28 Hong Kong Street Singapore
73 Satan's WhiskersLondon, UK
74 Barro NegroAthens, Greece
75 Cause Effect Cocktail Kitchen Cape Town, South Africa
76 The BellwoodTokyo, Japan
77 A Bar With Shapes for aName London, UK
78 A Bar Called GemmaStockholm, Sweden
80 Side Hustle London, UK
81 Barbary CoastSingapore
82 L'Antiquario Naples, Italy
83 Buck & BreckBerlin, Germany
84 1862 Dry BarMadrid, Spain
85 Cera & Bruno Vanzan Milan, Italy
86 Art of DuplicityCape Town, South Africa
87 Tan Tan Noodle BarSão Paulo, Brazil
89 Sweet Liberty Miami, USA
90 BKK Social Club Bangkok, Thailand
91 AHA SaloonTaipei, Taiwan
92 The Cambridge Public HouseParis, France
93 Flying Dutchmen CocktailsAmsterdam, Netherlands
94 Hope & SesameGuangzhou, China
95 Hoots' New Delhi, India
96 FréquenceParis, France
97 Tales & Spirits Amsterdam, Netherlands
98 Savas Bar Madrid, Spain
99 Death & Co Los Angeles, USA