The lifestyle magazine placed the iconic street in Notting Hill as number 44 in its list of picturesque roads.
The magazine ranked the bustling market street amongst some of the world's most Instagrammable spots including Rue de l'Abreuvoir in Paris, Aldama Street in San Miguel De Allende, Mexico and Tetsugaku no michi in Kyoto.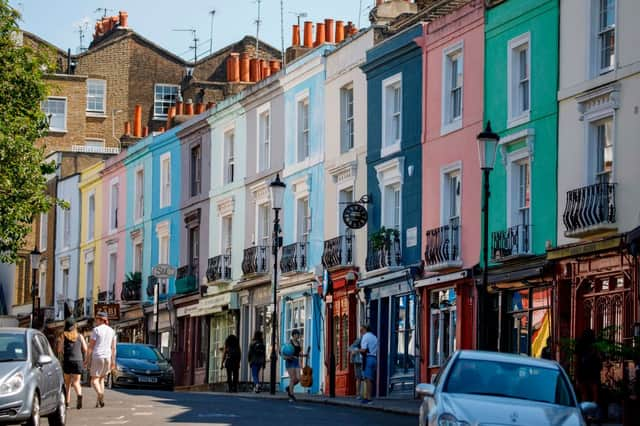 What did House and Garden say about Portobello Road?
"Before it was one of the world's most-visited street markets, London's mile-long Portobello Road was just a 19th-century country lane that connected the prosperous Portobello Farm with Kensal Green in the north and what is today the colourful neighbourhood of Notting Hill in the south," House and Garden said.
"Throughout the second half of the 1800s, though, the road started to develop in response to the sweeping residences popping up around it."
What is Portobello Road famous for?
Portobello Road is famously featured in the 1999 Richard Curtis film Notting Hill with much of the filming taking place on the street.
The famed blue door, however, no longer exists, having been sold.
Alice's Antiques shop at the southern end of Portobello Road is also famous as being the location of Gruber's Antiques in the Paddington Bear movies.
Portobello Road Market draws thousands of visitors every year and is the largest antiques market in the UK.
Full list of world's 46 most beautiful streets
46. Bull Street, Savannah, Georgia
45. Pienza, Tuscany, Italy
44. Portobello Road, London
42. Sidi Bou Said, Tunisia
41. Koon Seng Road, Singapore
39. Bavarian Alps, Germany
38. Long Street, Cotswolds
37. San Juan, Puerto Rico
33. Beacon Hill, Boston, Massachusetts
32. Kiremit Street, Istanbul, Turkey
31. Steiner Street, San Francisco, California
30. Brouwersgracht, Amsterdam, Holland
29. Champs-Élysées, Paris, France
28. Bregagh Road, Ballymoney, Northern Ireland
26. Cherry Blossom Avenue, Bonn, Germany
25. Jerez de la Frontera, Spain
24. Elevador da Bica, Lisbon, Portugal
23. The Sagano Bamboo Forest, Kyoto, Japan
21. Havana's Parque Central, Cuba
20. Lombard Street, San Francisco, California
19. La Boca, Buenos Aires, Argentina
18. Calleja de las Flores, Córdoba, Spain
17. Shambles, York, England
16. Tetsugaku no michi, Kyoto, Japan
12. Zrínyi Utca Street, Budapest, Hungary
11. Aldama Street, San Miguel De Allende, Mexico
10. Jinli street, Chengdu, China
8. Rue du Petit Champlain, Quebec City, Canada
7. Pretoria, South Africa
4. Rue de l'Abreuvoir, Paris
1.Setenil de las Bodegas, Spain