After major campaigns were launched to boost polio vaccination in London when the virus was found in sewage - the authorities have refused to give details of why the booster rollout remains "paused".
In June, a national incident was declared after traces of poliovirus were discovered in sewage samples from London Beckton Sewage Treatment Works. In August, it was revealed the virus had been detected in sewage in Barnet, Brent, Camden, Enfield, Hackney, Haringey, Islington, and Waltham Forest.
Lower concentrations were found in areas around the Beckton catchment in Newham.
The UK Health Security Agency (UKHSA) that transmission of the virus was indicated by the levels and high genetic diversity of poliovirus found.
"This suggests that transmission has gone beyond a close network of a few individuals," it said.
But not long after, the polio page on the NHS website was reviewed to say the extra polio vaccine dose offer in London had been "paused". No reasons were given, but more information would be available in 2023, the page said.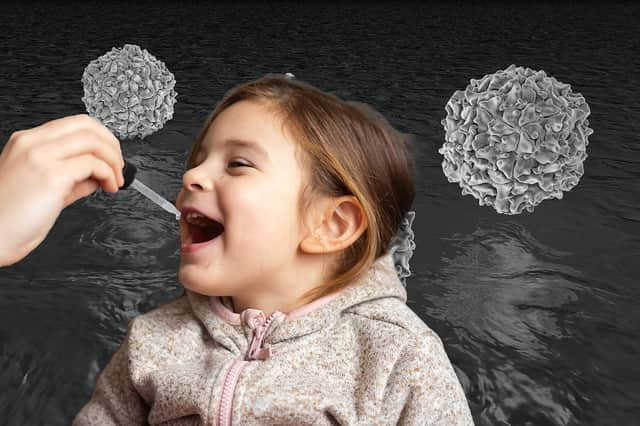 North and east London authorities - such as Hackney Council - updated their information pages on the vaccination offer in early January, to read: "The polio booster offer in London is currently paused. Information on the future of the programme will be available shortly".
"If you already have a GP appointment booked for the polio booster, you should still attend," it said. "However, walk-in vaccination sites and pharmacies will no longer provide this service."
Why did the polio booster programme end?
When queried as to why the programme had been paused, an NHS London spokesperson said the London polio booster programme for children who were up-to-date on their polio vaccinations ended on December 23.
"The NHS in London continues to offer polio vaccinations to those that aren't up to date with their routine vaccination schedule," they said.
But the NHS would not be drawn on an explicit reason for the apparent end to the booster programme.
A spokesperson said: "I don't think there's anything we can add to the statement, except to say that UKHSA are working with the [Medicines and Healthcare products Regulatory Agency] to monitor surveillance findings and the NHS in London will respond to any recommendations as needed. "
The UKHSA told NationalWorld that sewage surveillance for the vaccine-derived poliovirus was ongoing in London, and has been expanded to key sites outside the city, including Birmingham, Bristol, Leeds, Liverpool, Manchester, and Sheffield. It would publish an update on their findings "in due course".
No clinical cases of polio had been reported, as of mid-February, the agency said. NHS data showed that 368,399 inactivated polio virus doses were administered to children aged one to nine between 10 August 2022 and 8 February 2023.
There are are about 1.2 million children up to the age of nine in London, including those under a year old.
"While London has lower coverage compared to other regions, the majority of people have been vaccinated and the risk to the public overall is low," UKHSA said. "We continue to encourage parents to contact their GP surgery if their child is not up to date with their polio vaccinations or any of the other routine childhood vaccinations."
What is polio?
Polio is a serious illness and can cause life-long paralysis or other disabilities, and in some cases, death. There is no cure, and immunisation is the only way to protect against it.
Although it is normal for "vaccine-like" polioviruses to be detected each year in UK sewage samples, a few in the the recent discovery have had sufficient mutations to be classified as vaccine-derived poliovirus, according to the UKHSA.
Vaccine-derived poliovirus is of greater concern as it behaves more like naturally occurring "wild" polio and may, on rare occasions, lead to cases in unvaccinated individuals.
The NHS
An NHS spokesperson said: "We urge all parents of eligible children who aren't up to date with their routine polio vaccinations to book an appointment with their GP practice to catch up. If you aren't sure if your child is up to date, you can check their red book (Personal Health Record) or contact your GP practice."