The number of London children due to start primary school this September is down by more than 2,000 on last year, new data reveals, with the national declining birth rate and Brexit among the reasons suggested.
In total, 86,655 children received such offers, according to figures from the Pan-London Admissions Board, a body coordinating school admissions across the city.
Of those, 88.5% (77,260 children), secured a place at their first preference school, with 97% receiving an offer from one of their top-three choices.
There were some significant variances between local authorities. The City of London had the highest percentage of children receiving offers from their first-choice school, at 95.83% with Barking and Dagenham's 95.52% in second.
Kensington and Chelsea recorded the lowest percentage by some way, with 70.53%, followed by Camden, with 81.3%.
This year saw a reduction in overall applications compared to 2022, from 89,618 to 87,277, a drop of 2.67%.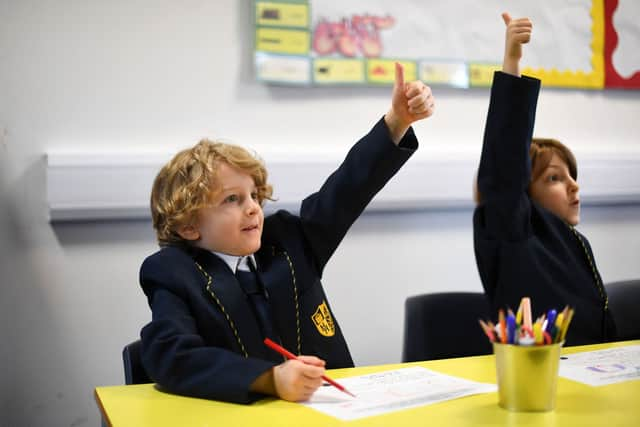 Why are fewer children applying for primary schools in London?
In its release containing the data, London Councils said that the application numbers for primary schools vary across different boroughs, with a range of potential factors involved.
London Councils noted that the falling demand could impact the funding of some schools, with the majority of school revenue allocated on a per pupil basis.
The group said boroughs across London are lobbying government for school funding levels to increase with inflation to help ease some of the growing pressures on budgets, and are looking for a "stronger framework" to tackle issues such as the reduction in places.
'Continued decrease in demand for school places'
Cllr Ian Edwards, London Councils executive member for children and young people, said: "It is vital that all children in London have access to a high-quality education, and primary education is one of the most important first steps on this ladder. We want to ensure the best possible future for children applying to mainstream schools and for pupils with special education needs and disabilities (SEND).
"It is positive that once again the overwhelming majority of children have an offer from one of their preferred schools. Boroughs have worked diligently with schools to ensure there are the places needed to meet demand across the capital.
"London boroughs are continuing to work with schools experiencing decreasing demand for school places to achieve good outcomes for young Londoners. London still has the best performing schools in the country and it is essential we protect them in this difficult climate.
"We remain keen to work with government to respond to pressures surrounding primary school places and to support the growing demand for development of specialist SEND provision at a local level, ensuring that that all London pupils have the best start in life."
Jane McSherry, spokesperson for the Pan-London Admissions Board and Association of London Directors of Children's Services (ALDCS) education lead, added: "This year the admissions process has gone smoothly and over 85,000 parents will receive an offer of a preferred school place in the capital - with over 77,000 of those being for their first preference school.
"Challenges such as falling birth rates and family migration from London have led to a continued decrease in demand for school places and resulted in a reduction in total applications this year.
"Boroughs are supporting schools to deal with this challenge, meet the needs of our youngest residents and ensure school places continue to be available where there is demand.
"Each London borough has an admissions team and we are ready to help and support parents with any queries."