One of the most successful musicals of all time, Wicked, is to welcome back Mark Curry, replacing Gary Wilmot.
The 61-year-old, who was in the musical from 2016-2017, has said that he is 'thrilled' to be returning to Wicked.
Speaking on his return, Curry commented: "I'm thrilled to be returning to Oz after five years away and to have this opportunity to play The Wizard again in the incredible Wicked.
"I look forward to joining this brilliant cast and working again with the fantastic creative team and producers."
Located at the Apollo Victoria Theatre, Wicked recently opened its doors to its 11 millionth theatregoer and has won over 100 awards, including three Tony Awards, two Olivier Awards, and a Grammy.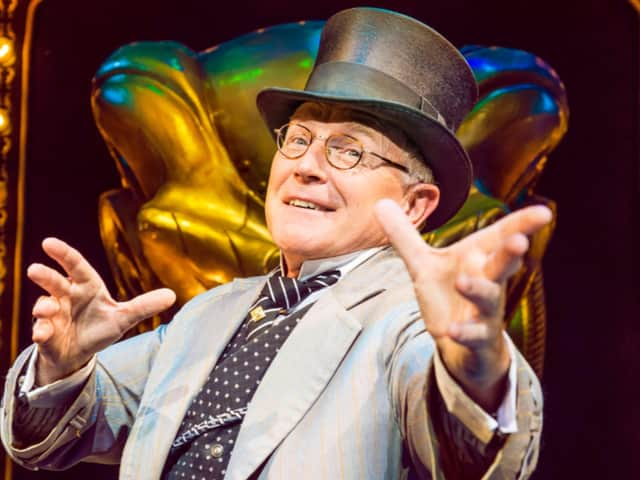 When is Mark Curry returning to Wicked?
Curry will return to the famed musical on October 18 this year. The person he is to replace, Gary Wilmot, will perform for the last time in the musical on October 16.
Current cast of Wicked The Musical
The current cast of Wicked is:
Lucie Jones (Elphaba) 
Helen Woolf (Glinda)
Ryan Reid (Fiyero)
Sophie-Louise Dann (Madame Morrible)
Gary Wilmot (The Wizard, until 16 October 2022)
Carina Gillespie (Nessarose)
Nicholas McLean (Boq)
Simeon Truby (Doctor Dillamond)
Amy Webb (Standby for Elphaba)
Lisa-Anne Wood (Standby for Glinda)
How to buy tickets for Wicked
Tickets for Wicked can be purchased online from ATG Tickets, and tickets for the return of Curry are still available.
Tickets range from as little as £19.50 to as much as £94.75. The seat map is colour coded, so people can view the prices before clicking on the seats.
DISCLAIMER: This article contains affiliate links. We may earn a small commission on items purchased through this article, but that does not affect our editorial judgement.