With January coming to a close, people's attention turns to February 14. If you're still stuck on what to do on Valentine's Day and if you're in and around London, fear not, as Wembley Park has all the components you need for a memorable Valentine's Day.
Wembley Park is London's most exciting new neighbourhood. Already home to The OVO Arena Wembley, Wembley, Troubadour Wembley Park Theatre and Wembley Stadium. It has much to offer now - but it is only 12 minutes away from Central London if you wish to split your night across two locations.
In addition to all of that, Wembley Park is building on its international reputation for music and sporting events and becoming a landmark destination with culture, entertainment, and community at its heart.
In terms of a neighbourhood, Wembley Park includes over 4,700 new homes, shops, and places to work, as well as attractive public spaces, with parks and gardens, public squares and wide boulevards for locals and visitors alike to enjoy.
It has been dubbed as the 'ultimate date destination' for Valentine's Day this year. Located at Wembley Park is pan-Asian street food menu at twice Michelin-starred Atul Kochhar's Masalchi.
If you decide the night isn't over after a bit of food, you can head to watch the hugely popular Disney musical Newsies is enjoying an extended run at the Troubadour Wembley Park Theatre.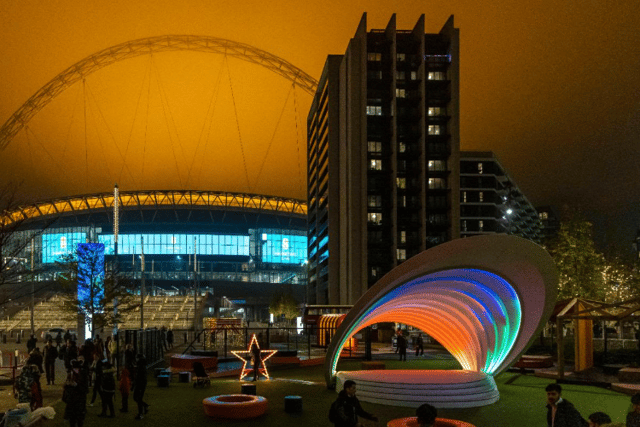 And what better way to top off a memorable evening than a nice stroll through the entirely free Wembley Park Art Trail, with the national football stadium, Wembley in the background. The trail is On display until February 28, 2023.