Emily Atack has shared her personal experience of cyber-flashing and online harassment that she receives daily in a new BBC Two documentary called Emily Atack: Asking For It?
In the documentary, the actress, 33, from Luton explores online sexual harassment and the effects it has had on her.
Emily said: "Every morning I see a man's penis I didn't want to see."
The comedian explained that she is sent unsolicited images and horrific text messages from men more than 100 times a day.
She lives in fear that she will be raped or killed after years of online abuse from the men that send her such messages on social media.
In the documentary, Emily read out some of the explicit messages to her colleagues and parents who were all clearly shocked and appalled that she or any woman had to read such messages.
The TV presenter first shot to fame in the E4 series The Inbetweeners where she played sexually active teenager Charlotte Hinchcliffe and was nicknamed 'Charlotte Big Jugs' in the show.
After the success of The Inbeweeners Emily went on to be on the cover of 'Lads Mags' posing in underwear.
This has led to Emily questioning whether it is her fault and whether posting beautiful pictures of herself wearing makeup or dresses online meant that when it comes to the abuse, she has been 'Asking For It'.
In the documentary the TV presenter spoke to a group of 16 year old girls and asked if they had any experience with online harassment.
Sadly, all the girls had received some sort of text message, image, video or even voice-note from older men. One pupil explained that it's worse when she posts pictures of herself in her school uniform.
Fans took to to social media to praise the actress with one person writing: "Fantastic documentary on BBC2 - thank you Em Atack for being brave enough to talk about how women are blamed for the abuse they suffer."
Another commented: "The people saying 'just block them, problem solved', it absolutely doesn't solve the problem, it moves it somewhere else. Maybe these perverted men should learn to have some respect no?"
A third wrote: "It's disgusting what Emily Atack has to endure online every day. Good on her for speaking out about it."
A fourth added: "Thank you for talking about this Emily."
Emily spoke to a therapist that explained: "you are not asking for it by wearing makeup. Or dressing the way you do or looking like you do."
The documentary also featured professionals, campaigners, and the police who are all fighting for a law to stop men being able to send unsolicited messages.
Emily explained: "It's not our behaviour that has to change, it's theirs".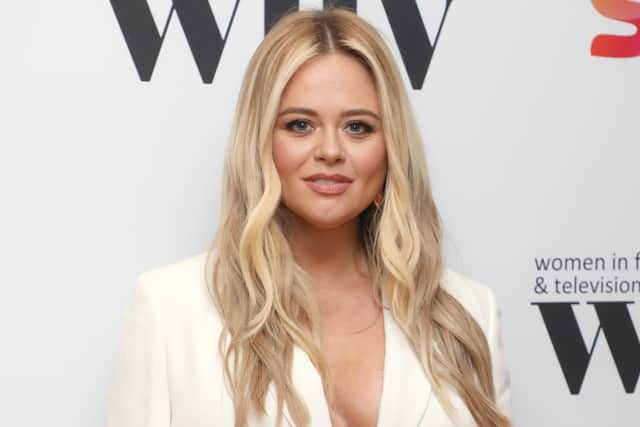 On Monday's This Morning programme, Emily broke down in tears speaking to presenters Holly Willoughby and Phillip Schofiled about how upsetting it was to have these messages sent to her constantly.
She explained that simply blocking people or deleting direct messages (DMs) would be like turning a blind eye to it and that wouldn't solve anything.
Watch Emily Atack: Asking For It? now on the BBC iPlayer