With St Patrick's Day fast approaching, many people are questioning where the best place is in London to celebrate the annual event. Online ticket platform, Skiddle has found the top St Patrick's Day events across London, ranging from parties with an all-green dress code, Irish stand-up, and 90s themed parties.
St Patrick's Day takes place annually on March 17 and commemorates the death of St Patrick while celebrating Irish culture in general. Over the years, celebrating Irish culture with a pint of Guinness has become one of the most fitting ways to enjoy the religious holiday.
But where are the best places in London to celebrate St Patrick's Day this year? Here's everything you need to know.
Comedy night in Camden
If you plan on celebrating St Patrick's Day over the weekend, a comedy night is taking place in Camden on Saturday, March 18. The event will see some top Irish stand up performances, featuring Show Me The Funny winner Patrick Monahan, Irish comic Peter Flanagan, Kevin O'Connell and Northern-Irish comedian Michael Legge as MC.
This event will be hosted at The Camden Club, opposite the famous Stables Market. Entry for the comedy night starts at £15 per person and tickets can be purchased via the Skiddle website.
St Patrick's Day pub crawl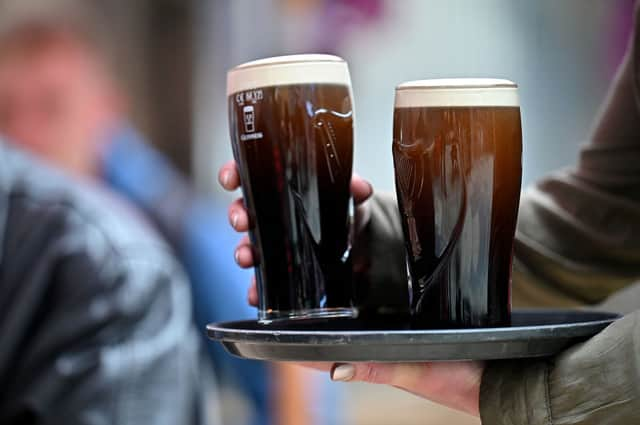 From green face paint to free shots, the London Pub Crawl will return this year for a St Patrick's Day celebration. Attendees will be accompanied by expert nightlife guides for the duration of the night to ensure an evening full of fun.
The St. Patrick's Day pub crawl will see attendees venture to some of the most lively venues in Central London.The crawl also includes a free shot in every venue, with four pubs/bars/clubs taking part offering drink deals with the official St Patrick's Day wristband.
The pub crawl will take place on March 17 and this event is for over 18's only. The entry price for this event starts at £16.75 per person.
Neverland's St Patrick's Day Party
If you're in the party mood this St Patrick's Day, nightclub Neverland is hosting its very own event with an all-green dress code and a free shot of baby Guinness if you're wearing the patriotic colour. The venue will be offering a pop-up Guinness bar, DJ's, Celtic music and live entertainment at the St Patrick's Day event.
Entry starts from £6 per person and this event is for those 18 and over. For more information, visit the Skiddle website.
Back to the 90's for St Patrick's Day
If you're feeling nostalgic this St Patrick's Day, you can celebrate the 90's with a back to the 90's party right in the heart of Kings Cross. The DJ will be playing music from the 90's all the way through to the 2010's on March 17 across two nightclub rooms.
Inflatable props and free candy floss will also be on offer. Entry is £6 per person at the Scala venue on Pentonville Road and all attendees must be 18 or over.