London's favourite adult playground, Roof East, is set to open next month, officially marking the start of summer. The former shopping centre car park turned rooftop bar in Stratford, which boasts a festival atmosphere over 30,000 square feet, is back with fresh street food vendors, new and signature games, and its open-air cinema.
The location boasts picturesque views of the London skyline and the Olympic Park, making it one of the best places to enjoy this summer. At Roof East, you can take on a range of classic games, including Sluggers batting cages, Birdies Crazy Golf, Arrows - the archery game which tests your agility and precision - and Glitter Bowls, which combines everything involving neon and disco with lawn bowls.
There is also an endurance challenge called Beat the Bar which involves testing your upper body strength by seeing who can hold onto the Roof East Hang Bar for the longest time. New for 2023 is the free games area which will cause friends to go head-to-head at giant Jenga, Kub, and Connect Four, with Cornhole and Table Tennis also on offer.
London's beloved cinema in the sky, Rooftop Film Club, will also return to Roof East this spring, bringing you unbeatable views, sunsets, and starlit evenings alongside a handpicked curation of cult hits and classics. Film themes for the month of May will include Freaks and Geeks, and Killer 90s Soundtracks. Tickets for the cinema launch on March 28.
If you've built up an appetite from all the activities, Roof East offers a selection of street food vendors for all to enjoy. Back by popular demand, Piddaji will be offering authentic Turkish small plates, including hummus, chicken ezme, halloumi fries, and more.
Also returning to the roof for the 2023 season is award-winning Cheeky Burger, offering beef, chicken or vegan burgers, and authentic Mexican food concept Papi Chulo, offering a number of dishes inspired by real street taquerias in Mexico. There are also a number of bars at Roof East to quench your thirst, serving a selection of beers, spirits, cocktails, soft drinks and mocktails.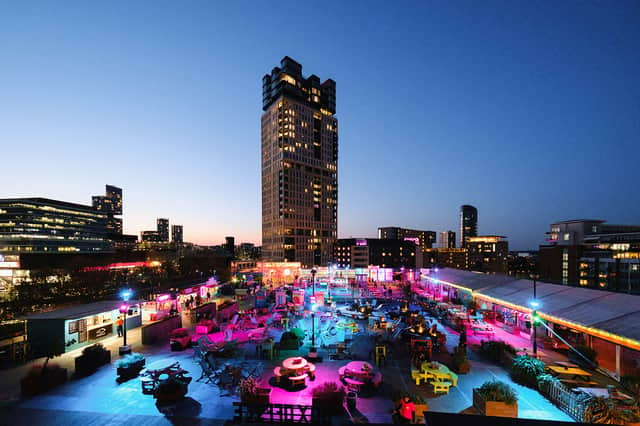 Throughout the summer, Roof East will host regular events, including its Jenga Championships and a special event for Eurovision. The jam-packed schedule will also include dance classes by The Curve Catwalk and regular pub quizzes with The Big Fat Quiz Company.
Entry to Roof East is free, with food, drinks and games priced individually. To find out more, visit the Roof East website.