Around 25,000 riders are expected to take part in the three day event starting in central London and travelling through Essex before making their return on 30, 60 or 100-mile routes.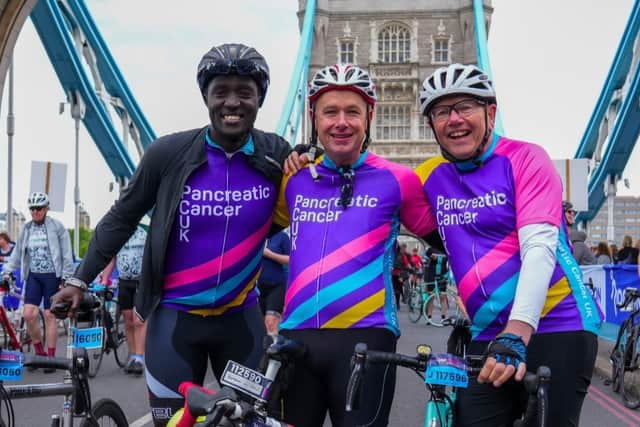 A similar number are expected to join an eight-mile Free Cycle unticketed family bike ride on closed roads around Buckingham Palace between 10am-3pm on Sunday.
From routes to road closures here is everything you need to know about RideLondon 2023.
When is Ride London 2023?
The Ford RideLondon FreeCycle will take place on Sunday, May 28 between 10am and 3pm. The event opens up eight miles of traffic-free roads in the city centre.
There are also three other cycle rides taking place that day: RideLondon-Essex 100, RideLondon-Essex 60 and, RideLondon-Essex 30.
The Classique begins on Friday, May 26, with stage one. Stage two is on Saturday, May 27, while the final stage is on Sunday, May 28.
Can anyone join RideLondon 2023, and is it free?
Thousands are expected to enjoy a gentle ride around a landmark-laden loop on traffic-free roads in the heart of central London from 10am to 3pm.
What is the RideLondon 2023 route?
The 2023 Ford RideLondon FreeCycle route will pass some of London's most famous locations, from St Paul's Cathedral and Somerset House to world-famous Buckingham Palace and The Mall.
RideLondon-Essex 100 will head out of London past the Olympic Park and through the London boroughs of Westminster, City of London, Tower Hamlets, Newham, Hackney, Waltham Forest and Redbridge. It will then go through Essex via Epping Forest. In Essex, it will take in Epping, Ongar, Great Dunmow, Felsted and Writtle before heading back.
RideLondon-Essex 60 will not go any further than Epping, while RideLondon-Essex 30 turns around at Woodford in north London.
All routes will start on Victoria Embankment in central London and finish at Tower Bridge.
What road closures are planned for London?
Around 25,000 people are set to take part in the event on Sunday and a number of roads will close in central and east London to ensure the safety of the cyclists.
Here is the full list of road closures in London.
Central London
St James's Park and Green Park
The Mall – 6am to 6pm
Birdcage Walk – 6am to 6pm
Constitution Hill – 6am to 6pm
Spur Road – 6am to 6pm
Horse Guards Road – 6am to 6pm
Marlborough Road – 6am to 6pm
Kingsway, A4200 – 8am to 7.30pm
High Holborn, A40 – 8am to 7.30pm
Holborn, A40 – 8am to 7.30pm
White Lion Hill -12.01am to 9pm
Holborn Circus, A40 – 8am to 7.30pm
Holborn Viaduct, A40 – 8am to 7.30pm
Newgate Street, A40 – 8am to 7.30pm
Upper Thames Street, A3211 – 4am to 7.30pm
Lower Thames Street, A3211 – 4am to 7.30pm
Byward Street, A3211 – 4am to 7.30pm
St Paul's Churchyard – 5am to 7.30pm
Ludgate Hill – 5am to 7.30pm
King Edward Street, A40 – 8am to 7.30pm
St Martin's Le Grand – 8am to 7.30pm
Gresham Street – 8am to 7.30pm
Lothbury – 8am to 7.30pm
Princes Street – 8am to 7.30pm
Cheapside – 8am to 7.30pm
Bank Junction – 8am to 7.30pm
Mansion House Street – 8am to 7.30pm
Poultry – 8am to 7.30pm
Queen Victoria Street – 8am to 7.30pm
Puddle Dock – 8am to 7.30pm
Westminster Bridge Road, A302 – 8am to 7.30pm
Tooley Street, A200 – 4am to 9pm
Tower Bridge Road, A100 – 4am to 7.30pm
Bermondsey Street – 4am to 7.30pm
Tower Hill, A100 – 4am to 7.30pm
East Smithfield, A1203 – 4am to 7.30pm
The Highway, A1203 – 4am to 7.30pm
Limehouse Link Tunnel, A1203 – 4am to 7.30pm
Aspen Way, A1261 – 4am to 7.30pm
East India Dock Tunnel, A1261 – 4am to 7.30pm
Temple Place – 12.01am to 9pm
Victoria Embankment, A3211 – 12.01am to 9pm
Blackfriars Underpass, A3211 – 12.01am to 9pm
Northumberland Avenue – 12.01am to 9pm
Horse Guards Avenue – 12.01am to 9pm
Whitehall Place – 12.01am to 9pm
Bridge Street, A302 – 4am to 7.30pm
Parliament Street, A3212 – 4am to 7.30pm
Whitehall, A3212 – 4am to 7.30pm
Great George Street – 4am to 7.30pm
St James's Street, A4 – 8am to 7.30pm
Piccadilly, A4 – 8am to 7.30pm
Coventry Street, A4 – 8am to 7.30pm
Haymarket, A4 – 8am to 7.30pm
Pall Mall, A4 – 8am to 7.30pm
Pall Mall East, A4 – 8am to 7.30pm
Trafalgar Square – 8am to 7.30pm
Cockspur Street, A4 – 8am to 7.30pm
Duncannon Street, A4 – 8am to 7.30pm
Strand, A4 – 8am to 7.30pm
Aldwych, A4 – 8am to 7.30pm
Waterloo Bridge, A301 – 8am to 7.30pm
Southwark Bridge – 4am to 7.30pm
Tower Bridge – 4am to 7.30pm
Westminster Bridge – 4am to 7.30pm
Waterloo Bridge – 8am to 7.30pm
East London
Lower Lea Crossing, A1020 – 4am to 7.30pm
Western Gateway – 4am to 7.30pm
Tidal Basin Road – 4am to 7.30pm
Silvertown Way, A1011 – 4am to 7.30pm
Barking Road, A124 – 4am to 11.30am
Hermit Road – 4am to 11.30am
Grange Road – 4am to 11.30am
Upper Road – 4am to 11.30am
Plaistow Road, A112 – 4am to 11.30am
New Plaistow Road, A112 – 4am to 11.30am
West Ham Lane, A112 – 4am to 11.30am
Broadway, A118 – 4am to 11.30am
High Street, A118 westbound – 4am to 6.30pm
High Street, A118 eastbound – 4am to 12pm
Rick Roberts Way – 8am to 7pm
Abbey Lane – 8am to 7pm
Abbey Road – 8am to 7pm
Manor Road, A1011 – 8am to 7pm
Hollybush Hill, A1199 – 5am to 6.30pm
Woodford Road, A1199 – 5am to 6.30pm
High Road, A1199 – 5am to 6.30pm
Woodford Green, A1199 – 5am to 6.30pm
Woodford New Road, A104 – 5am to 6.30pm
Woodford Green, A104 – 5am to 6.30pm
Manor Road, B173 – 5am to 6.30pm
Chigwell Road, A113 – 7.30am to 6pm
Broadmead Road, A1009 – 7.30am to 6pm
The Highway, A1203 – 4am to 7.30pm
Limehouse Link Tunnel, A1203 – 4am to 7.30pm
Aspen Way, A1261 – 4am to 7.30pm
East India Dock Tunnel, A1261 – 4am to 7.30pm
Leamouth Road, A1020 – 4am to 7.30pm
Bow Road, A11 westbound – 4am to 6.30pm
Bow Road, A11 eastbound – 4am to 12pm
Blackwall Tunnel Northern Approach, A12 northbound – 4am to 12pm
Blackwall Tunnel Northern Approach, A12 southbound – 4am to 6.30pm
East Smithfield, A1203 – 4am to 7.30pm
Green Man Interchange A12, A106, A114, and A1199 – 5am to 6.30pm
Woodford New Road, A104 – 5am to 6.30pm
Woodford Green, A104 – 5am to 6.30pm
All four boroughs listed and Hackney
A12 Northbound – 4am to 12pm
A12 Southbound – 4am to 6.30pm