Reading Festival posters: 90s & 00s lineups in hindsight - Foo Fighters, The Strokes, Green Day etc
My Reading Festivals were in 1995, 1996, 2000 and 2001, but what can I actually remember? Eminem? Bjork? Rage Against the Machine? Oasis? White Zombie?
Watch more of our videos on Shots! 
and live on Freeview channel 276
Visit Shots! now
With another August Bank Holiday comes another Reading Festival and, for me, the realisation that it's more than 20 years since I last went.
Over the years, the posters have become iconic in British music and provide a snapshot of the rock landscape. See Travis headlining after Green Day in 2001, or The Bluetones following Limp Bizkit the previous year.
Reading 1995 was my first major festival as a naive 18-year-old becoming obsessed with music at a time of Britpop and the aftermath of grunge - ready to follow wherever NME and Melody Maker led (for better or for worse).
Looking back at the posters, it strikes me how many great bands I missed, and how many questionable choices I made. It also strikes me that (a) I probably have seen Foo Fighters live, when I was sure I never had, and (b) I'd completely forgotten going to Reading 2001.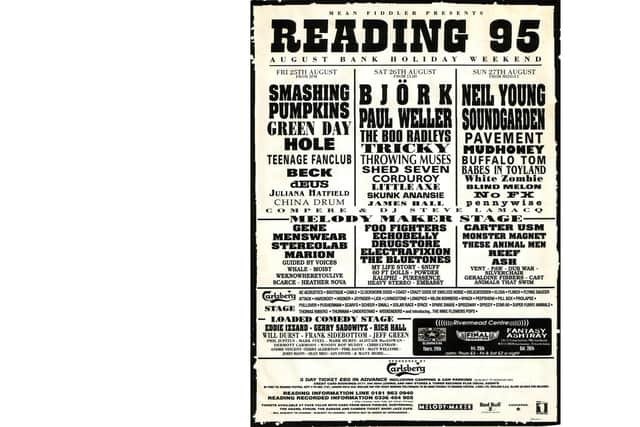 Reading 95
My first memory of Reading 95 is missing Beck, who at the time was riding the Loser wave towards his masterpiece, Odelay. As we were entering the site, my friend had his money belt stolen and so we were trying to get his wristband sorted without a ticket. I remind him of this often (though not normally in writing).
But Green Day were playing that evening, so all was forgiven. Whether you're a fan or not, they've always been a brilliantly fun live act and this was at the time of Dookie, an album they never bettered.
Nirvana's Kurt Cobain had died the year before, but the line-up was still dominated by grunge, with acts like Mudhoney and Soundgarden, as well as Neil Young with Pearl Jam as his backing band.
There were very direct Cobain links too. I remember really enjoying Hole, led by Cobain's widow, Courtney Love. And on the Saturday, one of the biggest draws of the weekend was scheduled to headline the second stage - Foo Fighters. The Melody Maker Stage was in a tent and fans squeezed in and were left stranded outside for what was a triumphant UK festival arrival for the new band of Nirvana's Dave Grohl and Pat Smear, by all accounts.
I say "by all accounts" as, not a fan of packed crowds, I opted instead to watch Bjork headline the main stage. This was shortly after the release of Post and, although I can't claim to really remember it, I know I was blown away.
Elsewhere on the bill, Britpop was making its presence felt with bands including Gene, Menswear, The Boo Radleys, The Bluetones and Ash.
I'm pretty sure I saw Longpigs on the Carlsberg Stage - the smallest stage - as well as Scarfo, whose Jamie Hince would go on to become half of The Kills.
If I were there now, I wouldn't miss Stereolab or Eddie Izzard - but then I probably wouldn't crowd surf either. White Zombie were my first taste of that bit of teenage fun.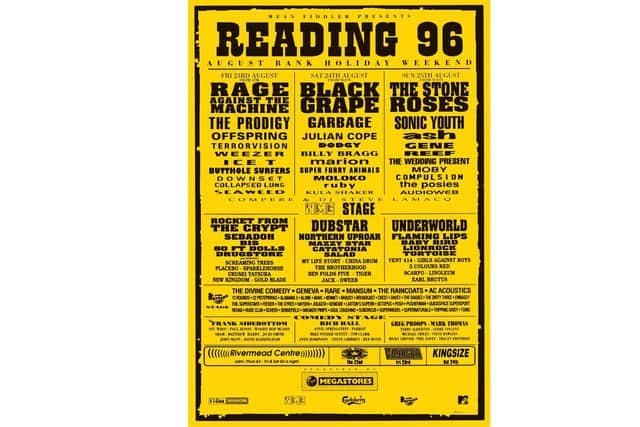 Reading 96
Unfortunately, Reading 96 is probably best known for hosting a legendarily bad performance.
The Stone Roses had pulled out of Glastonbury the year before through injury (gifting Pulp the chance to write themselves into the history books) and by the time they got to their Reading slot, both guitarist John Squire and drummer Reni had left. Ian Brown and Mani soldiered on, but Brown was having, let's say, a 'bad voice day' and the band's reputation took many years and a reunion to recover. I have to say though, I loved it. Everyone in the crowd was singing every word. I didn't register how out of tune Brown was, probably assuming it was the geezer in the bucket hat next to me I could hear.
The unlikely Saturday headliners were Black Grape, who were fun and joined on stage by Chris Evans for the Sex Pistols' Pretty Vacant (very 1996).
Friday had the unusual novelty of headliners Rage Against the Machine playing before The Prodigy, who had a number one single with Firestarter and were soon to follow it with Breathe. I remembered Rage being phenomenal, and can't say I remember much about The Prodigy.
My big regret from the weekend is missing the Flaming Lips, who would not release their classic The Soft Bulletin until 1999, and who have since played some of my favourite shows, including at the Troxy earlier this year.
I remember enjoying Sebadoh lower down the NME stage bill and think I caught Feeder on the small Dr Martens stage. Ice T followed by Weezer on the main stage was a hell of a bit of scheduling.
My big confession is that I was a Kula Shaker fan at the time and I remember disliking a challenging set from Sonic Youth. If I only could go back...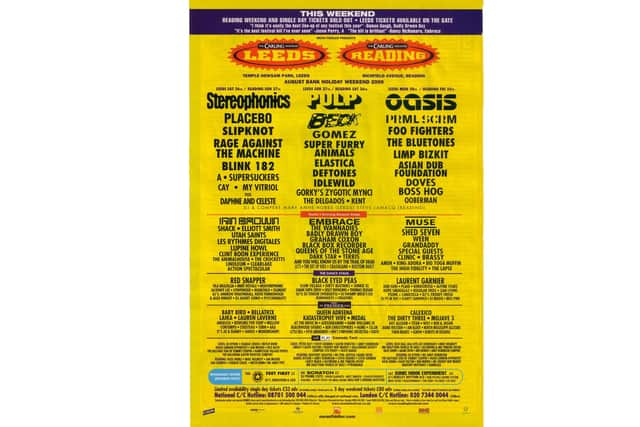 Reading 2000
What strikes me about this is that, bizarrely, 2000 seems to be the year Britpop landed in Reading: Oasis, Elastica, Super Furry Animals, The Bluetones and Shed Seven.
It was the first time I saw Pulp and they were the pick for me. I remember a gorgeous Sunrise opening the encore.
Also performing was Blur's Graham Coxon touring his great second solo album, The Golden D, with tracks including the high-velocity Jamie Thomas and the Mission of Burma cover That's When I Reach For My Revolver.
I definitely saw Placebo, And You Will Know Us By The Trail Of Dead, Clinic and Asian Dub Foundation, who I loved. And this was the year I finally saw Beck, who was brilliant, getting his Prince on with the Midnight Vultures album.
I'm pretty sure I saw Foo Fighters, but I have a bit of a blind spot for Grohl and co, and never got what everyone else does from them.
I remember seeing Lupine Howl because they were made up of recently sacked members of Spiritualized.
I wish I could say I saw Elliott Smith, but sadly I didn't appreciate his talents until too late, and neither was I yet educated in Dirty Three or Ween.
The band this poster has inspired me to return to are King Adora, a long forgotten rock outfit from Birmingham whose album Vibrate You is packed with pop hooks.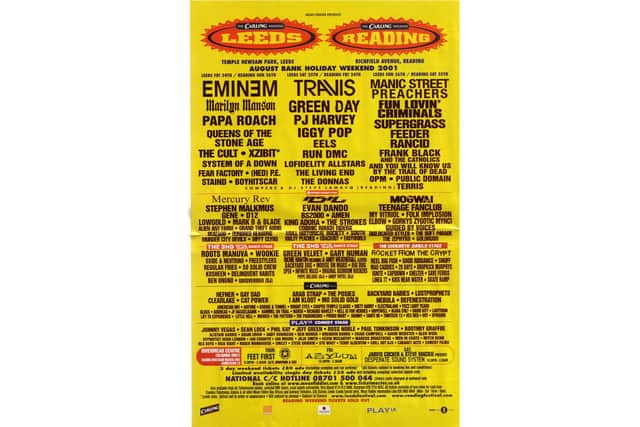 Reading 2001
The festival I completely forgot. It had some of the era's big names, including Marilyn Manson followed by Eminem. In fact they appeared on stage for their collaboration single, The Way I Am.
I'm sure I watched some of Eminem but I can't say how much, as it looks like he may have clashed with Mercury Rev, Roots Manuva and Hefner - all would have been must-sees for me (perhaps I should just claim I saw whichever is most appropriate in any given conversation?).
I definitely watched Supergrass because I still have a king size blue Rizla packet that I got signed by Mani, from the Stone Roses and Primal Scream, who was also in the crowd.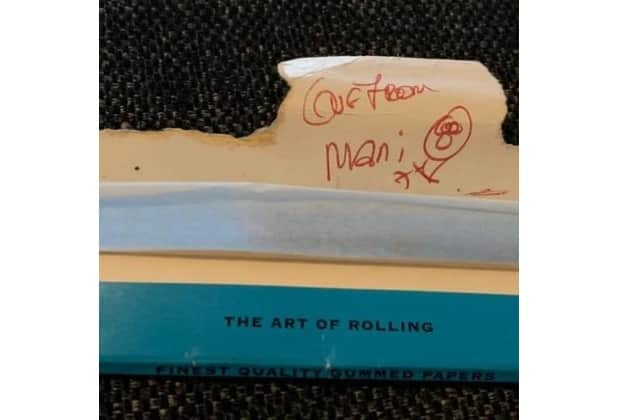 There were several big returning acts in 2001 (as is always the case at Reading) but this was definitely the only time I've seen Iggy Pop, in all his sinewy glory, and Run DMC, in all their Adidas glory.
In indie land this was the year of The Strokes and, following fears of a dangerously packed tent (à la Foo Fighters in 1995), they were bumped up to the main stage. Also destined for big things but in low billings are Biffy Clyro, Elbow, Bright Eyes and Richard Hawley.
And I remember having to wake up a friend halfway through Mogwai to go see the second half of Manic Street Preachers. Mogwai were, as ever, brilliant but my friend was very tired.