Madonna has added a sixth and final date to her already packed 2023 tour schedule - as demand for her tour has exceeded initial expectations. This now takes her total London tally to six.
When Madonna's initial tour was announced, she was only scheduled to perform in the UK, and London just once. However, in the days that followed she has since added a further five dates.
The tour is a 40th year anniversary celebration, marking four decades since Madonna released her first album, Madonna. In the years since first being introduced to the world, she has become one of the most in-demand stars.
On the tour, Madonna won't be taking the stage all alone. The tour, promising a 'one-of-a-kind experience' will also feature special guest Bob the Drag Queen - otherwise known as Caldwell Tidicue across all dates on the global tour.
With a whole host of extra dates being confirmed for London and Europe since the initial announcement, LondonWorld has compiled an entire list of London dates, and how to get tickets.
When is Madonna performing in London?
As mentioned, Madonna was to perform just once in London but since that announcement, several new dates have been added - in fact four new dates in just five days have been revealed. It's all becoming a little confusing, so here are all of her confirmed dates in the capital so far.
Saturday, October 14 - London, UK, The O2    
Sunday, October 15 - London, UK, The O2 
Tuesday, October 17 - London, UK, The O2 
Wednesday, October 18 - London, UK - The O2
Tuesday, December 5 - London, UK, The O2 
Wednesday, December 6 - London, UK, The O2
How to get tickets to see Madonna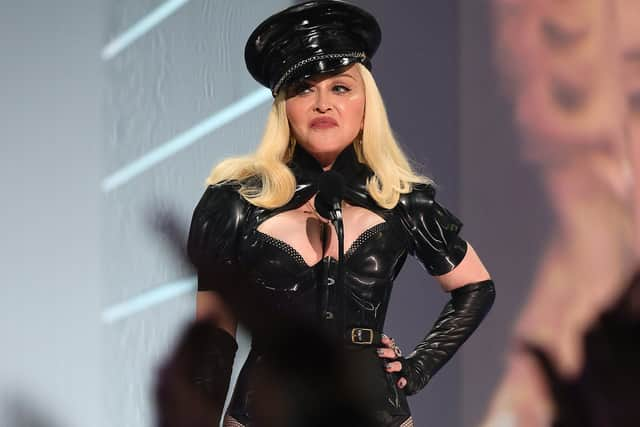 Tickets for her latest London show go on sale on Wednesday, February 1 at 9am, and can be purchased via Ticketmaster.
Tickets for her fifth show went on general sale at 9am on Friday (January 27). These can be purchased online through Ticketmaster.
Tickets are still available for all of her other London shows, but those left all cost upwards of £700.
AFFILIATES DISCLAIMER: This article contains affiliate links. We may earn a small commission on items purchased through this article, but that does not affect our editorial judgement.