Next month a group of naked cyclists will descend upon the streets of London to protest car culture and oil dependency.
The global event aims to demonstrate the vulnerability of cyclists on city streets and celebrate body freedom.
Here are the routes and times for the World Naked Bike Ride London 2023.
When is the World Naked Bike Ride London 2023 taking place?
The World Naked Bike Ride will take place on Saturday June 10, 2023 in London.
Other cities around the world will also hold a similar event throughout the month of June, such as Brussels on June 17 and various American towns and cities on June 24.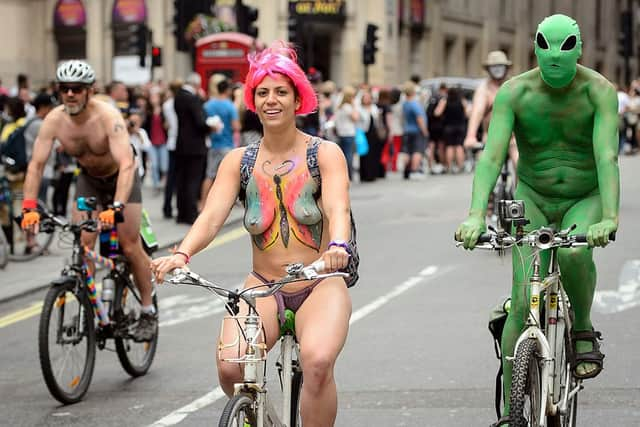 Why do people do it?
The World Naked Bike Ride is a global protest movement with rides in cities around the world, raising awareness of issues such as safety of cyclists on the road, reducing oil dependence and saving the planet.
What is the route?
The London leg of the World Naked Bike Ride goes from start points at Clapham Junction, Croydon, Deptford, Kew Bridge, Regent's Park, Tower Hill and Victoria Park.
Croydon is the longest of the routes at just over 20 miles, while the shortest ride is seven and a half miles, starting from Regent's Park Outer Circle.
World Naked Bike Ride London 2023 starting points
Here's a rundown of every starting point along the route:
Clapham Junction 2.30pm assembly; 2.45pm departure; Grant Road SW11 2NU
Croydon 11am assembly; 1pm departure; 233 Shirley Church Rd CR0 5AB
Deptford noon assembly; 2pm departure; Matchstick Piehouse SE8 5HD
Kew Bridge 1.15 pm assembly; 1.30pm departure; north end of Kew Bridge W4 3NQ
Regent's Park 2.35pm assembly; 2.50 pm departure; Outer Circle, near NW1 4NA
Tower Hill 1.45pm assembly; 2.45pm departure; Trinity Square Gardens EC3N 4DJ
Victoria Park 11am assembly; 1.30pm departure; near Bonner Gate / Dogs of Alcibiades E2 9JW
Wellington Arch 2.15pm assembly; 2.45pm departure; Wellington Arch, Hyde Park Corner W1J 7JZ
Accessible Start Point 3.45pm assembly; 4pm departure; near Waterloo, Belvedere Rd SE1 7GQ
While this is a "naked bike ride", organisers have said clothing is optional and riders are advised to wear shoes for safety reasons.
Participants are also encouraged to wear colourful patterns and slogans, fly flags and wear fancy dress.