The band took its name from an infamous drinking club that included Cooper, Ringo Starr, Micky Dolenz and Harry Nilsson with additional members including John Lennon joining the drinking den at points. The band itself has a rotating cast of performers similar to the rotating cast of drinkers, with the first incarnation of Hollywood Vampires composed of Cooper, Depp, Perry, Guns n Roses bassist Duff McKagan, and drummer Matt Sorum, along with rhythm guitarist Henriksen.
The group has featured a lineup of guest performers during their shows including Tom Morello, Geezer Butler, Perry Farrell, Zak Starkey, and Kesha during their performance at the Roxy Theatre and across California, but only undertook their first concert tour in 2016 after the release of their debut album, Hollywood Vampires, the year before.
Speaking about the upcoming tour, Alice Cooper said: "Well, it's already been three years since the Vampires have toured because of COVID. Also, Johnny has his movies, Joe's in Aerosmith and I'm in Alice Cooper, so we have to look at that whole thing and see when we can all get a month or two off where we can go out and tour. And, we are going to be doing that, next summer coming up, 2023."
"I can't wait to get back with the guys, I really love being in that band. My band is great and wonderful, but playing with the Vampires is an entirely different situation. I don't necessarily do any theatrics at all, I'm just the lead singer in a band, and the band just happens to be one of the best bands around! It'll be great to see Johnny and Joe and Buck and Chris and all the guys."
"We'll be rocking these places, especially the UK, I can't wait to get to the UK! Lock your doors, put garlic all around, because the Vampires are coming!"
Hollywood Vampires in London - how to get tickets
Tickets to see the Hollywood Vampires performing at London's The O2, on July 9, 2023, will be on sale through Ticketmaster from Friday (October 28) at 10 am. There are currently no presales available for this performance.
Full Hollywood Vampires UK tour dates in 2023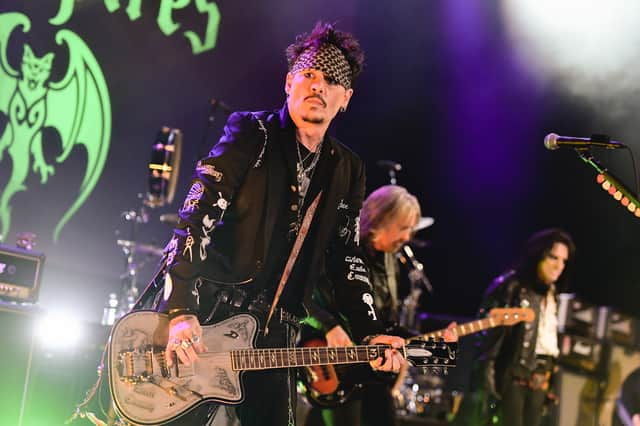 July 5, 2023: Open Air Theatre, Scarborough
July 7, 2023: Swansea Arena, Swansea
July 8, 2023: AO Arena, Manchester
July 9, 2023: The O2, London
July 11, 2023: Utilita Arena, Birmingham
July 12, 2023: OVO Hydro, Glasgow
This article contains affiliate links. We may earn a small commission on items purchased through this article, but that does not affect our editorial judgement.