Five best steakhouses in London according to Tripadvisor - from Miller & Carter to Omnino Leadenhall
One of the steakhouses in this list includes one located in Covent Garden
Watch more of our videos on Shots!
and live on Freeview channel 276
Visit Shots! now
If you're off this weekend, why not try some of the most sought after steakhouses in London.
When cooked just right, a nice steak can be one of the nicest meals one can have, but it's very easy to miss the mark with a homemade one.
Steak is much more than just the precise cooking, it needs to be well prepared prior to being cooked, and certain measures are taken after it is cooked to ensure its quality.
Here are the best steakhouses in London according to Tripadvisor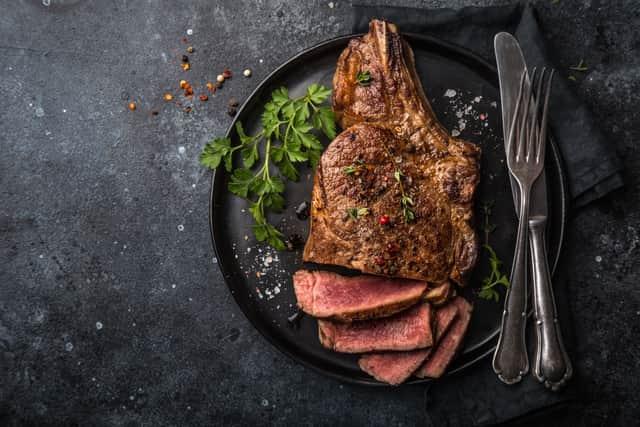 Buenos Aires Argentine Steakhouse
This steakhouse has a 4.5 star rating out of five, and is ranked as the 166th best restaurant on tripadvisor in London out of over 17,000.
This review on the site from August 2022 says: "Love it!! Nice friendly staff are always very welcoming, and the food is outstanding! Not the first visit and definitely won't be the last. Big thanks to Tonmoy and the rest of the team."
Miller & Carter
Miller & Carter is, for many, the most known chain who specialise in steaks.
They have over 100 restaurants all over the UK, and this one in London is second on Tripadvisor.
They also offer vegan, vegetarian and gluten free options too, so everyone is welcome here to have a great meal.
One review said: "Agi was our waitress and was very helpful and informative. Great service. Lovely quality steak and we had scallops and calamari starters that were equally delicious."
Constancia
Coming in third on Tripadvisor is Constancia, which boasts a 4.5 star rating out of five stars, from over 500 reviews.
This review from late August says: "Wow what can I say, these steaks were fabulous
"Both had fillet 10oz and peppercorn sauce with garlic and parsley chips and it was the best meal I've had this year by far. It was a busy restaurant even on a Sunday night, and the staff was great too. I will be back ( possibly a few times before the years out)"
Steak and Company Covent Garden
Located in one of the trendiest corners of London in Covent Garden, this steakhouse can boast a great 4.5 out of five from over 2,000 reviews.
This place can also serve as more than a just a steakhouse, with one Tripadvisor user saying they had a "great girlie catchup"
Omnino Leadenhall
This steakhouse has a very reasonable price range from £18 - £45, and has an emphasis on Argentinian food.
With a 4.5 star rating from over 500 reviews, one review said: "A perfect evening! This restaurant combines lovely food, nice staff, and a warm atmosphere. Manager Dionizio and his team of colleagues were very helpful and they offered information and advice in English, Spanish and Portuguese!
"We had a great time, the kids loved it - a real meat feast with delicious steaks!
"We will come again, and I can recommend this restaurant for both families, hungry business people or if you want to impress your Tinder date."