To mark the day, around 150 events are taking place all across the UK.
Here's when the day is, what it is, why we celebrate it and events being held in London.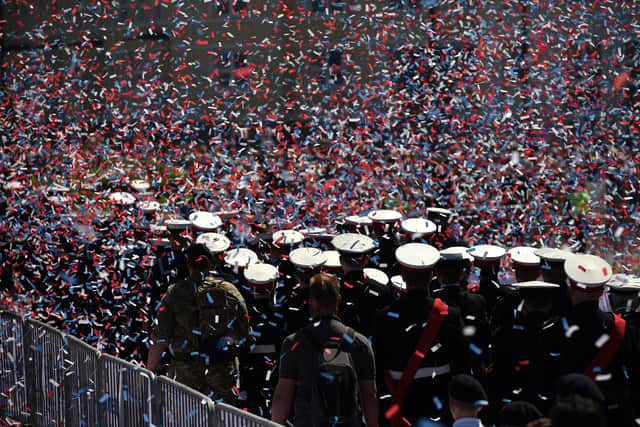 When is Armed Forces Day 2022?
Armed Forces Day is traditionally held on the last Saturday in June, and this is no different.
Armed Forces Day in 2022 on Saturday, 25 June.
However, the event is recognised a few days before the official day, as celebrations begin on Monday 20 June when the Armed Forces Day flag is raised on buildings and famous landmarks around the country.
What is Armed Forces Day?
In short, Armed Forces Day gives everyone around the UK the chance to support and appreciate those serving in the Armed Forces.
Not only that, you can also show support for veterans, cadets and everyone else closely associated with those in the Armed Forces.
Why do we celebrate Armed Forces Day?
People that are not in the armed forces, or closely linked with it can never properly grasp how hard of a job it can be.
A lot of their work arguably goes unnoticed, but keeps us safe nonetheless.
Celebrating Armed Forces Day gives a timely boost in morale to those serving and their families, and reminds them that we are appreciative of all the hard work they do day in, day out.
What are some events going on near for Armed Forces Day?
All over the UK, around 150 events are being held to mark the day.
In London, three events are being held for Armed Forces Day, they are:
Armed Forces Day, Hammersmith and Fulham
This event will begin at 12pm and end at 5pm, and is labelled as a 'family fun day' that is being held at St Pauls Gardens.
A host of regiments, cadest and charities are going to be in attendance, allowing people attending a glimpse into military life, along with games and activities as well as a special performance from Bunny Nightingale.
There will also be an opportunity for those attending to take a look at military vehicles and watch weapons and medical displays.
Armed Forces Parade and Community Event
This event begins at 10:30am, which is when it will open to the public, and will finish at 4pm.
At 11am, the parade will begin, with the mayor of London and many other VIP guests in attendance, ending with a service and the laying of flowers for those currently serving in our Armed Forces.
There will be various stalls there such as the Poppy Appeal, with singing and music also on show, courtesy of the Aveley & Newham Brass Band.
Hackney's Armed Forces Day Static Parade
This is a very short event, beginning at 9:45am and ending at 11:30am.
It's being held in the Town Hall Square, and is usually attended by the Deputy Lieutenant, a bugler, local forces, cadets and community groups.
The event is also hosted by Hackney Speaker, which is Cllr Humaira Garasia this year.