With warmer weather on the way, the summer months coming, and the first summer since 2019 without any restrictions, beer gardens are the place to be this summer.
Whether you're having a few on your day off, catching up with friends or looking for a wind-down pint after a long day at work, these places have you covered.
Accessible via great transport due to being in Central London, there's really no excuse to not check these places out.
Pergola Paddington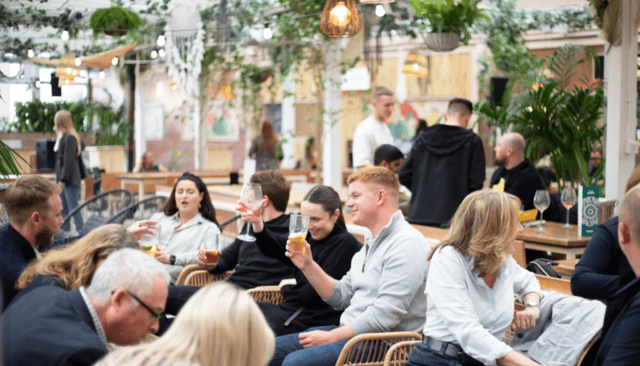 With a jungle - beach themed outdoor area, Pergola is one of the trendiest outdoor spots in London as a whole.
It is described on Google as an "Expansive, bright spot with forest decor & 4 restaurants serving burgers, kebabs, sushi & dumplings."
They sell your standard beers such as Corona, and more but also sell cocktails too.
Opening hours: Mon - Sat: 12pm - 11pm - Sunday: 12pm - 10:30pm
Punch & Judy
Located in the famous Covent Garden, Punch & Judy is located in the heart of London, and features a nice outdoor area packed with many tables.
On the website, they say: "The Punch and Judy is a world famous pub landmark in its own right. Built in 1787, this pub was thought to be named after the puppet show performances that took place in the nearby piazza for the children of flower-sellers"
There's an extensive drinks menu featuring some well known beers and many different types of wine too.
Opening hours: Mon - Thurs: 11am - 11pm - Fri - Sat: 11am - 12am - Sun: 11am - 10:30pm
40 The Market, Covent Garden, Greater London, WC2E 8RF, www.greeneking-pubs.co.uk/pubs/greater-london/punch-judy
Bar Elba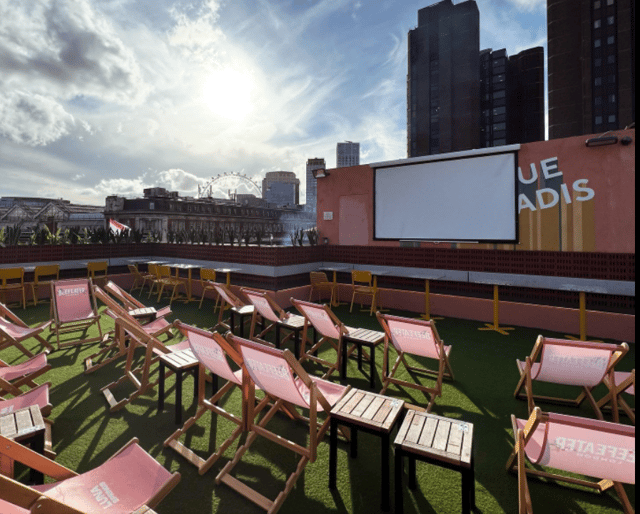 A hidden gem on the bar/garden scene in London, as this rooftop bar is situated in prime London, giving you breathtaking views of the skyline and some iconic places in London such as the Shard and more.
At certain parts of the year, they also deploy the 'party pods' which are lit with nice lights, adding a real festive vibe and atmosphere on the rooftop bar.
Beers include Peroni, Estrella Damm, Daura Damm and some pale ales.
Opening hours: Mon - Thurs: 2pm - 12am - Fri - Sat: 12pm - 1am - Sun: 1pm - 12am
Rooftop Mercury House, 109-117 Waterloo Rd, London SE1 8UL, bar-elba.co.uk
Vauxhall Food and Beer Garden
If anyone is doing a beer garden piece in Central London, you can't not include this place!
They are host to a variety of street food traders from around the world such as French tacos, Greek food, Wagyu burger and more.
This place recently underwent a huge extension and now features plush new benches and a massive outdoor screen, setting up your new summer hangout spot.
Opening hours: Mon - Sat: 11:30am - 10:30pm - Sunday: 11:30am - 8pm
The Green Room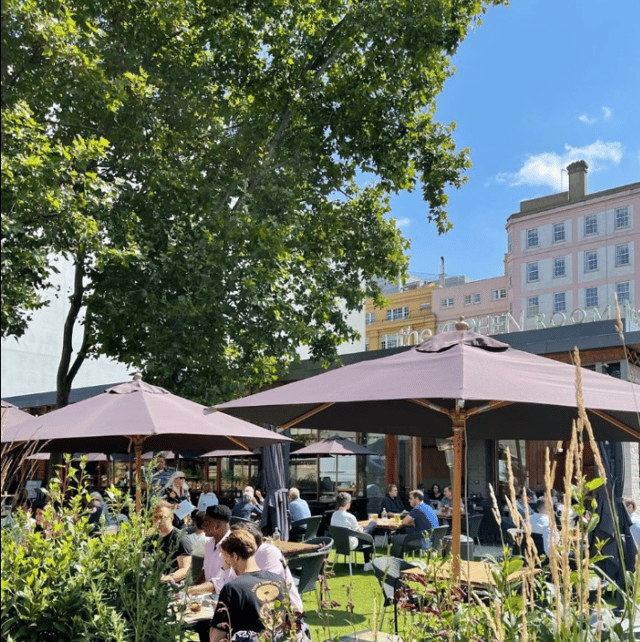 Located just behind the National Theatre at Southbank, The Green Room's sprawling outdoor area is a great spot for an outside drink.
Despite being located in Southbank, their large garden is tucked away from the bustle of the South Bank, and has room for 200 seated and 300 standing guests.
The framework is courtesy of Benjamin Barfield Marks, who won the top award in the temporary category of the New London Architecture Awards in 2015.
Opening hours: Mon - Fri: 12pm - 11pm - Sat: 11am - 11pm - Sunday: 12pm - 6pm
Big Chill King's Cross
A great place for socialising, Big Chill is a laid back, three floor bar with a lovely little beer garden perfect for an outside drink.
At night they bring the London sounds with DJs every Thursday, Friday and Saturday and have an extensive beer menu for you to work through.
There's also many events on here too, and you can view what's coming up by visiting the Big Chill website.
Opening hours: Mon - Tues: 5pm - 12am - Weds - Thurs, Sun: 12pm - 12am - Fri - Sat: 12pm - 3am
Flight Club Victoria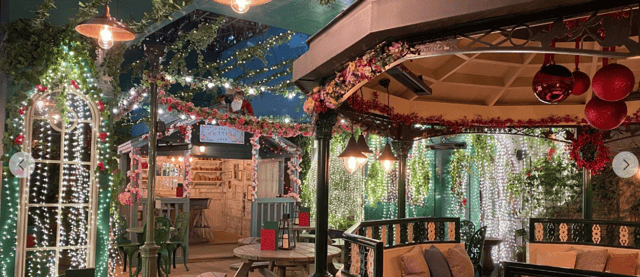 Why is this one of the most aesthetically pleasing beer gardens in London? Well, it comes equipped with dazzling fairy lights, comfy sofas and quirky decor, which includes a London staple, the phone booth.
Their outdoor area is named 'Village Green' and can host up to 40 people, and is the perfect place for an outdoor drink.
They offer a big food menu, ranging from bar snacks, to light snacks such as fries or full blown meals.
Opening hours: Mon - Tues: 11:30am - 12am - Weds - Fri: 11:30am - 1am - Sat: 11am - 1am - Sun: 11:30am - 11pm
The Miller
The Miller will have hold of you all day. Thirsty? They have an extensive beer menu. Hungry? They have great food including pizzas.
It's hard to think of many better ways to spend a sun-soaked day away from the office than at The Miller. Bag yourself a spot in the garden with your friends and loved ones and slowly work your way through their local craft beers.
The Miller is hard to miss with a great big red sign reading 'Hoopla!' on the side, and comes equipped with standard wooden tables outside.
Opening hours: Mon - Thurs: 12pm - 11pm - Fri: 12pm - 1am - Sat: 4pm - 1am
The Fentiman Arms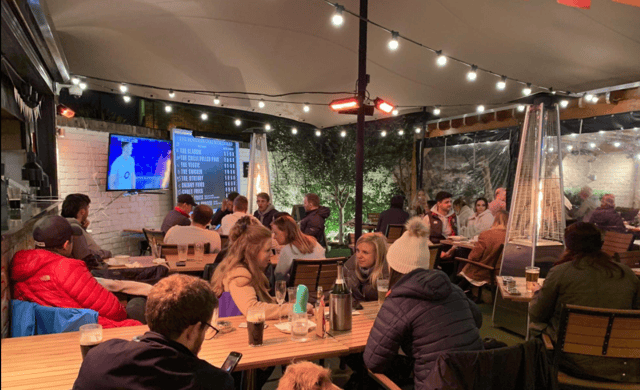 If you're looking for a traditional pub in London boozer with a top tier beer garden, look no further than the Fentiman Arms.
A nice, spacious outdoor space in the summer to catch rays, but also a heated outdoor area in the winter, this beer garden is always functional.
Equipped with a TV too, it'll be hard to have many better days over at the Fentiman Arms this Sunday.
Opening hours: Mon - Sat: 11:30am - 11pm - Sunday: 12pm - 10:30pm
The Four Thieves
With green and red lights to add a nice cool vibe, complete with mini huts for the ultimate intimate setting, The Four Thieves has a cracking beer garden.
To further boost the pub's credentials. It picked up a best pub nomination from Time Out just two weeks after opening, winning countless awards since.
According to DesignMyNight, "in the summer, the scent of lavender will waft down from the roof, where it is growing in preparation for being distilled into gin."
Opening hours: Mon - Thurs: 12pm - 12am - Fri: 12pm - 2am - Sat: 11am - 2am - Sun: 12pm - 10:30pm