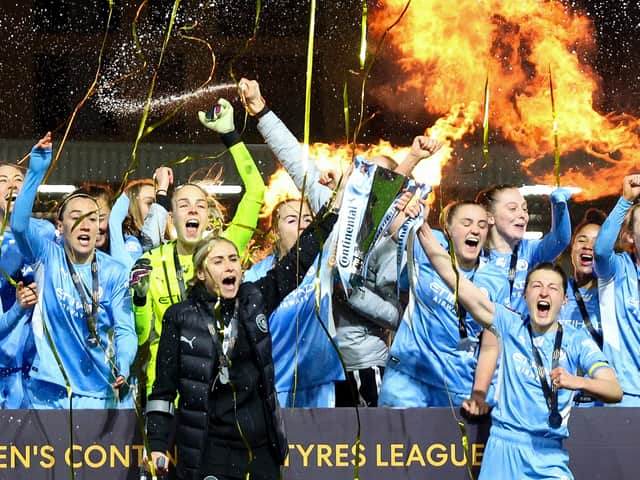 What is the Continental Cup?
First contested in 2011, the FA Women's League Cup is a league cup competition fought between all the teams in the top two tiers of the Women's Pyramid.
Since its inception, the competition has been sponsored by German motor parts company Continental AG and as such the cup is known as the 'Continental Cup' or 'Conti Cup'.
How does the competition work?
As participants in the Champions League, Chelsea and Arsenal are exempt from the first round of the Continental Cup and will enter the competition at the quarter-finals.
The remaining 22 teams of the top two divisions are split into five groups geographically - with two groups in the northern section, and three groups in the southern section.
Each group of four or five teams will compete in a mini-league, playing each of their opponents once.
Five winners will join Chelsea and Arsenal in the quarter-finals, with the eighth place taken by the best runner-up (having originally been reserved for Manchester City, who lost their bye when they failed to progress through Champions League qualifying).
From the final eight, the competition takes on a traditional knockout format, with the winner set to be decided in the grand final in March.
When is the Continental Cup?
The group stage fixtures will be contested on 1-2 October, 26 October, 26 November, 7-8 November, 17-18 December.
The quarter-finals are set to take place on 25-26 January.
The semi-finals are set to take place on 8-9 February.
The final is set to take place on the weekend of the 4-5 March.
Who has won the Continental Cup before?
Only three teams have lifted the Continental Cup since Arsenal won the inaugural competition in 2011.
The Gunners have the best record in the competition, having won the tournament a further four times.
Chelsea have twice emerged victorious, and lost out in the 2021 final with a 3-1 defeat to Manchester City, who lifted their fourth trophy.