This is the incredible moment that QPR fan Steve Carr ate his favourite snack - a bacon roll - for the first time in months, due to his motor neurone disease.
In October, the 66-year-old, who had a tracheostomy, which makes swallowing very difficult, made a goal that he would be able to eat the special sarnie with ketchup again.
He had been admitted to Royal Papworth Hospital, Cambs, in August 2021 for urgent help breathing.
His condition was very serious, and the speech and language therapy team had to work hard to prevent aspiration - which is where food goes into the lungs instead of the stomach.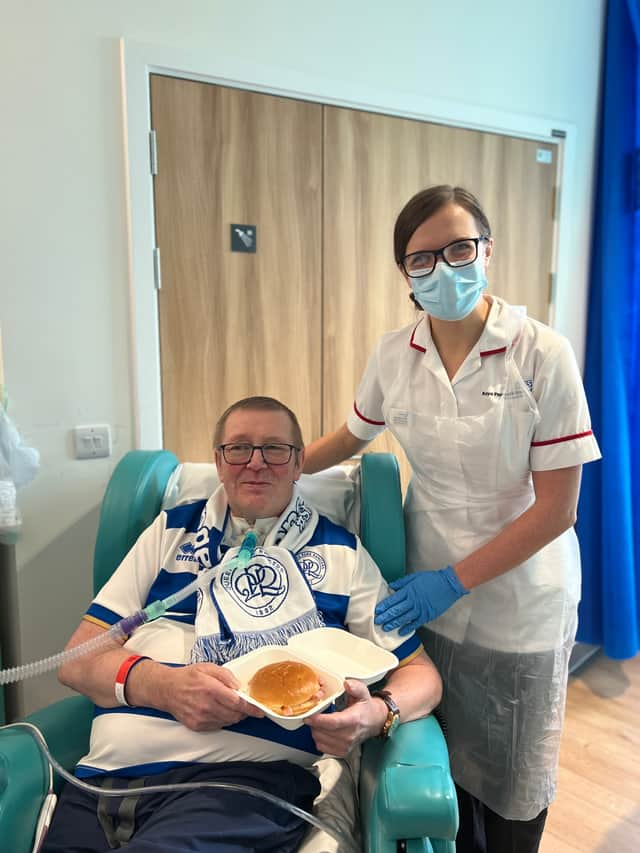 Throughout that time he had prolonged period of nil by mouth, where he could only eat a teaspoon of yoghurt at a time.
This left Steve very frustrated but he never gave up hope of tucking into that delicious bacon bap.
The life-long QPR fan worked very hard with speech and language therapist Shannon Sim, starting with small snacks and building his way up.
Earlier this month, after almost a year in hospital, Steve was ready to be discharged and reunited with his family - but not without conquering the bacon bap.
Just before he was discharged, Shannon treated him to a bacon roll with ketchup.
NHS England posted the video of Steve, from Chelmsford, eating the sarnie, which he declares is "bloody lovely".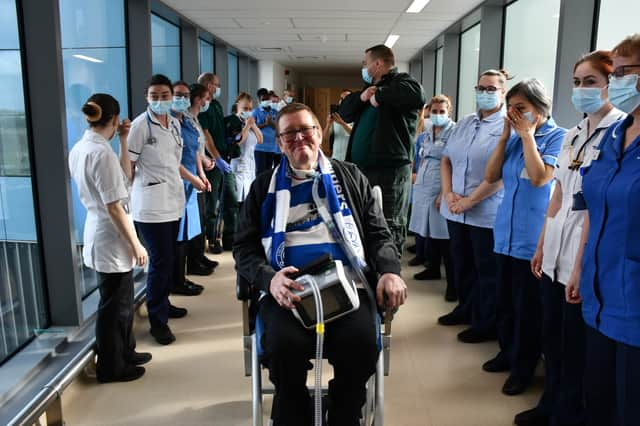 The Royal Papworth Hospital said: "This is more than just a bacon roll.
"Steve has motor neurone disease.
"He's been in our hospital since August, having motor neurone disease and a tracheostomy affects the muscles in his throat and mouth, meaning he has a poor swallow.
"His goal since October - eat a bacon roll with ketchup."
An Instagram post also showed tearful staff applauding Steve as he is discharged, who is wearing a QPR t-shirt and scarf.
The QPR official twitter shared the tweet, with the caption "Now this is a goal. Enjoy that bacon roll, Steve!"
Comments came flooding in through both Instagram and Twitter, with one user saying "Well done to the Speech therapy team Papworth, and also shout out to the chef who helped make this incredible moment."
Another said: "True patient centred, goal driven therapy!"
Whilst a fellow QPR fan added: "Thank you for looking after Steve.. one of our own of the QPR family, hope you enjoyed the bacon roll and many more to come"
One Twitter user even started a ketchup vs brown sauce debate with his reply, saying: "That looks a very good bacon roll!
"Hope you enjoyed it but ... ketchup?
"Surely brown sauce Steve!!"