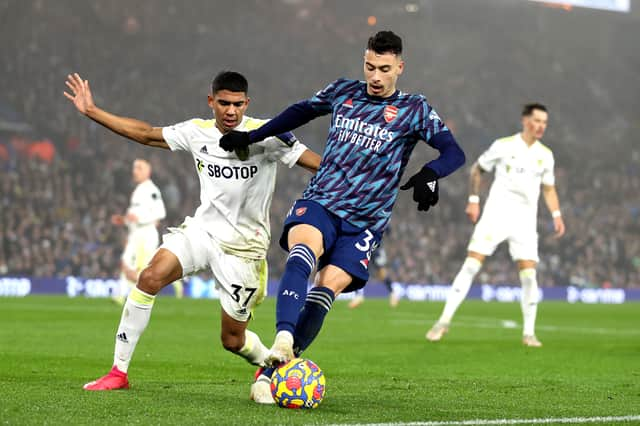 Arsenal's 4-1 win at Elland Road was another positive result for the London side but it was more disappointment for Leeds United fans as their injury hit squad, packed full of youngsters for Saturday's match, were consigned to a third straight defeat.
Marcelo Bielsa's side have conceded 15 goals in their four matches so far this month and are hovering dangerously just above the relegation zone.
Both Watford and Burnley now have multiple games in hand over the Yorkshire club who could soon find themselves in the bottom three if results don't turn around.
Despite that though, their were still some positives to take away from Saturday's defeat.
Many pundits and fans took to social media to praise the Elland Road atmosphere as the Leeds faithful vocally backed their players till the final whistle despite the result being long passed them.
Former Manchester City, Newcastle United and England midfielder Joey Barton tweeted that it was "rare in modern sport" to see such backing.
He wrote: "Some atmosphere at Elland Road, Leeds 4-1 down at home. After losing 7 at Man City. Not bad period but they recognise the progress under Bielsa and stick with their team. Proper fans Good to see. Rare in modern era of support."
Radio host, podcaster and Leeds supporter Rich Williams echoed those sentiments.
He wrote: "36,000 chanting 'We all love Leeds' from the 85th-93rd minute, like we've just won the game. Leeds fans, that"
The Yorkshire Evening Post's Chief Sports Writer, Graham Smyth, described the atmosphere as "sheer defiance".
He wrote: "Majority of Elland Road on their feet singing 'we all love Leeds' in a show of sheer defiance. 1-4"
While the atmosphere in the stands was worthy of praise, the performances on the pitch of the Leeds players gained less favourable reactions.
The 21-year old has won over a lot of admirers in recent games despite results with the YEP claiming that Leeds would have faced an "Etihad level humiliation", referring to their previous 7-0 defeat to Manchester City, had it not been for the French youth international.
It's worth mentioning just how badly hit by injuries this Leeds side have been as the local paper commented: "Leeds aren't just injury-hit, they've been cut off at the knee as Bielsa bravely and gamely insists it's just a flesh wound."
The match was the most viewed of any Premier League match on Saturday, owing entirely to the fact that it was the only one to go ahead.
The fixture card was decimated by Covid-19 related call offs and the football world has been reacting exactly as you might expect.
The Athletic reporter Adam Crafton said it was a farce that things hat gotten to this stage.
He wrote: "The farce has reached the point where the only game going ahead today is one featuring the team with the most injuries and a great vaccination record in Leeds United. Which is pretty unlucky if you're Leeds United."
The last word though went to Match of the Day host Gary Lineker who had a tounge-in-cheek dig at Twitter.
Referring to the always controversial running order on the BBC's highlight show, he wrote: "The @BBCMOTD running order: Leeds United v Arsenal. Surely no one disagrees this week….then again, it is Twitter."