UEFA President Aleksander Čeferin has named and shamed the English football clubs that were the most proactive in pushing for the European Super League in 2021.
Čeferin gave the tell-all interview to ex-Manchester United star and Sky Sports pundit Gary Neville on The Overlap. The two spoke in depth about the European Super League and the discussions that were going on behind the scenes when the controversial competition was put forward two years ago.
The English sides included in the founding members were Liverpool, Manchester United, Manchester City, Chelsea, Arsenal and Tottenham Hotspur.
Clubs came under fire for the exclusivity of the competition when the idea was floated and the league was consequently scrapped.
Aleksander Čeferin: 'Your club's owners were very much involved'
Mr Čeferin told The Overlap which of those Premier League teams were the keenest for the Super League.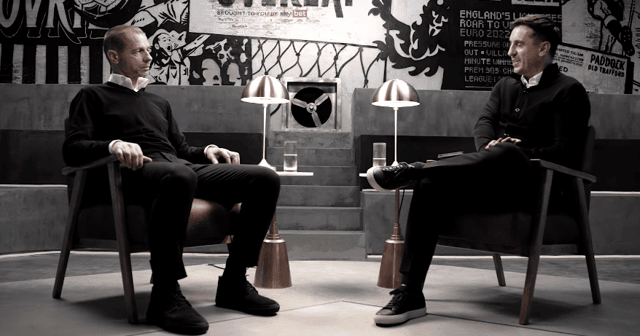 He said: "As much as I know, unfortunately, your club's owners [Manchester United] were very much involved and Liverpool as well.
"I think that those two [Manchester United and Liverpool] were from the English side the most involved [in the Super League]. The last to join were Chelsea and Manchester City. I'm not sure about Tottenham and Arsenal."
The UEFA boss went on to admit that the proposed league was heavily reliant on the involvement of those Premier League clubs, and wouldn't exist without them.
'Without English clubs, no Super League would exist'
He said: "Without English clubs, the Champions League is not the same, and no Super League would exist. German clubs are in the same position as English clubs, but we didn't have riots in Germany because no German clubs joined the Super League.
"If Bayern Munich or Borussia Dortmund joined, you would see people on the streets, the same way as you saw them in England. France is against. In Spain, out of 20 clubs in the La Liga, 18 are against.
"When they moaned that they want their Super League – play your Super League. You are three, you can play your Super League. Nobody cares. Nobody wants them, football doesn't want them."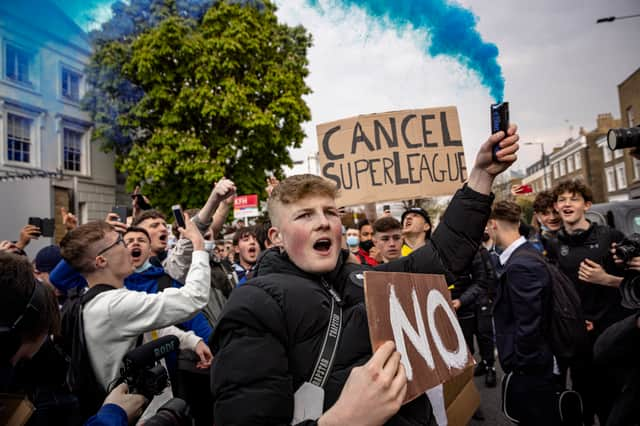 Super League 'cannot be resurrected'
Mr Čeferin also calmed any thoughts about the Super League returning saying that the idea "cannot be resurrected". The football chief also criticised the clubs involved in the competition's launch and dared them to try such a stunt again.
He said: "The Super League cannot be resurrected; the court case is mainly symbolical. They say that UEFA has a monopoly and that they have the right to organise their own competition. My answer is – organise your own competition. We never stopped them to organise another competition.
"A22 wanted a meeting with me, and if I didn't meet them, they would say I'm arrogant, and that UEFA doesn't want to speak. I didn't want to meet them alone because I didn't trust them to misuse my words. So, I invited ECA clubs, leagues, fans, FIFA pros to the room, and they didn't know. I quoted the chairman of the English fans who said, 'you have less supporters than the UK has had Prime Ministers in the last two months.'
"Everybody was against them [Super League]. Nobody wants to play with them, but they still shout that UEFA doesn't allow us. We don't have the power, if you want you can create your own football club and start your competition tomorrow."