Fulham rising star George Okkas on Australia decision, Marco Silva talks and first team ambitions
Fulham U21 midfielder George Okkas spoke exclusively to LondonWorld about his first team ambitions and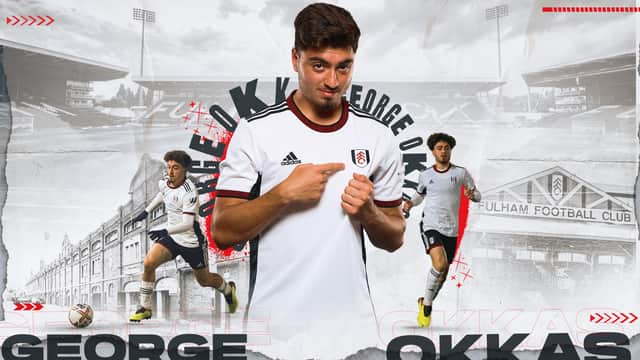 There are roughly 3,500 boys in Premier League academies across the country, but less than 0.5% of them will ever make a living from the game.
One of those exceptions is Fulham midfielder George Okkas. At 19 years old, Okkas has already made a strong impression with his performances for the Cottagers' under-21 side this season, regularly training with the first team under the guidance of head coach Marco Silva.
Whilst he now plies his trade for the team in south west London, things could have worked out differently for Okkas after he spent time training with Arsenal at the age of 16, in the same age group as players like Charlie Patino and Brooke Norton-Cuffy.
"I was at Arsenal Soccer Schools," says Okkas. "Created by [former Arsenal Head of Youth Scouting] Steve Morrow, in Thessaloniki. They choose a few players to go to England each year.
"I used to go to Hale End every couple of months at the age of 16. I didn't get the scholarship, but they [Arsenal] recommended me to Fulham. I had trials at Fulham which were a success. So maybe it turned into a good thing."
Okkas moved to the UK from Cyprus after signing for Fulham in the summer of 2020. His arrival at the height of the COVID epidemic was met with several challenges.
"It was one of the most difficult months because I just came to a new country," Okkas says.
"I couldn't really go out and spend time with my teammates. You feel better when you have that interaction, so it was tough. I was quite isolated, which was hard and I think it affected my football. However, I like to look on the bright side, which is that I learned how to deal with it and grew as a person. I became stronger."
Now fully settled a stones throw away from Fulham's Motspur Park training ground, Okkas admits he had to grow up early compared to many of his friends back home in Cyprus.
He also reveals that he has yet to make a decision on where his international future lies.
"I was raised in Cyprus. My mum is from Australia, so there's also that possibility [of playing for their national team]. It's an option.
"The biggest challenge I had to face was growing up early. The mentality is a bit different compared to Cyprus. I depended a lot on my parents back then, but when I came here I had to learn basic things like getting how to get around and becoming more independent, so that was the main difference. Obviously, the football is very different too.
"Cyprus is a family oriented country so I spent a lot of time with my family, friends in our country with good weather. It was a hard decision to leave that at the age of 16."
Football runs through the blood in the Okkas family. His father Ioannis is the former captain of Cyprus and the country's second leading scorer of all time, where he made more appearances for the national team than any other player in their history.
Okkas Snr's career spanned over two decades where he played for the likes of PAOK, AEK Athens, Olympiacos and Celta Vigo. It was at the Spanish side where he had a spell upfront with a certain Diego Costa, who would go on to become an icon of European football at Atletico Madrid and Chelsea.
"I used to spend time with [my father's] teammates and play football with them in the changing rooms.  My father has pictures and videos but I don't remember a lot from that time, as I was only five or six years old.
Does having a footballing father help with advice and encouragement?
"It's helped me for sure," he says.
"Because I've seen examples of other parents who maybe haven't encouraged their children in the right way. For example, they might have told them 'you're the best', but this doesn't help someone.
"Whereas I'd say my dad, because he's lived it, knows a few things. He told me that success is temporary if you don't work on it. What you might have now might be gone in a couple of months if you take it for granted.
"I'd say the main thing [my father] taught me was mentality. He'd tell me not to get disheartened for example.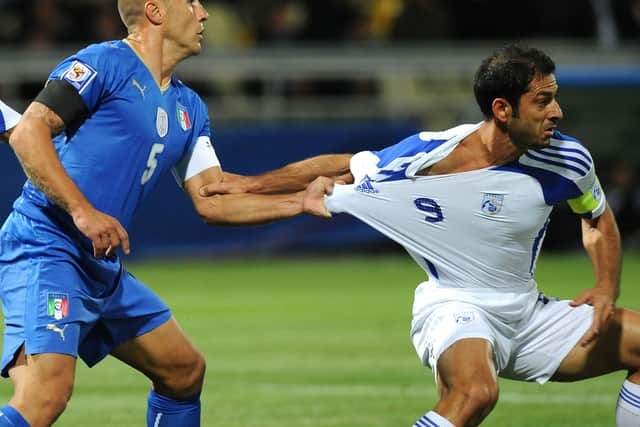 "Patience is a very important thing for a footballer.
"When I was younger, I wasn't one of the best players in the national team. I was a squad rotation player. He told me 'if you work harder, then your time will come on the pitch'.
"He was more a winger/striker so it's a bit different to my position, but he taught me about finishing in the final third, runs into the box and striking techniques. Stuff like that is always useful even if I may not execute it in the game as much."
Fulham's excellent form this season can be attributed to their experienced manager Marco Silva, who has built a technically astute squad of strong defenders, ball-winning midfielders and exciting forwards.
Okkas, who scored two goals in a 3-2 win over Blackburn Under-21's in February, the second of which was a superb, curling free-kick, says he has ambitions of breaking into the first team.
"Fulham are doing very well," says Okkas. "It's very hard to get into a team where there's a lot of quality players. But with the few conversations I had with the coaching staff and Marco [Silva], I understand he cares about young players.
"If I'm playing well, there's always the possibility [of being called up to the first team].
"That game [against Blackburn] was one of my best games this season. It's always good to score two goals, especially after not playing a lot of games. It was important not only for the team, but also for my personal achievement. It's a good step in the right direction.
"This season I just want to establish myself in the Under-23s and train as much as I can and be involved with the first team whenever it's possible. I also want to get as many international appearances as possible.
Interestingly, Okkas shares the same agent as one of the most decorated players in NBA history, Giannis Antetokounmpo.
"The main thing for me is when I met OIS agency and Mr [Giorgos] Panou, I understood that he actually cares about the players he has. His intentions are genuine and that's important for me.
"I like people that succeed against adversity. I took time to watch some of his [Antetokounmpo's] mini-films and I tried to take a few bits and use for my own motivation. It shows that nothing is impossible if you put your mind to it."
Okkas, who enjoys playing basketball and darts in his spare time, admires several players in Fulham's first team set up and insists the sky is the limit for him.
"There's a couple, I'd say for sure. The first one is [João] Palhinha. I just like the way he plays forward and the way he tackles. I also like [Bobby] Decordova-Reid because I admire his intensity in every game, he's always aggressive. He's always up for the game up for the challenge. And I also like [Andreas] Pereira because of his flair, freedom and the way he plays the game."
For Okkas, leaving short-term pleasures behind and focusing on long-term goals is the key to success. He believes that by working harder than others and pushing oneself to go the extra mile, anyone can rise above the rest. Okkas is determined to achieve his goal of playing in the Premier League with Fulham, a dream he had when he first came to England, and he is determined to make it a reality.
"I'd say from my own experience, leave the short term pleasures and focus on the long term. It was hard for me to see my friends on social media going out every week and on the beach, but my mentality was that I want to do that with my family in the future and be comfortable rather than doing it now.
"And football wise, I'd say. If you work harder than the others, I know it's a bit cliche. But if you honestly look at the other players, and you do the same, three times more, no matter where you are at the moment, you will be above them in the future.
"Right now, my goal is [to play in] the Premier League with Fulham. I started with a goal when I came to England - and I want to finish it."