Arsenal starlet Catalin Cirjan opens up on injury nightmare, Arteta compliment and national team situation
Exclusive: Arsenal youngster Catalin Cirjan speaks to LondonWorld about his time at Arsenal so far, working under Mikel Arteta and much more.
Watch more of our videos on Shots!
and live on Freeview channel 276
Visit Shots! now
Catalin Cirjan is no stranger to adversity. After being sidelined with multiple knee injuries for 15 long months, the Romanian youngster found himself facing a challenging road to recovery.
But if there's one trait the 20-year-old midfielder possesses in abundance, it is undoubtedly his strength of character.
In an exclusive interview with LondonWorld, Cirjan opened up about his struggles and how he overcame them. He revealed how manager Mikel Arteta played a crucial role in his recovery, offering encouragement and support every step of the way.
"It was a very difficult time," Cirjan tells LondonWorld.
"It's not easy to come back after surgery on both knees. But I never lost my confidence and continued to work harder and harder, aware that reward would come. This experience has matured me a lot and now I am ready for any challenge of life."
Cirjan's admiration for Arsenal boss Arteta is clear, and it's not hard to see why. The young midfielder's style of play is strikingly similar to the former Gunners midfielder, and Arteta has been instrumental in helping him develop his skills and abilities. Indeed, LondonWorld understands Arteta considers Cirjan to be one of Arsenal's best young prospects.
So much so, Cirjan was offered a new contract in May last year which he put pen to paper on until 2024, with an option for a further year.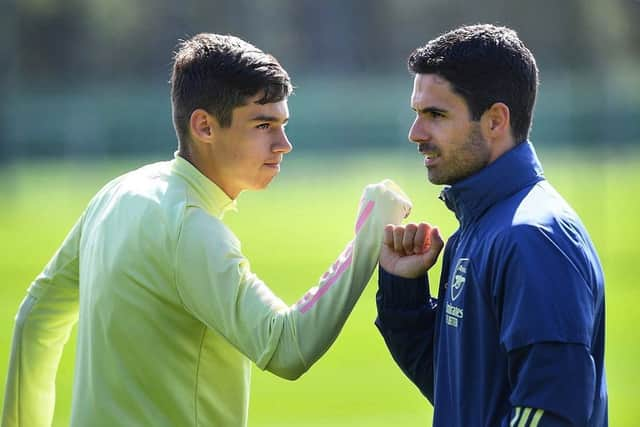 "He [Arteta] knows what I've been through. He was also in a similar situation [with a long term injury]. He told me that I amazed him and that he admired me for the strength with which I came back after the operations.
"I am very grateful to Mikel for the way he talked about me, even more as these words come from the team manager of the moment, in the best championship of the world.
"I have great pride to be coached by Mikel and I try to learn as much as possible from him, especially since my style of play is very similar to the one he had as a player.
"He always asks me to play with courage and makes me give everything to training with him."
Cirjan describes Arsenal training sessions as "incredible", full of "intensity" and "quality". He has seen the likes of Bukayo Saka, Emile Smith Rowe and Eddie Nketiah all become established first team players in recent years, and he has ambitions of his own to break through into the senior squad.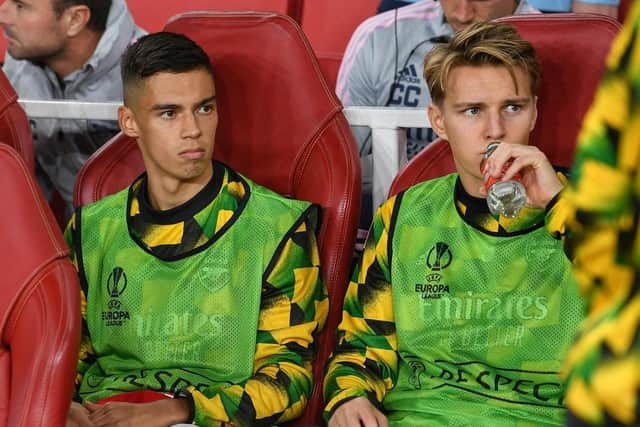 "For me Arsenal is the perfect club for a young player who dreams of making an important career.
"Everyone in the club is very attentive to the smallest details, so that we do not lack absolutely anything that could make the difference in our development as footballers.
"I think I'm the kind of player who likes to win but also to give a show. I have a crazy pleasure to play and the fact that I have a good technique and vision of the game makes me able to evolve in several positions.
"Every aspect of my game has to have important changes. I'm a perfectionist, I like to push my limits as much as possible and my personal goal is to be a better player than I was last month."
Having been in and around Arteta's first team group this season, Cirjan has also taken advice on board from several experienced pros in the squad.
"I can't say one [player I'm close to], all of them are really nice and it is an amazing group, but if I was to choose I'd say Granit Xhaka and Martin Odegaard. They really help me with some advice because we play in the same position."
National team situation
Every young player dreams of representing their country and Cirjan is no different.
The youngster is currently embroiled in a stand-off with the Romanian Football Federation (FRF) after not being included in Romania's under-21 squad for games against Portugal and Germany.
He was taken out of the squad at the last minute and sent to the Under-20 squad.
The junior national teams' selection process in Romania has been criticised for being unfair, with allegations of interference being directed at Mihai Stoichita, the FRF's technical director.
Stoichita has denied these accusations, but Cirjan's grievances, of which there are many, highlight a need for transparency and fairness in the selection process for national teams.
"I think it's an aberration to be blamed for not playing in Arsenal's first team. I'm in the first place team in the best championship in the world. Do you think it's easy to play here? If I can't take the place Odegaard, Saka or Martinelli, that does not mean that I cannot be called up to the U21 national team.
"I'm in the [first team] schedule, I'm training, I'm part of the first team squad, I was a substitute for four games and I think Arsenal sees something in me if they extended my contract.
After being called up to the U21s, Cirjan's hopes of representing his country at a higher level were dashed when he was dropped down to the U20s.
It was a decision that he believes was made without merit, and he has not held back in expressing his frustrations with the Romanian Football Federation's (FRF) treatment of him.
"I argued to Mr. Sandoi [Romania manager] why it is not right to proceed like this. Mr. Sandoi told me that he will consult with my selectors and that they will make a decision. 'We keep in touch' were his last words. I didn't keep any contact, then I found out that I was not included in any group.
"No U20 call-up was received at Arsenal. I have never spoken to Mr. Pancu [Romania U20 coach] in my life, that's why I was disappointed when he said that he found out from Emil Săndoi that I didn't want to come.
"Per Mertesacker [Arsenal academy manager] told me that I did the right thing to tell them that it was not suitable for me to go to the U20, and he told me that he couldn't believe the amateurism in FRF's behaviour.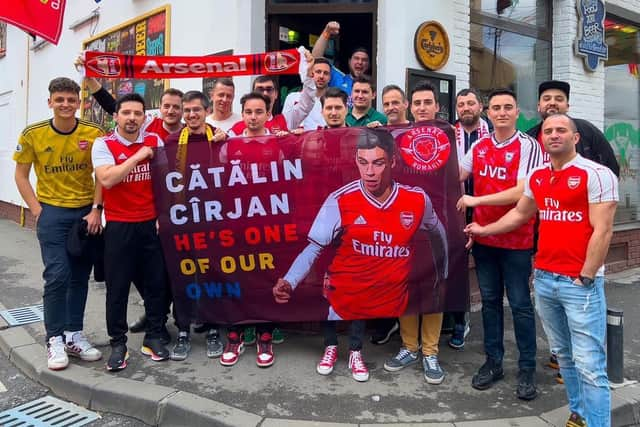 Cirjan's passion for representing his country is undeniable, and he has made it clear that he would never refuse a call-up, no matter how hard some may try to leave that impression.
"Unfortunately, what many people don't know is that Romania's national team is no longer Romania's. It is the national of various interests, and I am not there, because I do not represent those interests.
"If I ever play for Romania, I will do it with responsibility for my country. I am not coming for Mr. Stoichita or Sandoi or for anyone else, I am coming for my country.
"I will never refuse the Romanian national team, no matter how hard some try to leave that impression," he declared.
Despite the challenges he's faced, Cirjan remains optimistic about the future. He dreams of making his first-team debut for Arsenal, becoming the first Romanian player to ever do so.
"My long term ambition with Arsenal is firstly to make my debut and be the first Romanian that plays for Arsenal the club, then winning trophies and being an important player in the team."
"It's my dream as a child. I liked to tell everyone that I am Thierry Henry and the fact that life has brought me to the position of being part of this wonderful club seems to me something amazing."