Gary Neville uses Man Utd transfer example to make Romelu Lukaku and Chelsea point
Manchester United great turned pundit Gary Neville has shared his thoughts on Romelu Lukaku and Chelsea amid the transfer links.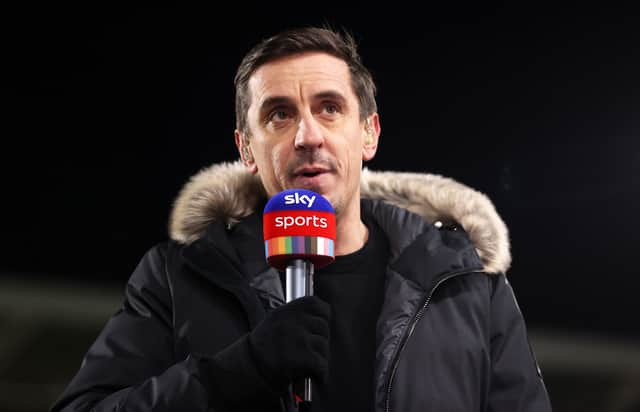 Romelu Lukaku was dropped from Chelsea's squad for their 2-2 draw with Liverpool on Sunday following comments he made in a recent interview in Italy and it has led to reaction aplenty including from pundit Gary Neville.
Lukaku has scored seven goals in 18 appearances for Chelsea this season since after he rejoined the club for £98m in the 2021 summer transfer window.
However, the Belgian striker has been praised by former Premier League defender Gary Neville for his 'authentic' and 'honest' comments.
Speaking about Lukaku's interview on The Gary Neville podcast, the ex-Manchester United right-back said the following: "We have to applaud Romelu Lukaku in some ways for being brave enough, or whatever you would call it, to come out and speak the truth.
"I've called for players to be more authentic, to be more honest. He is experienced. We have to imagine he knows those words will travel back and the impact those words would have."
Neville did however go on to state that if he were associated with Chelsea in any way that he would be "really disappointed" in Lukaku's actions and that the Belgian should apologise for them, especially to his teammates.
'If I was a Chelsea fan today, or a Chelsea coach or owner, I'd feel really disappointed by my player saying that, particularly when you've invested so much in him," he said.
"What I would expect of Romelu Lukaku in the next few days is a 'sorry, I didn't mean it'. So the best he can do is ask for forgiveness in the dressing room with his teammates.
'Players ordinarily forgive each other, they've all been in situations where they've made mistakes and you say 'right, okay coach, he can come back in'.
"I think Romelu Lukaku will have been watching that game, suffering a little bit I think, knowing he would want to be out there with his teammates."
Neville continued by saying he doesn't think that Lukaku's second spell at Chelsea is over after his comments, but that he can be brought back into the team.
"Tuchel has established that he is the boss, the owners have established that they are willing to support the manager over the player and the teammates have gone out on the pitch and performed absolutely brilliantly without him.
"Lukaku will be reintegrated - I don't believe it's a case of he leaves the club, get him out in January - he can be reintegrated.
"I saw it at Man United a couple of times when players made mistakes, they made their desire to leave known and the manager said 'no, you're not leaving.'
"And they were integrated, they were forgiven and they did perform well for the club in the future. I think Lukaku coming back in could be a different Romelu Lukaku."
Despite this, according to reports from Gazzetta Dello Sport, Lukaku is apparently eyeing an exit from Stamford Bridge, with the Belgian wanting to reunite with Antonio Conte at Tottenham Hotspur.
The pair worked together at Inter Milan and won the Serie A title last season.