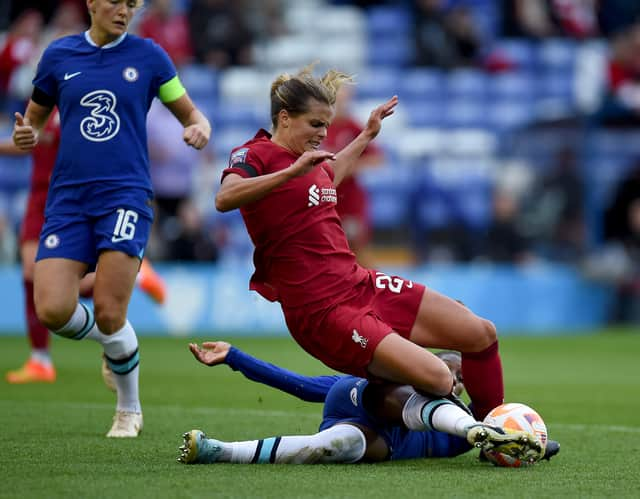 Brighton defender Emma Kullberg was shown a red card for bringing down Arsenal forward Stina Blackstenius, giving the visitors an even bigger hill to climb at the home of the title-contending Gunners on Friday.
It was a match-defining moment that has since been undermined by suggestions of an offside in the build-up to the foul.
While Premier League fans bemoan the hair-splitting lines which hold up play and put a dampener on goal celebrations, questions are raised in the WSL about whether or not on-pitch officiating is enough to make decisions in an increasingly competitive division.
Elsewhere this weekend, Sam Kerr looked to have doubled Chelsea's lead at Prenton Park before a raised flag chalked off the goal on Sunday evening. The Australian star showed the linesman what she thought with a raised thumb and forefinger which seemed to say 'so close' and subsequent stills of the play cast doubt on the call.
The Blues were punished for their failure to extend the lead earned by Fran Kirby's third-minute penalty as Reds forward Katie Stengel hit two further spot-kicks to complete a comeback and hand newly-promoted Liverpool a stunning win over holders Chelsea.
It was the first time in the history of the Women's Super League that three penalties have been scored in one game, and certainly an unexpected outcome from the champions' curtain-raiser.
Amid discussions surrounding the need for VAR and questions over the division's officiating, former Premier League referee Dermot Gallagher has weighed in to give his opinion on the Reds' spot-kicks.
With twenty minutes left to defend Chelsea's one-goal lead, Millie Bright's arms got in the way as she was marking Liverpool's Gilly Flaherty, who booted the ball into the Lioness' hand.
According to Gallagher, the referee was right to point to the spot.
"The hands are out, you'll say it's very very close but if you look, the ball comes up, hits her on the hand, arms are outstretched, referee is in a good position, immediately gives a penalty," Gallagher insisted.
"I think it hits her arm, the arms are out and she's given it.
"Her [Bright] argument will be it's so close, but the arms are out."
The evening went from bad to worse for Emma Haye's side as their exciting new signing, Kadeisha Buchanan, brought down Katie Stengel in the area.
Again, Gallagher had little sympathy for Chelsea, and praised the referee's performance.
"They will argue that she got the ball - she does get the ball, there's no doubt about that, but she certainly gets her opponent first," he told Sky Sports' Ref Watch.
"Wraps herself right round the opponent, does get the ball, but it's a penalty. And again, look at the referee's position - couldn't be better.
"If you wanted to put a marker on the pitch for where you want to be to make that decision, that's exactly where you'd place yourself."