Dermot Gallagher disagrees with Jamie Carragher over controversial Chelsea vs Man City decision
Dermot Gallagher has issued his verdict on one of the most controversial decisions during Chelsea vs Manchester City.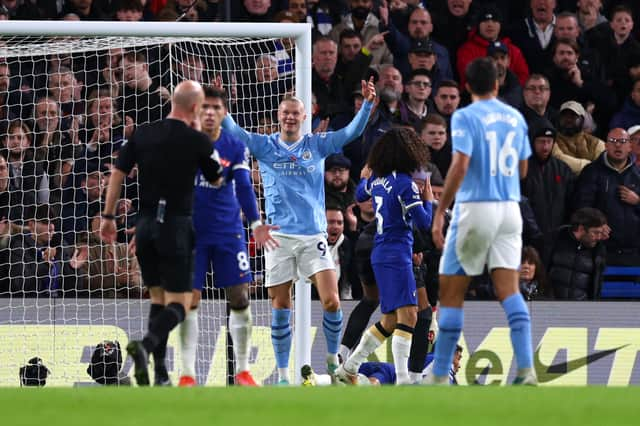 Dermot Gallagher has issued his verdict on the much-debated penalty decision in favour of Manchester City against Chelsea on Sunday. Chelsea scored a late penalty of their own to draw 4-4 with City at home on Sunday evening, but not all of the decisions were as straightforward as the one that ultimately decided the game.
Earlier in the game, Marc Cucurella was penalised for holding onto Erling Haaland inside the box, and City were given a penalty, which Haaland scored. Many felt the decision was a harsh one given both players were involved in grabbing, but former Premier League referee Gallagher believes there may have been enough for a penalty.
"They are both grabbing each other, you can see why the referee has given it," Gallagher told Sky Sports as part of their Ref Watch feature. "It was never, ever going to be overturned by the VAR. When you see the sideways view, Cucurella never lets go. He hauls and hauls and hauls. You can't unsee a foul."
Asked about Haaland's grabbing, he added: "I think it's the fact that Haaland lets go. What l would also say is that at least we have an on-field referee making a decision and that should be applauded." Gallagher was also asked whether VAR would have given a penalty if it wasn't initially awarded on the pitch. He responded: "I would say no." Interestingly, Sky Sports pundit Jamie Carragher had a different view of the incident, saying: "I just felt for Cucurella. There's no doubt he starts it by keeping it tight with Haaland. We've all been there as a defender. But Haaland doesn't throw him to the floor but uses his power.
"I can understand why VAR haven't overturned it but I just felt for him, maybe being a defender in that situation. Both of them were doing the same thing."