Chelsea legend John Terry hits back at critics over £100 autograph charge in frustrated video
John Terry has explained the reason behind charging fans £100 a pop for his autograph at his An Evening With John Terry show.
Watch more of our videos on Shots! 
and live on Freeview channel 276
Visit Shots! now
An under-fire John Terry has hit back at criticism over charging £100 for an autograph in a frustrated new video shared online.
The Chelsea legend is hosting a series of 'An Evening With John Terry' shows across the country with the mini-tour kicking off in Basingstoke last week before heading to Bournemouth in October, London in November and Birmingham in January.
At the first event, it emerged that attendees would pay an additional £100 for an autograph and £500 to be one of 10 having a two-course meal with Terry, on top of the £30 forked out for a ticket.
There are a series of additional costs including an extra £110 for front-row seating and a photograph with the centre-back or £150 for a 'platinum package' which includes a meet and greet - although neither of those include an autograph.
A peeved Terry took to social media to upload a video explaining that those price points had been created to raise money for charity and that the money wouldn't be lining his pockets.
The 42-year-old said: "Hi guys, just wanted to touch on the stories the press are writing about me charging fans £100 for signatures and photos and drinks or whatever that may be.
"The big thing – and this is very important – the big thing that they forgot to mention is that all proceeds from these events that I've been doing – and the only reason that I signed up – is to raise money for my foundation, for the John Terry 26 Foundation.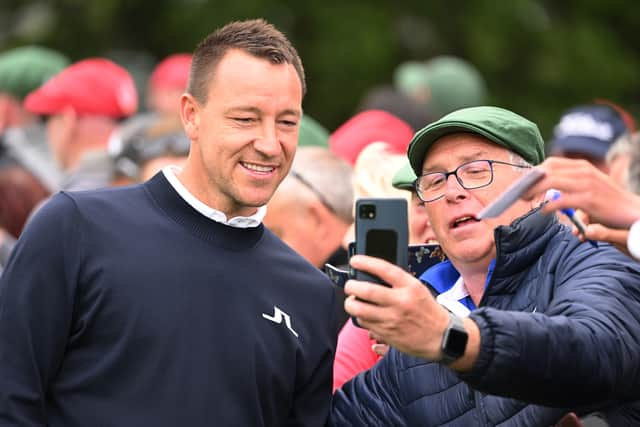 "I set my foundation up about seven or eight months ago because I wanted to do something personal and on my own where I'm going to be eventually hosting a gala dinner, golf events throughout the year, any opportunities to raise money for my foundation.
"I've been working very closely with various different charities over the last 22 years being Chelsea captain and seeing a lot of terminal and ill and sick children along the way, which is something that's always been something very close to my heart and always will be
"So rather than doing it for one specific charity, I've been focusing on my own foundation in the last six or seven months. And this tour that I'm doing, this Q&A that I'm doing, is part of that.
"But like I said, the key thing that the press have forgotten to write is that all proceeds from this event [will go to charity]. And I didn't want this publicised, and I agreed this with the guys, because I don't think it's right for me to publicise that. But now they've raised the issue I will address it. So every penny from these events goes towards my John Terry 26 Foundation.
"I apologise for coming out a day or two days late, but I'll touch on why I didn't touch on this yesterday: because, again, I was at another charity day working for BGC in London with obviously the very sad news of the World Trade Centres and something that I've done for the last five or six years and I'll continue to do.
"But again, giving up my time, giving up my day, for all these charities is something that's very important to me and I'll never stop that. Really frustrating for me actually and I'm just fed up with the press writing s*** over and over again."