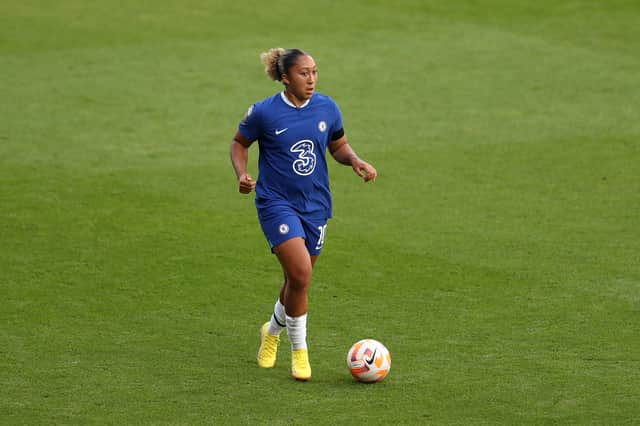 It was a huge game at Kingsmeadow as two of the 'big three' faced off in the hopes of recovering from disappointing opening day results.
James was on the pitch for every minute of Chelsea's painful loss to Liverpool, as the newly-promoted Reds came from behind to claim a 2-1 win over the title holders.
The visit of Gareth Taylor's Sky Blues, who fell on the wrong side of a dramatic 4-3 result at Villa Park in their season opener, posed a different challenge altogether to Emma Hayes.
Though the departure of a number of key players has created a sense of instability, City still possess lethal quality within their ranks of the sort WSL newbies Liverpool are yet to build.
Four thousand four hundred and three fans turned out to watch the top sides go head to head in West London - and among the crowd was England head coach Sarina Wiegman.
There were plenty of England veterans and hopefuls for the 52-year-old to be keeping an eye on at Kingsmeadow, including displaced England number 1 Ellie Roebuck and former Lionesses captain Steph Houghton.
The afternoon posed a good opportunity for Wiegman to chew over one of her side's biggest concerns right now - how to configure the Lionesses' attack following the retirement of record goal-scorer Ellen White.
As well as Euro 2022 champions Fran Kirby, Chloe Kelly, and Lauren Hemp, relative England newbie James was among those whose offensive talents were on display at Kingsmeadow.
The Londoner, who returned to Chelsea in the summer of 2021 after spending years in the Blues' youth set up, was handed her senior England debut by Wiegman in the Lionesses' 2-0 World Cup qualifying win over Austria earlier this month.
In front of the national side's boss on Sunday, James made a strong case for an increased role in the England team with a peerless performance for the Blues.
As Chelsea eased past their title rivals City, James' knack for ball-carrying took centre stage, her opponents getting nowhere near her. The youngster oozed confidence as she flaunted her technical and creative ability, as well as displaying considerable talent with both feet.
Fans took to social media to express their delight at the player's ability, which bears striking similarity to her brother and Chelsea men's full-back Reece:
@Lawal_oluwadami: What a baller !!!! The same swagger as the bro!!
@Sosament: Real technician!!!
@_TheSonofJames: She has probably trained a lot with her brother. See the body movement and composure. Reece 2.0.
@BeardedMagician: She plays just like her brother but she is giving proper Eden Hazard vibes.
@Driz_04: Nah her similarities with her brother is insane. Ball control, movement, runs, dribbling, kicking. Every thing is the same.
@Ermcoley: Fair play, she's class.
@838_Carlisle: A whole nightmare.
@Lynboii: Nobody needs to tell you this is the sister of Reece James.
@Sloane_GP: Crazy… it's just like watching her brother.
@3ddy1_: Got the #10 jersey for a reason. What a playaaa.
@MitchMatyana: Yeah I rate her highly. She's cold with it.
@rndmburneracct: Her close control and physicality is an insane combination. She just rides challenges and bounces opposition players like they're not there.
@SethaDusei: That's Reece James footie right there. Same skillset.
@Kirschnerrrr: She's a certified baller.