A man who racially abused Brentford striker Ivan Toney online has been banned from every stadium in the UK.
Antonio Neill, 24, was sentenced at Newcastle Magistrates Court on Monday and issued a three-year football banning order - the first of its kind to be issued for online hate crimes relating to a person with a prescribed connection to a football organisation.
The Northumberland man was also handed a four-month sentence which has been suspended for two years.
Neill sent the racist message to Toney on October 14 last year following the London club's 2-0 win over Brighton.
Toney scored two goals in that game and shared an image of the abuse online the following morning with the caption: "I wasn't even going to post this but I woke up angry."
When challenged by one Twitter user for doing so, the footballer added: "I won't regret it believe me."
Metropolitan Police worked with Northumbria Police to trace the suspect to living in Blyth, Northumberland and treated the incident as a hate crime.
When appearing in court in January, Neill had apologised for sending the message. He said: "I want to say sorry about what I said to Ivan. I'm disgusted and ashamed about it. I want to become a better person."
Following the hearing, a Brentford Football Club statement said: "Brentford FC is pleased to see the Antonio Neill case resolved and that Northumbria Police pursued this to a conclusion.
"Court appearances set a strong precedent for anyone else who commits hate crimes and it is our hope that sentences increase in severity until this sort of crime is eradicated.
"Ivan Toney has been subject to sickening racist abuse on a regular basis, and we want to see tough action taken against anyone found guilty of such abuse.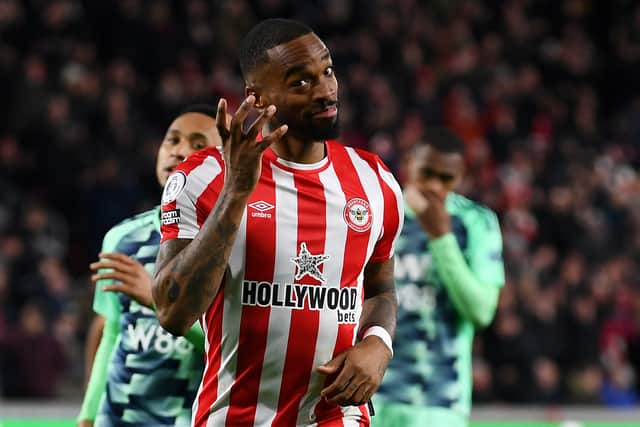 "The club firmly believes there is no place for racial abuse in football and we continue to support and implement a zero-tolerance policy towards discriminatory behaviour of any kind.
"All authorities have their role to play in this and we, again, call upon the social media companies to make their platforms safe for all participants and to remove all hateful content."
The banning order forbids Neill from attending any regulated football match in the UK, which includes Premier League, Championship, League One, League Two and National League fixtures, as well as England home internationals.
The banning order also prevents him from travelling abroad to watch international friendlies, qualification matches and tournaments.
Superintendent Scott Cowie, hate crime lead for Northumbria Police, said: "Discrimination has absolutely no place in any society, whether out in our communities or online.
"I am therefore delighted that the seriousness of Neill's offence has been reflected with this banning order, the first of its kind to be issued in the UK.
"I hope this reinforces our commitment to taking action against anybody who commits a hate crime – it will not be tolerated and we will do all we can to put perpetrators before the courts.
"I would like to thank everyone who played their part in this particular case, including the team of officers who worked tirelessly to secure justice as well as our colleagues at the Metropolitan Police, the UK Football Policing Unit and the Premier League."