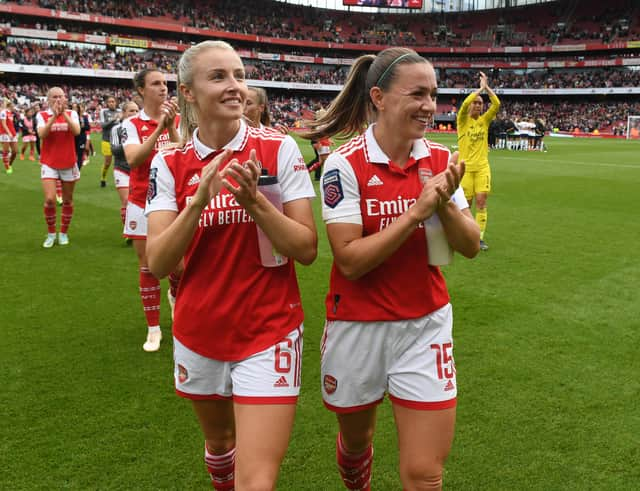 On Saturday, the 25-year-old led the Gunners out to face Tottenham Hotspur in a north London derby at the Emirates stadium roared on by nearly 50,000 fans - the largest ever attendance at a Women's Super League game.
Just one of many records to have fallen since the Lionesses brought home the European Championship trophy this summer, the bumper crowd speaks to the fresh enthusiasm for the sport inspired by the success of Sarina Wiegman's triumphant Lionesses.
Since the new season began earlier this month, several WSL clubs have reported sold-out stadiums, with supporters flocking to games to watch their favourite international players starring in domestic competition.
But Williamson, who in July became the first England captain to lift a major tropy in more than 50 years, says the progress won't stop there.
"We have everything we need now," Williamson told the BBC.
"We have the coverage on the telly, we're putting games in stadiums, so now it's literally the time to start really pushing. There's individual battles, but on the whole we're ready to go now.
"The train, it don't stop - it's left and it's picking up speed.
"Success at a major tournament directly correlates with the growth of the game and, knowing that when I walk out there's 48,000 Arsenal fans at my home that's enough energy I think. For me, anyway!"
England's 2-1 final victory over Germany sparked celebration across the country, with Wiegman's players showing up to Trafalgar Square hungover to greet fans and parade the trophy.
But Williamson didn't let her feelings of pride linger too long before she began imagining the next challenge .
"As soon as we won that trophy, as soon as anyone spoke to me I was like 'there's a world cup next year'," Williamson revealed.
"I love that feeling, and I want that again so we have to go up another level, everyone's chasing now - it's the way it goes."
Wiegman's preparations for the 2023 World Cup, which will be hosted by Australia and New Zealand, are already well underway.
On October 7, England will return to the scene of former glory when they take to the pitch in front of a sold-out Wembley crowd to contest a friendly against the world champions, the United States of America.
Williamson is holding herself to high standards as she strives to fulfil her World Cup ambition.
"I've never measured success on trophies but now I think how much of an effect can I have to help my team be the best we can be and taking care of myself in that," she said.
"It's time to be not just consistent but next level."