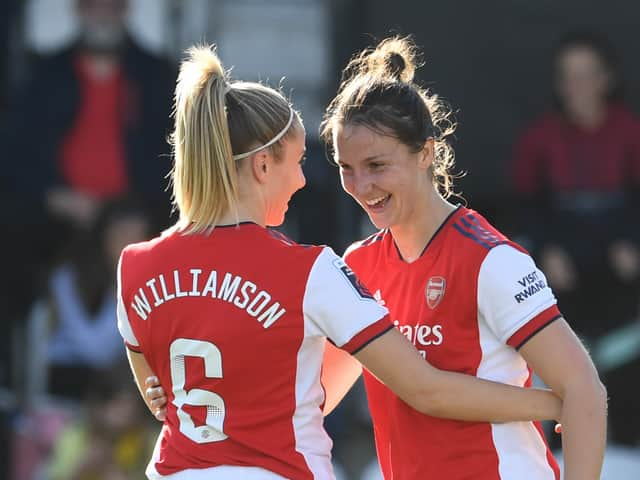 The Gunners could hardly have asked for a more perfect start, earning back-to-back 4-0 wins in their opening Women's Super League games, and following up a stellar north London derby victory in front of an incredible 47,000-strong crowd at the Emirates with a Champions League qualifying win over Ajax.
So as the league pauses for the international break, it is hard for Arsenal fans and players alike not to hold high hopes of the London club winning their first WSL title since 2019.
But things are going to look quite different when Arsenal return to WSL action with an away game at Reading on Sunday October 16.
As well as the stonking eight goals the Gunners have scored in their opening two games, the North London side are one of just two teams in the division who are yet to concede a goal, owing at least in part to the success of the relatively fresh centre-back pairing of England captain Leah Williamson and Brazil international Rafaelle Souza.
Williamson, who has played at Arsenal for eight years, has been singing the praises of her partner, 'Rafa', who signed for the Meadow Park outfit in January this year.
"I love it, it's an honour for me to play with her," Williamson said.
"The way she plays is the way I want football to be played. Defensively, she has the body and the strength that I wish I had!
"I'm not as gifted as her in that respect! But how she uses that and her other strengths in this team is exactly what we need."
It was worrying, then, to see the Brazil star limp off midway through the Gunners' Champions League qualifying win over Ajax last week.
The club have since confirmed that Rafaelle has fractured a metatarsal and is destined to spend several weeks on the sidelines.
Eidevall's consistent team selection across the opening games of the season has earned his team some great results - now, this injury news blows a hole in the bedrock of his defence.
Fortunately, the Swedish coach has an able deputy to depend on. England defender Lotte Wubben-Moy drew plaudits for her second-half display in Amsterdam; after she replaced Rafaelle in the Ajax tie, she worked successfully alongside Williamson to keep the Dutch side at bay.
The partnership has a history of working well - with Rafaelle out injured at the tail-end of last season, the Williamson and Wubben-Moy duo kept an impressive six successive clean sheets as the Gunners fought hard, but ultimately unsuccessfully, to gain an edge over Chelsea in the WSL title race.
Williamson has recently spoken about the unity of the squad's centre-backs, which bodes well for a change of on-pitch personnel.
"The group of us, the centre-halves and the keepers really work together at training," Williamson said.
"At the start of the season, me, Jen (Beattie), Lotte (Wubben-Moy) and Rafa (Rafaelle), we have been very critical of ourselves to try to figure out how we can be better.
"We're all working together to get better and I think that's what you're seeing out there on match day based on what I am seeing in training every day."
What's more, the Williamson / Wubben-Moy partnership has only been strengthened by nine weeks spent together preparing for and thriving at the women's European Championships. With a summer of enriching bonding behind them, the pair are well-placed to work together to keep WSL attackers at bay.
The loss of Rafaelle is a bump in the road, but Eidevall has a stellar ready-made solution.