Sky Sports pundit claims Arsenal star will go 'backwards' amid summer exit talk
The forward has spoken openly about his potential exit from the Emirates this summer.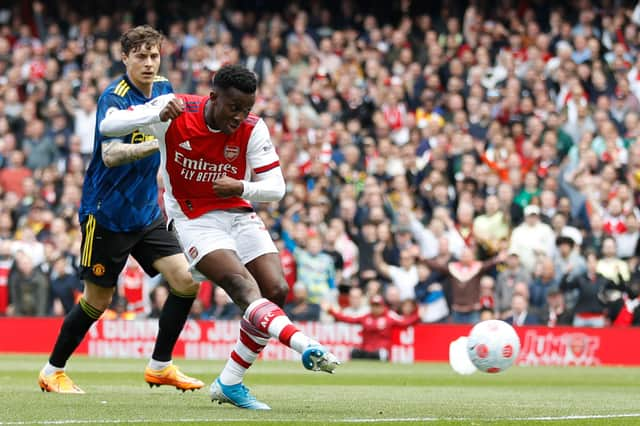 Michael Dawson has warned Arsenal striker Eddie Nketiah that he could go "backwards" if he leaves Arsenal at the end of the season.
The 22-year-old is out of contract in north London this summer, and as yet, has made no move to sign an extension to his current deal.
Speaking recently, Nketiah admitted that the Gunners had made attempts to secure his future at the club, but also reiterated his desire to play regular first team football.
"There have been offers of a new contract but at the moment my aim is to play football and play regularly," Nketiah told The Beautiful Game podcast.
"That's my ambition and that's what I hope to do but at the same time I'm at Arsenal, I love Arsenal."
Nketiah has found himself thrust into the limelight in recent matches, with the forward following up a two-goal turn against Chelsea in midweek with a second consecutive start against Manchester United on Saturday.
As yet, there is still no clear indication on where his future lies, however - a matter that has been further complicated by reported offers from the likes of Crystal Palace and Borussia Monchengladbach.
But according to former Tottenham defender Dawson, staying with Arsenal could still prove to be Nketiah's best option.
Speaking on Sky Sports' Soccer Saturday, he said: "Why, as a 22-year-old, would you want to leave Arsenal?
"I know he wants more game time. That's two games he's started, and he wants to play more games.
"But you're at a top football club - where are you going to go? You're going to go backwards from Arsenal, simple as.
"Are you going to guarantee he's playing? I'm not so sure. Give him another season and see how it's going - if Lacazette goes, if he stays.
"He [Nketiah] has started again today, so he's got more opportunity, and he's going to want to play, of course.
"But you've got to realise where you are because you can always go backwards. It's hard to go up the ladder."