Arsenal manager Mikel Arteta revealed he had to fight for his life from a young age with a heart condition in a passionate speech to his players.
Arteta, 40, was speaking to his team after they had lost 5-0 to Manchester City, their third consecutive defeat at the start of the season.
In a clip captured on Amazon Prime's new All or Nothing documentary, the Spaniard explained how he had to overcome adversity from a young age to inspire his players.
The Arsenal team were left completely captivated by his incredible story.
In a clip from the documentary, he said: "In this industry there are high performance teams, and in high performance teams, they all have something in common and that is they get results.
"When I was born, I was born with a big heart disease. And for two years they had to try to save my life until I had the opportunity to have the first open surgery in Spain."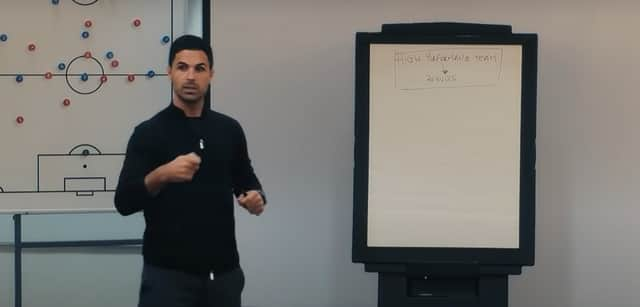 Arteta, 40, was born with a rare heart condition that limited his supply of clean blood to the rest of his body.
And he paid tribute to the doctors who had saved his life at a young age.
"For any high performance team, not only a football team or a basketball team, but it can also be an emergency team like the one that they work in hospitals," he told the players.
"This team has to be surrounded by people that are very special and they are willing to work for each other and work 24/7 and they do that because they love what they do."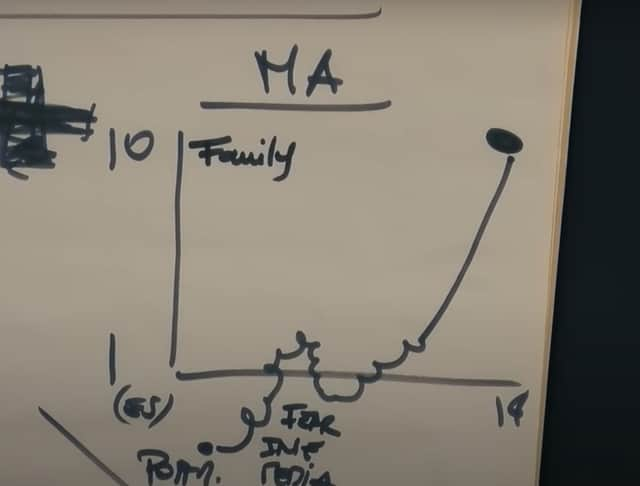 Arteta began drawing a graph on the board to show his players his passion.
"I'm going to share something with you, this is me, this is my emotional status, one to 10," he explained.
"Post Man City I was dead, low," Arteta told his players, drawing a point below the graph.
"I had fear, I had insecurity and I had the media are always killing me."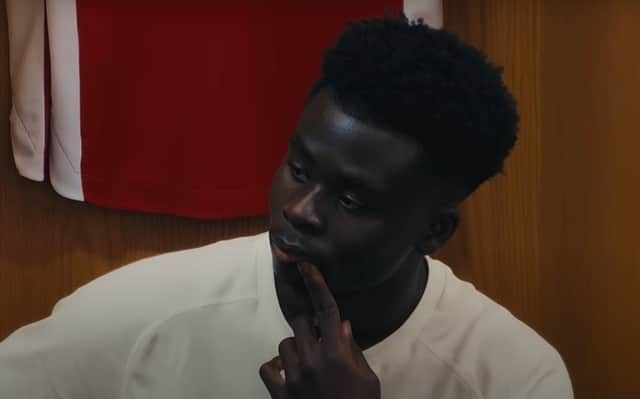 Arteta then moved the point to high up on the graph, and explained: "Suddenly I have only positives.
"I have an incredible family, my wife and three kids and another one the club always supports me.
"But the people that moved me from here to there is you , the players, this week I have found the purpose of why I want to be a coach.
"So all I have to say to you guys is that thank you to all of you because you made this possible.
"In a difficult moment you turned it into the best week of my football career, believe in yourself because I do and the last thing I want to do as a coach is blame any of you in a difficult moment."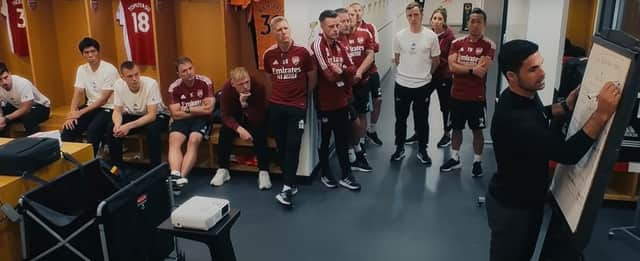 The players all applauded the Spaniard as he walked out of the dressing room.
Arteta has been quite transformative since taking over the managerial role at Arsenal.
Even though they missed out on Champions League football by the skin of their teeth, there is hope that the players and everyone at the club is pulling in the right direction.
Last season, Arsenal won an impressive 22 of their 38 Premier League games despite a slow start, losing their first three matches.
He became an instant favourite when he led the Gunners to win the FA Cup in his first few months at the club, becoming the first player to win it as a captain and a manager.
That victory was made much sweeter because they beat Chelsea, who were overwhelming favourites at Wembley.
In the off season, Arsenal have made some impressive signings, in particular bringing in Gabriel Jesus and Oleg Zinchenko from Arteta's former club Manchester City.
This year really is all or nothing for Arteta, as after being backed in the transfer market he must secure Champions League football.
New episodes in Amazon Prime's eight-part docuseries All or Nothing will launch each week from August 4 through to August 18 and tell the inside-story of Arsenal's rollercoaster 2021/22 season.