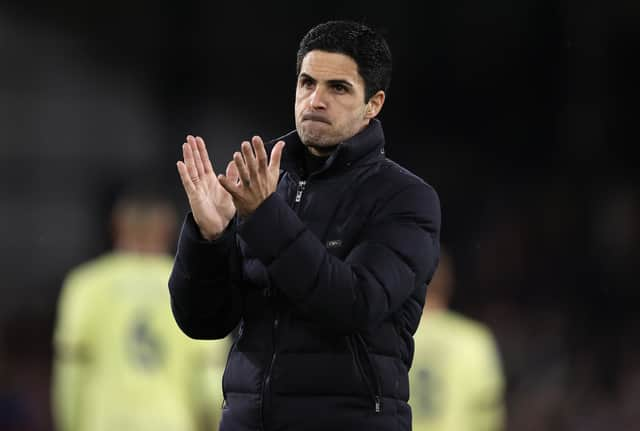 Speaking after Arsenal's 4-2 victory over Leicester City, which also marked their second win in two Premier League games, the Gunners boss was quick to pay tribute to the home side's supporters.
Puffing his cheeks when asked about the atmosphere, he said: "Every game we play it [the atmosphere] gets better and better. What the fans did after the Saliba own goal was something I've never seen before in my career. It really lifted William's confidence and it lifted the whole team."
The Arsenal faithful also rewarded the French centre back with his own song which sounded around the Emirates late in the game.
On the youngster, Arteta added that despite Saliba's error, he was more impressed by today's display than his dominant showing against Crystal Palace. "I'm happier with him today than I was against Crystal Palace. The way he performed after the mistake was incredible."
Although they didn't make it easy for themselves — giving away 2 cheap goals to the visitors — Arsenal were in fine attacking form. The interlinking between Bukayo Saka, Gabriel Jesus and Gabriel Martinelli proved a constant headache for the Leicester defence and the Gunners come away with 4 goals to show for their efforts.
So far this season they have looked sharper and more potent in attack, which is something Arteta puts partly down to the arrival of Jesus this summer.
"Having Jesus lifts the standards", he said. "The way he's training, the way he connects with his teammates. It's impressive to do that so quickly.
"We know what Gabi [Jesus] can do. As he said himself in the dressing room just now — he could've scored 4! I wouldn't like to play against him. I was never a defender but he is so mobile, so intuitive, so ready to play in every phase of the game. He's a real threat."
There is a feel-good factor around the Emirates early in the season. Arteta has worked extremely hard to rebuild what he saw as a disconnect in the relationship between the team and fans, and the impact of that work can be tangibly seen (and heard) in the atmosphere at the ground.
The Arsenal boss will be hoping that the supporters continue to spur his side on to wins in their upcoming matches in what is a vastly improved start to the season than the previous campaign.