Famous YouTube stars KSI and Logan Paul have announced that they are the new official hydration partners with Arsenal Football Club.
The duo came together to create a new energy drink, which is named 'PRIME' and the drink will now be available for fans to buy at the Emirates Stadium throughout the season, starting with their first home game against Leicester on 13 August.
KSI, who rose to fame filming videos of himself playing popular video game 'FIFA', used to have a long running feud with Paul, culminating in the two having a two-part fight in 2018 and 2019.
The former FIFA Youtuber and member of creator supergroup 'The Sidemen' won the second fight at The Staples Centre, which was broadcast by DAZN and garnered over 2.2 million viewers.
KSI teased a brand new announcement last week, taking to his official twitter page at 1:07pm on Thursday, 28 July to say: 'Less than one hour till one of my biggest announcements ever.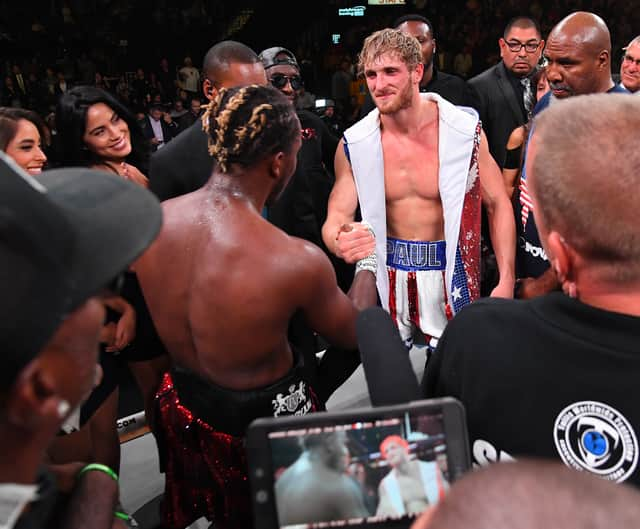 What is PRIME?
PRIME is an energy drink which is the product of a collaboration between Logan Paul and KSI. The drink comes available in a range of flavours that include orange, grape, ice pop, blue raspberry, lemon lime and tropical punch, each drink comes with added nutritional benefits to compliment taste.
PRIME has a coconut water base and boasts BCAA to aid muscle recovery, B vitamins, antioxidants, and electrolytes.
What did KSI say about the collaboration?
To Logan Paul, who is the older brother of fellow Youtube superstar Jake Paul, this might be another positive business venture.
But, to KSI, it's much more as he is a lifelong fan of the club. Speaking exclusively to the club, he said: "Honestly, I can't believe it, this is a childhood dream of mine.
"From watching Arsenal tear up the Premier League in the early 2000's to now being associated with Arsenal officially with PRIME, it's a dream come true and I'm still pinching myself! This is a huge moment and I'm so glad it's with the team I support."
What did Arsenal say?
Arsenal's Chief Commercial Officer, Juliet Slot, added: "We are always looking to join forces with new, exciting and forward-thinking brands. PRIME falls comfortably into that category, with a product and founders at the forefront of modern culture.
"KSI is a lifelong Arsenal supporter and it's fantastic we can keep this in the family. I'm sure our supporters will love the drink and I'm excited to see the fun ways we will bring this partnership to life."
What is the net worth of Logan Paul and KSI?
According to the website WealthyGorilla.com, thanks to Youtube, and many other ventures, KSI has a net worth of $25 million.
Meanwhile, according to Celebritynetworth.com, Logan Paul has a rumoured net worth that is almost double his business partner, with his standing around $45 million.
When is KSI fighting Alex Wassabi?
It's now less than a month before KSI's next fight, as he is taking on Alex Wassabi at The O2 Arena in London on Saturday, 27 August 2022.