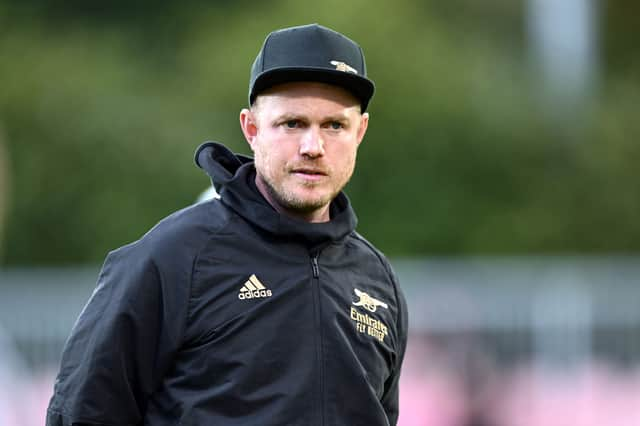 The Gunners will face title holders and eight-time victors Olympique Lyon, Serie A Champions and FC Zurich in the first round of the european competition.
There'll be plenty of needle as former Arsenal boss Joe Montemurro will return to north London as Juventus boss in one of three home games to be played out at the Emirates stadium.
In the same game, Arsenal summer signing Lina Hurtig will be fighting her former side, while ex-Gunners midfielder Daniëlle van de Donk will also face old friends when she visits with Olympique Lyonnais.
As Arsenal brace themselves to attempt to repeat their 2007 Champions League title win, fans have been reacting to the news that the Gunners face a difficult first hurdle:
@Sawitopen: Well, gotta beat the best anyway.
@Halbridious: Ouch, that is a brutal group. You never want to face Lyon early in the tournament, and Juve will be welcoming back your former coach, always a higher-than-usual energy level. BIG test for Arsenal this year.
@Arsenalamerica: Wow. Some epic clashes coming our way this year in the UWCL!
@Bigkimbofc: Jonas to slide tackle Joe when we beat Juve x
@Cechthis: Couldn't really get a more harder group.
@_social_vegan: Quite tough but we should be finishing 2nd best behind Lyon.
@Prasan_kumar: A tough group. Hope we get through!!
@Backtotrolling: Hope we bash Juve.
@Rads_Gooner: So we're facing the champions of Europe and we also get the Montemurro/Hurtig derby, tasty.
@Weeinthefandom: We're doomed.
@UdezukaChinenye: Tasty fixtures, spiced with some great reunions.
@gracevalliere: Not ideal methinks.
@Frayed_ends_: Ouch, that's a tough one.
@CascadiaGooners: Tough group, but isn't that the point of the Champion's League?
@Fidelotafiire: Not an easy group.
@Amakaothistle: Group of death, but it's nothing to us.
@Plainishnandos: I don't like this x
@MayDayAllDay3: Lyon will be really tough but the ladies can get out of this group and challenge!
@Feranmioj: Tough, very tough.
@Aarongfootball: Wow. Couldn't be much tougher. Looking forward to a reunion with Joe Montemurro!!
@Umerusman: Group of death.
@Iadenotnice: Very tough one. We need to get maximum points in all home games to stand a chance.