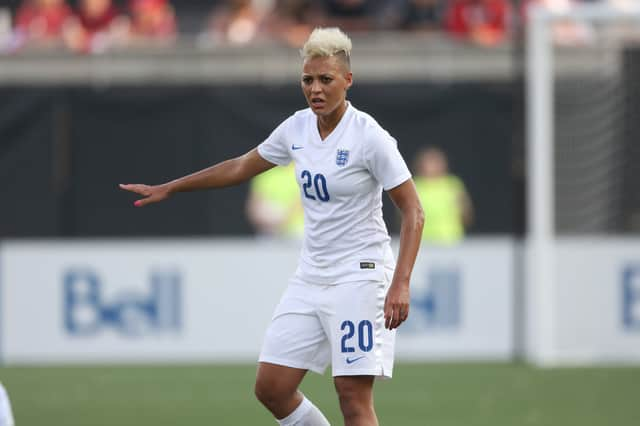 To mark the anniversary of the first England women's game, the FA invited over 100 former internationals to the Lionesses' friendly against world champions the United States of America at Wembley on Friday.
It was a momentous night for England football as Sarina Wiegman's side overcame rivals for next summer's World Cup on their first return to Wembley since their historic European Championship win in July.
At half time, the anniversary guests completed a lap of honour of the pitch while the big screens displayed the names of every player to represent England across the last five decades.
But former England striker Sanderson, who scored 15 goals across 50 appearances for her country between 2006 and 2015, was not among them.
On Friday night, the Londoner shared a social media update claiming that she had not been invited to the celebration.
'All I can say is I'm sick of the hurt the systematic abuse has caused me throughout the years," wrote Sanderson, who spent 11 years at Arsenal after joining the north London club aged nine.
"They forget about me before and many times before that and last night was just another example. All former Lionesses were invited to Wembley last night, got many souvenirs of their time playing for England, of which I'm happy for them about. Especially after raising this issue at the Houses of Parliament four years ago. When asked, 'what can the FA do?' My response, don't make former players feel they are forgotten about and I wasn't talking about myself. A lot of former players feel that way that played for England. Now look, everyone is invited accept [sic] me.
"That makes sense, I retired because a sport I loved so much wasn't showing me much love back. These are some of the reasons. Then to spell myname wrong in the programme and on the big sceen, they forgot about my 50th cap. So at least allow me some moments to be proud of. I've created a career in media myself, no hand outs or help from anyone after being ostractised for telling the truth and I will continue to do so.
"I'm happy all my former team mates enjoyed their evening, that makes me happy. But this had left me so upset yet again. Thank you to those that continue to support me. My circle is tight."
An FA spokesperson said: "We are sorry. We invited Lianne, along with more than 200 former players, to last night's celebrations but she didn't receive it.
"We have been in touch with her representatives to explain. We also apologise for her name being misspelt in the programme. With 50 caps, Lianne is an England great and deserves full recognition for the service she gave to the national team."