Arsenal fans will love the gesture that Beth Mead made after the final whistle in the North London Derby
For England and Arsenal star Beth Mead, the fun didn't stop after the referee blew the whistle to confirm that North London is red on Saturday afternoon.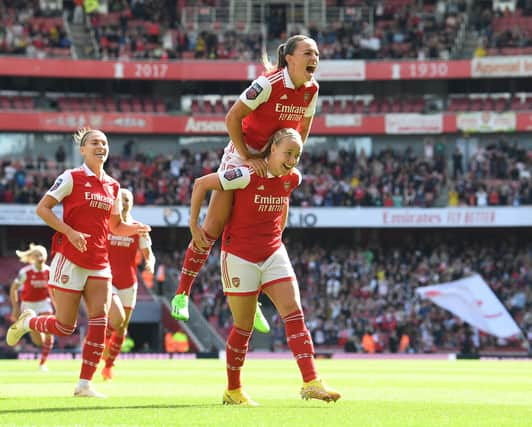 The 27-year-old had waited just five minutes to give her side the lead in the derby clash, from which Arsenal comfortably emerged victorious with a 4-0 win over Tottenham Hotspur in front of the largest ever Women's Super League crowd.
But as the 47,367 fans filtered out of the Emirates after the game's conclusion, spirits remained high among Jonas Eidevall's players.
With the squad milling about pitchside in an emptying stadium, Euro 2022 Golden Boot winner Mead found one of the referee's yellow cards on the grass and saw an opportunity to take a dig at one of her Arsenal teammates.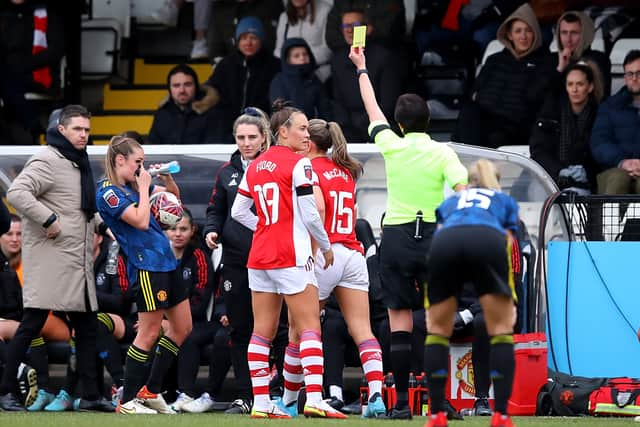 Last season, Gunners winger Katie McCabe claimed one of the less desirable WSL records - she was shown seven yellow cards in one campaign, more than any other player before her.
The Ireland international's discipline has become something of a running joke at Meadow Park, with Arsenal captain Kim Little even making light of the bookings in a recent social media challenge: "I'm passing the phone to someone who loves a yellow card."
One supporter of the North London side has set up a Twitter account dedicated to answering the question 'did Katie McCabe get a yellow card today?' on every single matchday.
So when Mead found a yellow card on the floor at the Emirates on Saturday - there was only one thing she could do with it.
After Mead showed McCabe the yellow card, the pair - who have played together at Arsenal for five years - shared a hug.