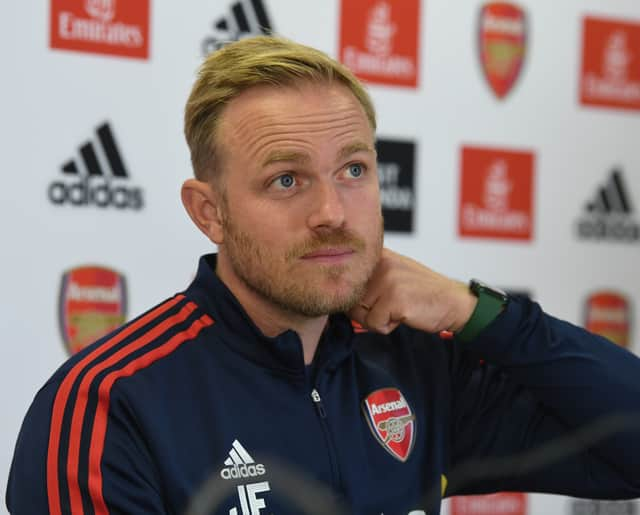 The Gunners forward won Golden Boot and Player of the Tournament as she fired in six goals and provided five assists on England's march to European Championship glory in July.
After a transformative summer for women's football, Arsenal return to action on Friday with their first Women's Super League game of the season against Brighton and Hove Albion, with Mead set to feature alongside fellow Lionesses star Leah Williamson.
In his pre-match press conference, Eidevall was quick to rebut suggestions that Mead's Euro 2022 successes have altered her performance in training.
"She brought the same intensity to the Euros as she had been doing with Arsenal, and she brings the same intensity back to Arsenal again now," Eidevall claimed.
The Whitby-born attacker's summer exploits followed a scintillating term at Meadow Park; Mead's 11 goals placed her third in the division's scoring charts and helped to earn her Arsenal's Player of the Season award.
Going forward, Eidevall insists that the right mentality is essential to maintaining her rich vein of form.
"Part of the mental strength needed to be an excellent footballer is to concentrate on the pitch and to remember that just because you have won something before or because someone has voted for you for something, that's great, it's an achievement - but you're not entitled to anything for it on the pitch for future games," Eidevall insisted.
"You still have to do everything from the beginning every time you go on the pitch.
"Every day, you have to earn your right to play. You don't get anything for free in football.
"And that's the mindset you have to have no matter how much you have won before or how many awards you've got. You have to start on the same page as everyone else."
In May, Eidevall's impressive first season as Arsenal boss ended in heartbreak as a final day win over West Ham United was not enough to usurp title-winners Chelsea, who clinched the top spot by just a one-point margin.
The 39-year-old has since brought in American 'keeper Kaylan Marckerse as back-up to Gunners number one Manuela Zinsberger and forward Lina Hurtig joins fellow Swedish international Stina Blackstenius in the Gunners' attacking line.
Teen Brazil star Gio Queiroz also became an Arsenal player this summer, but won't play under Eidevall until next year after joining Everton on loan.
If marginal gains are again set to play a significant role in the outcome of the 2022/2023 WSL season, Eidevall is disappointed not to have hit all of his transfer aims.
"I'm going to be very honest with this one here - ideally, I would have liked one more player, but it's always like this when you do transfers," Eidevall admitted.
"There are so many reasons why things can't go through, and our preference then was if we couldn't find the perfect fit in this window, then we'd rather do it in the next window, but it's not more than one player."