UK 'at risk' of wiping Second World War from memory as research shows 37% of Brits don't know when it happened
New research from SEGA Europe Limited has shown that 32% of Brits don't know that Sir Winston Churchill was Prime Minister during the Second World War.
Watch more of our videos on Shots! 
and live on Freeview channel 276
Visit Shots! now
New research on Brits understanding of the Second World War has led to concerns  the conflict could be wiped from memory. Research has revealed  37% of people don't know when the war took place.
The new research uncovered further knowledge gaps as  two in five (38%) Brits admit they don't know which countries went on to emerge victorious, while almost half (47%) are unaware it was Hitler's invasion of Poland which started the conflict. Shockingly, The Blitz is also an unfamiliar event with two in five (40%) oblivious to what it was, and 30% unaware that atomic bombs were used on Hiroshima and Nagasaki.
Despite almost half (45%) of Gen-Z admitting they would like to have a better knowledge of World War II, only a third (35%) have ever spoken to family and friends about what they experienced during the conflict. Indeed, only a quarter (23%) of 18-24-year-olds know what their relatives' job was during World War II, just a fifth (20%) know where they were stationed, and one in ten (10%) know whether they participated in any notable battles.
The research was carried out by SEGA ahead of the release of their new strategy game Company of Heroes. As part of the release of the game, SEGA and Relic Entertainment have teamed up with comedian and Second World War expert Al Murray to arrange for redeemable codes for the World War II strategy game to be delivered to fans using a specially trained homing pigeon called CoHdy.
During both the First and Second World Wars, carrier pigeons played a key role in sending messages across the battlefield. Now, with the help of Birds for Film, the company which has trained animals for productions such as Harry Potter, Sherlock Holmes and The Crown, this method of communication will be used once again to ensure the franchise's biggest fan receives the third instalment before anyone else.
Al Murray, comedian and host of the Second World War podcast We Have Ways of Making You Talk, said: "As someone who is passionate about the Second World War and a huge fan of the franchise so far, I jumped at the opportunity to help SEGA launch Company of Heroes 3.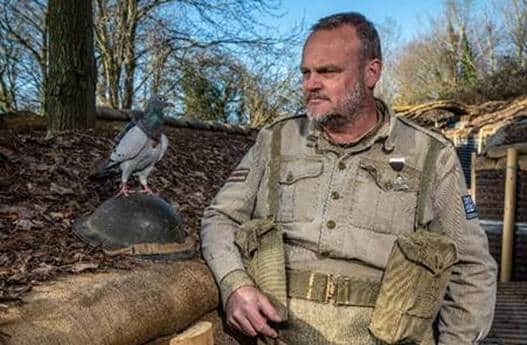 "As we have less direct contact with those who experienced the war first-hand, it's important that we seek other ways to improve our knowledge and prevent the harsh lessons that were learned during the Second World War from being forgotten. It was a unique experience to create a delivery service using homing pigeons, and we must remember that 32 of the feathered animals were awarded medals to recognise everything they endured during the war. I'm excited for fans to see more!"