Nitrous Oxide side effects: heavy use of laughing gas could lead to spinal damage warn doctors - here's how
According to British Medical Journal (BMJ), around half a million people take nitrous oxide, but 'heavy' use of the second most popular drug after cannabis could lead to spinal damage
Watch more of our videos on Shots! 
and live on Freeview channel 276
Visit Shots! now
Heavy use of nitrous oxide can lead to a vitamin deficiency that damages nerves in the spinal cord, according to a team at the Royal London Hospital. The team says medics need to be on alert and claim they have been seeing a new case involving spinal damage and nitrous oxide almost every week.
Nitrous oxide, often referred to as 'laughing gas' is sold in metal canisters, and is one of the most used drugs by 16-24 year-olds.  Doctors at a hospital in East London having drawn up a treatment guideline for colleagues after '"seeing so many risky cases of laughing gas misuse".
The patients who are affected by the drug in this way presented  with nerve-related symptoms - being unable to walk, falling over or experiencing tingling or loss of sensation in their feet and hands.
This comes as statistics from the Office for National Statistics (ONS) show that in the year ending June 2022, 1.3 percent of adults aged 16 to 59 years and 3.9 percent of adults aged 16 to 24 years had used nitrous oxide, this is equivalent to around 444,000 and 230,000 individuals, respectively.
Nitrous oxide can damage the nervous system by interfering with the metabolism of vitamin B12. According to the BBC, "This damages a protective layer on nerves, typically those in the rear of the spine".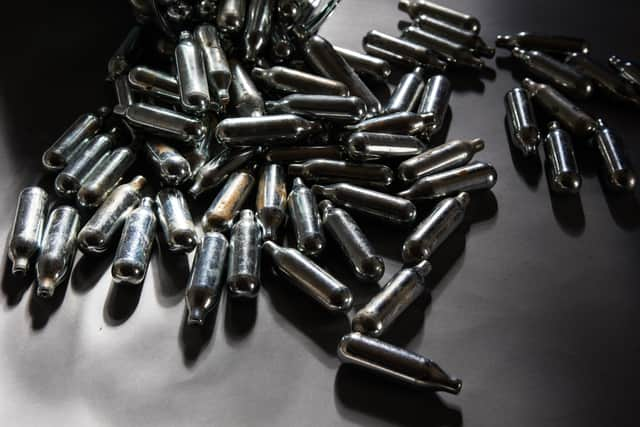 Professor Alastair Noyce, a consultant neurologist at Queen Mary University of London, told BBC News: "These are young people we are seeing - teenagers and people in their 20s. What's striking now is the severity. We've seen that increase over the last 12 months or so."