Neurologist claims nitrous oxide is 'more dangerous than cocaine' but supports decision to not ban the drug
The doctor also said that use of nitrous oxide has 'skyrocketed' since the pandemic - after it was revealed to be the most commonly-used drug in 16-24 year olds
Watch more of our videos on Shots! 
and live on Freeview channel 276
Visit Shots! now
A neurologist has claimed that nitrous oxide - often referred to as 'laughing gas' is "more dangerous than cocaine", with some people reportedly consuming more than 150 canisters per day.
This comes as the government says the substance is one of the most commonly-used drugs among 16-24 year olds in England. Nitrous oxide is dispensed into balloons, and when inhaled, reportedly gives off a feeling of relaxation and euphoria.
But, heavy use of laughing gas can lead to a range of side effects which include dizziness, weakness in the legs and impaired memory with one doctor saying nitrous oxide is "a bigger health risk than cocaine".
That is Dr David Nicholl, consultant neurologist and clinical lead at City Hospital in Birmingham said use of nitrous oxide has 'skyrocketed' since the pandemic. He also went on to say that he now sees more patients struggling with side effects of 'nos' than cocaine abuse.
Dr Nicholl said: "I've been a neurologist for 21 years and have seen a definite change in how it's being used, since the pandemic. Compared to before, now the volumes of nitrous oxide being consumed can be quite terrifying – up to 150 cylinders per day.
"It's perceived as safe – and terms like 'laughing gas' are especially unhelpful because it makes it sound trivial. But the stuff bought on the street is pure nitrous oxide and not safe for human consumption. It is not the same substance used in hospitals, and it is toxic."
Despite this, Dr Nicholl was supportive of the decision made by the UK's drug advisory panel not to ban nitrous oxide stating the best approach to curbing nitrous oxide use is through education and targeting the supply chain.
"A ban is the wrong approach," he said. "In what way are we solving the problem by criminalising a 16-year-old with a couple of whip-its and a balloon on the street? All we would do is drive it underground.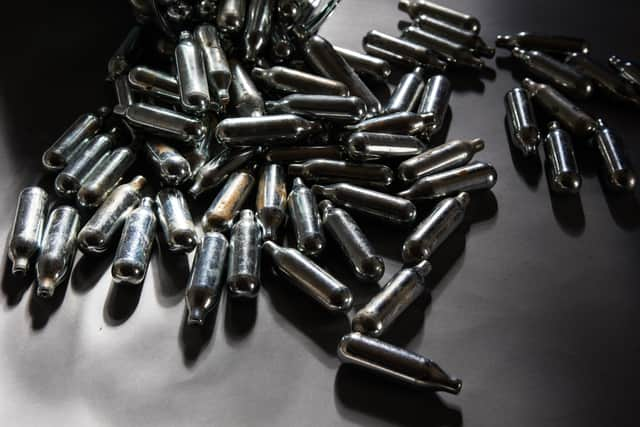 "Restricted distribution is what's recommended - what we need to do is target the supply chain, but you do still need a caveat for some kind of legitimate use. And we should be focusing on education so people are more aware of how dangerous it is when sold and used recreationally."