Michael Schumacher's family plan legal action after AI interview with seven-time F1 Champion
An 'exclusive' interview has appeared in a German magazine despite Michael Schumacher not being in public since 2013
Watch more of our videos on Shots! 
and live on Freeview channel 276
Visit Shots! now
The family of Michael Schumacher plans to take legal action against a German magazine after it ran an AI-generated interview with the former Formula 1 champion. The German tabloid Die Aktuelle ran a front page spread that promised an 'exclusive' interview with the driver who has not been seen since 2013.
The seven-time world champion, 54, suffered a serious brain injury after a skiing accident during a family holiday in the French Alps in December 2013. Schumacher was then placed into an induced coma before being brought back to his home in September 2014, with his family choosing to keep his medical condition private.
Die Aktuelle had claimed to have the first interview with the Ferrari driver, promising fans: "No meagre, nebulous half-sentences from friends. But answers from him!" with a strapline adding: "It sounded deceptively real."
Supposed quotes by the F1 legend read: "My life has completely changed since [the accident]. That was a horrible time for my wife, my children and the whole family. I was so badly injured that I lay for months in a kind of artificial coma, because otherwise my body couldn't have dealt with it all."
After the 'interview' it was revealed that the article had been generated using an AI chatbot, with the Schumacher family telling Reuters that legal action will be taken. The driver's family have worked hard to protect Schumacher's privacy with access limited to those closest to him.
Schumacher is believed to be at his family home in Switzerland with his wife Corinna Schumacher sharing in a 2021 Netflix documentary: "We live together at home. We do therapy. We do everything we can to make Michael better and to make sure he's comfortable, and to simply make him feel our family, our bond."
Corinna also said: "We're trying to carry on as a family, the way Michael liked it and still does. And we are getting on with our lives." before adding: "'Private is private', as he always said. It's very important to me that he can continue to enjoy his private life as much as possible. Michael always protected us, and now we are protecting Michael."
This is not the first time Die Aktuelle has gotten into hot water with the Schumacher family - in 2014 it posted a picture of Micheal and his wife on their front cover with the headline "Awake". The piece instead covered people who had previously awoken from comas in the past.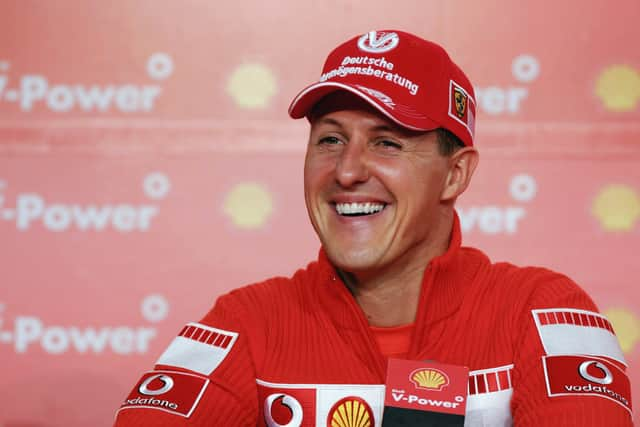 In 2015, the tabloid magazine won a legal case against the family after publishing a front cover claiming that Corinna had found "a new love", only for the article to actually cover the driver's daughter Gina.
Michael Schumacher's son Mick is currently the Mercedes reserve driver in Formula 1, joining Lewis Hamilton who shares the record of world titles won by the German. Mick previously drove for Haas in 2021 and 2022 but lost his seat to Nico Hülkenberg for the 2023 season.