Watch: England fans all over the country roar with pride as Lionesses reach first ever World Cup final
England fans roared with pride as the Lionesses reached the World Cup final for the first time.
Watch more of our videos on Shots! 
and live on Freeview channel 276
Visit Shots! now
Hundreds of supporters gathered at Boxpark in Croydon, south London, to watch along with millions on telly as England beat hosts Australia 3-1. Each England goal was greeted with a huge roar at the steaming venue.
George Cross-clad adults had the beer pitchers out for the 11am kick off. Many fans praised the women's game's family-friendly inclusivity compared to men's football.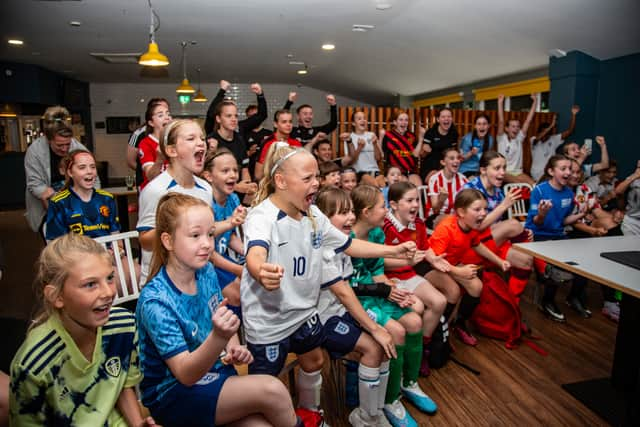 Boxpark staff estimated 800 turned up for the £10-a-ticket event, complete with a food voucher for the same price. England's Ella Toone opened the scoring on 36 minutes to give the Lionesses a half-timelead.
Aussie superstar Sam Kerr drew the Matildas level on 63 minutes. But Lauren Hemp gave the Lionesses back the lead before Alessia Russo sealed Engalnd's passage to Sunday's final where they will meet Spain.
As hundreds cheered the full-time whistle at Boxpark married couple Anna and Nina McNamara-Tolleret were ecstatically waving their flag. Anna, 40, from Beckenham, south east London, said: "I'm so proud of the England team.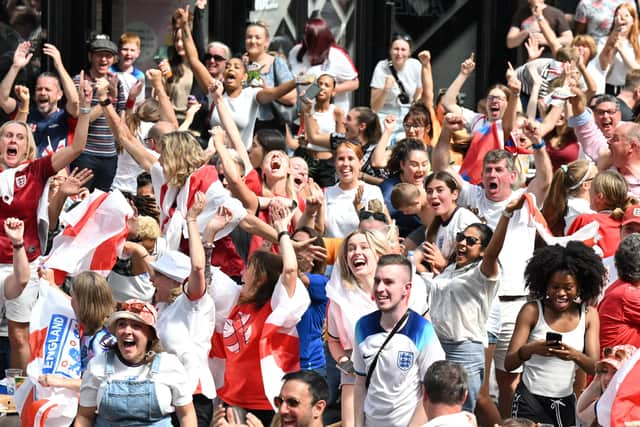 "I think they did amazing – I knew they would do it, I didn't think it would be this good. We watched the Euros, we've been watching it this year – I can't even pick my best player, every player was outstanding. They've done so well, they're brilliant."
Her 31-year-old wife Nina is from Paris, France, but said she was overjoyed the Lionesses had won - despite being French. She said: "I'm so proud of England, honestly, great game. Well done Russo."
Milly Jones, 27, met all of her friends playing in the Nottingham Trent University football team. The ex-Brighton player, who now works in the police, said: "I'm so proud of them.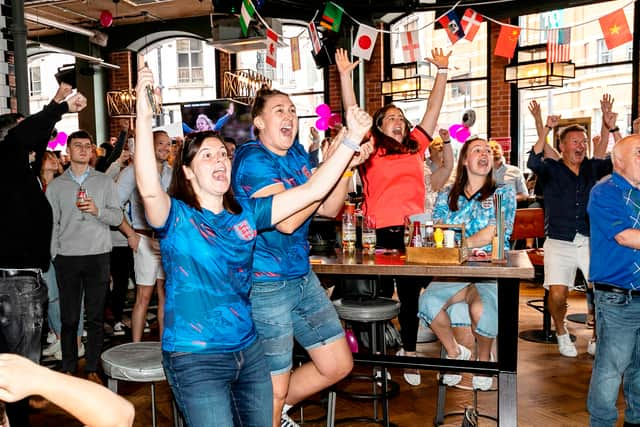 "They won the Euros, we thought they couldn't do it again, then here we are – yes, let's go! We all used to play, but when we were younger there was no room for it.
"There was no career, and you've got these girls now showing what they can do – it's amazing. Everything they put into it, their families, we love them. It just represents everything you can do – we're just so, so proud.
"You don't pursue it for the money, they've done it because they love it, they love the sport, they love the game." Her friend Chloe Greer, 26, who used to play for Chelsea FC and now works for supermarket chain Lidl, added: "I knew we would do it, but it is so nice."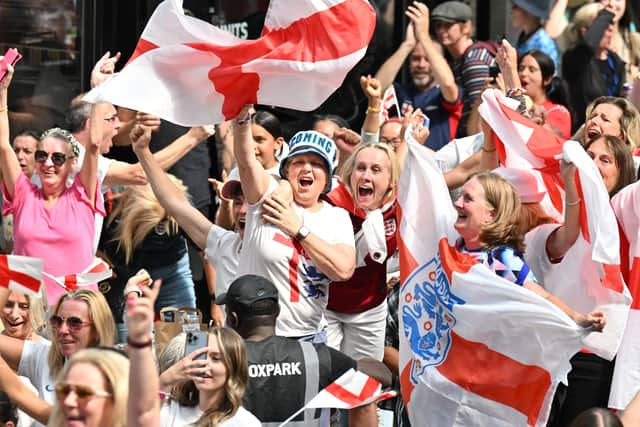 The pair were joined by pal Tia Standen, 26, also from Brighton, who is a teacher and "plays football in the park." Three families met in the Box Park queue today and became pals during the game.
The Allens, the Adamsons, and the Charlesworths all unexpectedly watched the box park game together, making three generations of fans.
Jill Adamson, a 58-year-old science technician, originally from Fife in Scotland but who now lives in Orpington, south east London, said: "They played brilliant, they played absolutely brilliant.
"The whole team played the best. It's going to come home." Helen Charlesworth, 48, said she has been following women's football since 2011.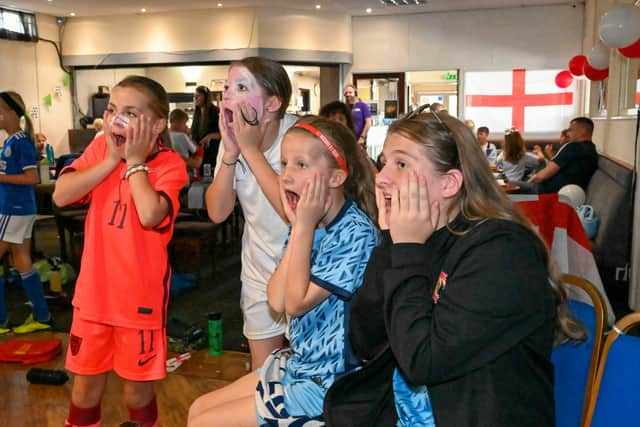 The mum from Orpington, Kent, said: "We've been to France, Holland, this is the first one we've not been to, but this is the next best thing. They taught young people they can follow in their footsteps."
With an England flag painted on his chest, seven-year-old Arlo Allen repeatedly shouted: "It's coming home." His 16-year-old sister Lily Allen said: "It's coming home! It's amazing watching women play, especially being a girl, you realise you could achieve what they've achieved."
The Allen family, who live near Heathrow Airport, turned up to watch the big match with their mum, Chloe Allen, 36, who is a finance officer. Complaints manager Steph Wallis said she has used up all her annual leave to follow the World Cup, and hasn't missed a game.
Speaking before kick-off, 54 year old Crystal Palace fan has supported the Lionesses since the team was created, and has always followed CPFC's women's squad. Ms Wallis said she followed the England squad through top-scorer Farrah Williams' career, which began when the now-39-year-old was 17, in 2001.
She said: "We've been following the Lionesses since they began, years. When it was Fara Williams, that team, always. Followed it all the way through the Euros - I haven't missed a match. All my annual leave is going on this, so they better win.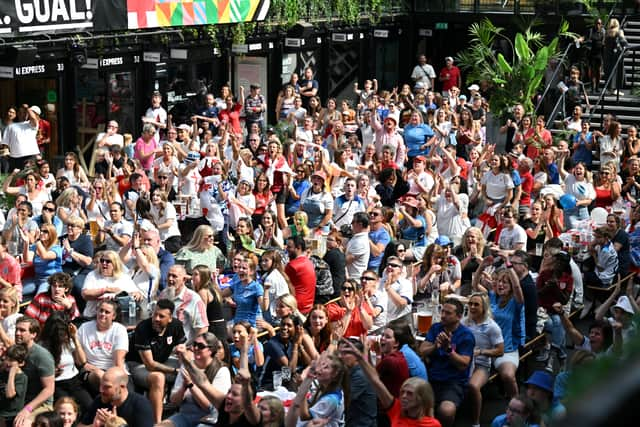 "I think we showed a bit of flare for the China match, I think all the rest of the games have been quite cagey, quite disciplined, just done what we've needed to do really. Some of the teams we haven't played before, so we don't know what to expect."
"Because it's a women's team in particular, I've always followed Crystal Palace women's team, so to watch a girls team it feels emotional almost."
Gesturing at her heart, she said: "I put everything into the boys team, don't get me wrong, but to have your own team gets you there."
Her friend and fellow long-term football fan Angela Brooks, 47, said seeing the women play is inspiring future generations of boys and girls. The consultant engineer - who, like Ms Wallis, lives in Croydon, said: "We've been coming for years, we all came through the Euros, everything.
"It's a great environment, it's a family environment, but it's also showing from boys to girls that you can do anything, you can achieve your goals - look ahead and you could achieve your goals. They didn't know they were going to be playing for England when they were first kicking about. Now look at them: they're amazing."