EasyJet Pilot Training Scheme: Airline to recruit 200 aspiring aviators - how to apply
EasyJet is looking to recruit its next generation of pilots - and you can graduate in just two years
Watch more of our videos on Shots! 
and live on Freeview channel 276
Visit Shots! now
Easyjet is on the lookout for its next generation of pilots to train and take charge of the airline's commercial flights in the coming years. The airline wants to recruit 200 aspiring aviators to undergo extensive training to graduate in just two years.
To apply for the Generation easyJet Pilot Training Programme, hopefuls will need to be aged 18 or over by the time they begin training and will need to provide certificates demonstrating they have passed the High School/Secondary School exams for Maths / English / any Science, along with two other subjects. The training programme will take successful recruits from little or no flying experience, to operating a commercial passenger jet in around two years with its intensive, industry-leading training course.
Captain David Morgan, Chief Operating Officer for easyJet, said: "We are delighted to have opened applications for this year's Generation easyJet Pilot Training Programme 2023 as part of our plan to recruit and train 1,000 new pilots by 2027.
"Ensuring we attract a diverse pipeline of people to join us and that they thrive as part of the easyJet team is crucial and so it remains a priority for us to challenge gender stereotypes of the career to encourage more women to choose a career as a pilot. While we are proud to have doubled the number of women flying with us in recent years, we know there is always more to be done to increase diversity in all of its forms in the flight deck and so we are committed to continue leading the industry in this direction.
"We are excited to welcome the next generation of pilots to easyJet in the coming months and years and look forward to seeing them soar to new heights."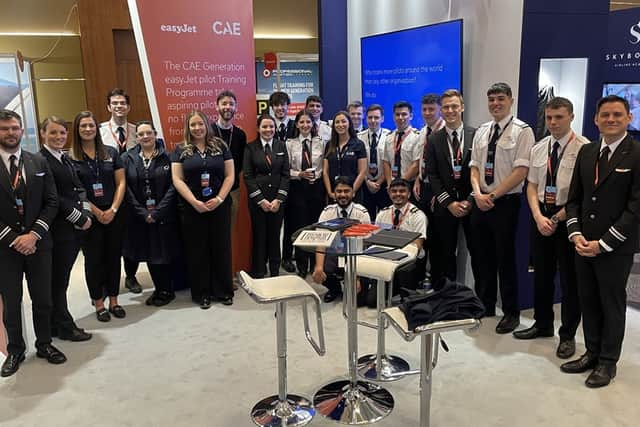 The Generation easyJet Pilot Training Programme is delivered in partnership with CAE and provides airline pilots the highest standards of training to become qualified commercial airline pilots. Ground training is delivered at CAE's European aviation academy locations in Gatwick, Milan, Brussels, or Madrid, and flight training at CAE Phoenix in the US.
Nick Leontidis, CAE's Group President, Civil Aviation said: "We look forward to training the next generation of easyJet pilots at CAE locations in Europe later this year.
"The Generation easyJet Pilot Training Programme provides an opportunity for aspiring pilots to realise their dream of a career in the flight deck. We are especially proud that our CAE Women in Flight partnership with easyJet is encouraging more women to reach for the sky and become airline pilots."
Upon successful completion of the programme, graduates begin their careers flying as Second Officers with easyJet. With still only around 6% of pilots worldwide being women, easyJet has been focused on tackling this industry-wide gender imbalance head-on, by encouraging more women to join its cadet pilot programme.
EasyJet pilot scheme - how to apply