Mystery as every vehicle in station car park given parking tickets - 'baffled' drivers search for explanation
The photo shows rows and rows of cars with yellow tickets attached to their windscreens
Watch more of our videos on Shots! 
and live on Freeview channel 276
Visit Shots! now
One inquisitive local has sparked an online investigation after all the vehicles in a car park were issued with parking fines. The eye-catching photo, published to Reddit's r/casualUK community, shows rows and rows of cars with yellow tickets attached to their windscreens.
The photo was appeared to have been taken outside High Wycombe Station, Buckinghamshire, with the person who shared the shocking car park snap joking that the traffic officer had certainly 'made his bonus' and that the scene looked more like "the discount aisle in Waitrose".
While traffic wardens often get a bad rep for being generous with parking fines, the Reddit community were shocked at how this could happen to so many drivers at once. The widespread confusion led to a number of theories from users looking to explain the baffling event.
One user wrote: "I'm gonna go with computer malfunction. I bet they all paid via the app, but the warden's app hasn't synced properly, so he's gone all parking Pataweyo on them."
While another asked: "I'd like to know reasoning. Perhaps a broken ticket machine for months and then suddenly they fixed it at 11am once everyone was already parked and at work?"
More creative theories poured in with one user suggesting the fines are actually 'creative marketing flyers' and another remarked that parking rules could have 'changed from being free'.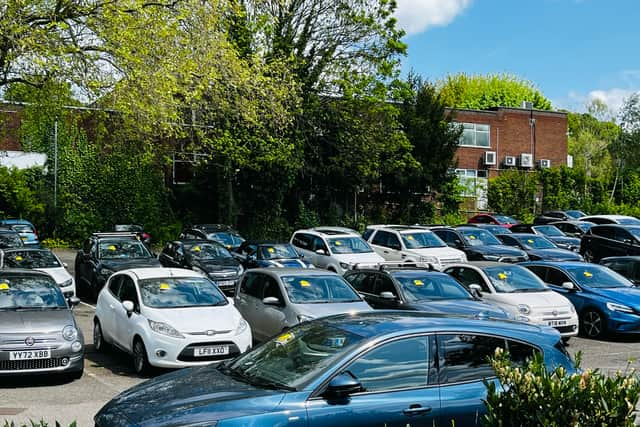 After reaching out to Buckinghamshire Council for comment, the local authority told National World it will reverse all the PCNs after an error was made in closing the whole car park to install new EV charging bays.
Councillor Steven Broadbent, Buckinghamshire Council's Cabinet Member for Transport said: "We want to apologise to the people who parked at Railway Place and Duke Street car parks in High Wycombe this week and who received parking tickets during a closure of the car park.
"Whilst we do enforce parking across the county these tickets should not have been issued and we will be reversing the parking tickets (PCNs) to everyone who received them."
He continued: "Only a small number of parking bays should have been closed to install the brand new EV charging bays rather than the whole car park and we did not give our customers enough notice of this action. We are sorry for any inconvenience and upset caused.
"Anyone who has been ticketed should take no further action as the notices will be cancelled, and anyone who has already paid the PCN charge will be refunded"