Commonwealth Day 2023: What it is, this year's theme and how people will be celebrating around the world
Commonwealth Day is a worldwide annual celebration of the Commonwealth - here's what it's all about
Watch more of our videos on Shots! 
and live on Freeview channel 276
Visit Shots! now
Commonwealth Day 2023 is here, and events will take place around the world to mark the occasion. The day celebrates everything to do with the Commonwealth, which represents around 2.5 billion people.
The origins of the Commonwealth date back to the days of the British Empire. However, it remains an organisation which nations can still join and be a part of.
The origins of Commonwealth Day can be traced back to Empire Day, which was first held in 1902 and started by Queen Victoria. Commonwealth Day in its current form has been marked every year since 1977.
The last two countries to join the Commonwealth were Gabon and Togo in 2022. The values and principles of the Commonwealth are expressed in the Commonwealth Charter.
Commonwealth Day starts a week-long run of events around the world which mark the special occasion. Events include faith and civic gatherings, debates, school assemblies, flag-raising ceremonies and cultural events.
Commonwealth Day 2023 is particularly special as it marks the tenth anniversary of the signing of the Commonwealth Charter, which was signed by Her late Majesty Queen Elizabeth II on March 11, 2013. This is the first Commonwealth Day since Her Majesty's passing, and the first presided over by His Majesty King Charles III as King and Head of the Commonwealth.
Each year, Commonwealth Day has a theme. In 2023 the theme is 'Forging a sustainable and peaceful common future'. This theme combines the active commitment of member states to support the promotion of peace, prosperity and sustainability, especially through climate action, so as to secure a better future for our young people and improve the lives of all Commonwealth citizens.
In her Commonwealth Day 2023 message, Commonwealth Secretary-General,  Patricia Scotland, said: "We gather as a Family of Nations to celebrate Commonwealth Day for the first time since the passing of Her Majesty Queen Elizabeth II.
"Her Majesty was a remarkable person, who lived a remarkable life. Through her seven decades of service as Head of the Commonwealth, in a rapidly changing world, she was the epitome of duty, stability, wisdom and grace. Her late Majesty loved the Commonwealth, and the Commonwealth loved her.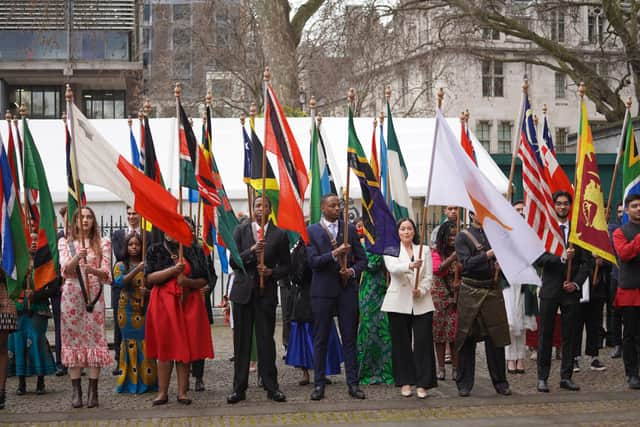 "In our sadness at her passing, our admiration for all that she was, and our enduring gratitude for all that she gave us, we can all take heart from the fact that her vision for the Commonwealth, as an equal partnership of nations and races, has come to fruition.
"As we look to the challenges and opportunities of the world today, and seek to shape our common future, we warmly welcome His Majesty King Charles III for his first Commonwealth Day as the new Head of the Commonwealth."