Pitchfork Music Festival: Sleater-Kinney review and setlist - Sorry, Just Mustard, Snõõper, M(h)aol
Sleater-Kinney headlined the Roundhouse in Camden on Friday while a Dalston Takeover on Saturday featured Porridge Radio, Sorry and Just Mustard.
Watch more of our videos on Shots! 
and live on Freeview channel 276
Visit Shots! now
And a packed weekend schedule included Porridge Radio, Sleater-Kinney, Kara Jackson and Weyes Blood.
Sleater Kinney review - Roundhouse (Friday)
I must confess, Sleater-Kinney passed me by first time around, in the 1990s, and it wasn't until they returned with No Cities To Love in 2015 that I got on board.
That album came with two great singles in the title track and Bury Our Friends. Both of them were rolled out at the Roundhouse and the latter in particular is a barnstormer: "Exhume our idols and bury our friends. We're wild and weary but we won't give in."
As a latecomer to the cult of Kinney I've perhaps not appreciated what idols they are to many.
Rising out of the 'Riot Grrrl' of their home city of Olympia, Washington, the trio of Corin Tucker, Carrie Brownstein and Janey Weiss became one of its biggest successes.
Weiss left in 2019 but Tucker and Brownstein currently lead a five-piece all-female line-up, which brought a set spanning nearly 20 years to the Pitchfork festival.
There are cheers for Dig Me Out's One More Hour and Dig Me Out itself, but there's an even bigger applause for Dance Song '97. The song was covered by Low for a 25th anniversary album, and it is that version that Sleater-Kinney performed at the Roundhouse, remembering Low's Mimi Parker, who died in the summer.
"This is the way the song was supposed to be played and written - and we thank Low for doing that." Four tracks are performed from the brilliant The Woods (2005). Jumpers, What's Mine is Yours and Entertain are powerhouses, while Modern Girl is sublime, somehow bouncy and tearful.
Sleater-Kinney have always been a socially conscious band, and they call on the audience to join a march in London on Saturday in central London calling for peace ("It's just wrong on any side - innocent people being killed"). They're far from the only band over the weekend with world events in their thoughts.
Opening song Hell ("Hell don't have no future, hell don't have no doubt, hell is just a place that we can't seem to live without") and new single Say It Like You Mean It ("Go softly with me, my heart is raw") speak of troubled minds, but the latter is also an uplifting new indie classic.
"I wanna give you everything because I don't know how long I'm going to be here, and I don't know how long you're going to be here," Brownstein tells the audience.
Standout track: Say It Like You Mean It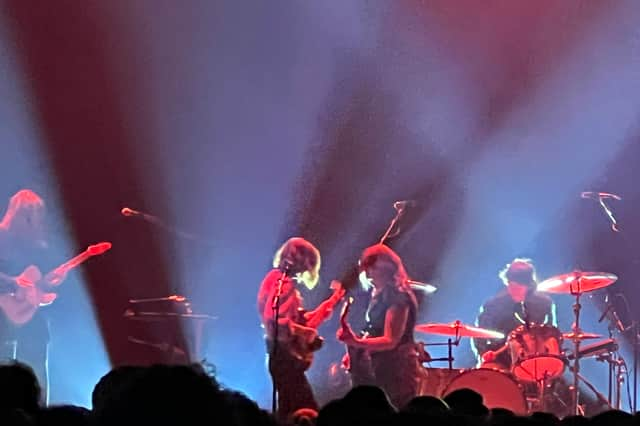 Sleater-Kinney setlist at the Roundhouse
Hell
The Center Won't Hold
Oh!
Price Tag
Worry With You
Jumpers
Bury Our Friends
One More Hour
Ironclad
Dance Song '97 (Low version)
What's Mine Is Yours
Hurry On Home
No Cities to Love
Shadow Town
A New Wave
Say It Like You Mean It
Entertain
Modern Girl
Dig Me Out
Sorry - Earth Theatre (Saturday)
North London's Sorry beefed up their sound with a string section, adding to the sense of occasion and giving the gig something of a homecoming feel, the seated audience rising to form a dancefloor.
Standout track: Starstruck
Just Mustard - Earth Theatre (Saturday)
Already with some beautiful recordings under their belt, I'm convinced Just Mustard will release an absolute classic alternative album at some point. Their expansive sound is made for Earth's theatre.
Black Belt Eagle Scout - Roundhouse (Friday)
Swinomish/Iñupiaq singer-songwriter Katherine Paul has charisma and warm manner that helps her mellow, jangly indie win the crowd over.
Standout track: Never Give Up
Snõõper - Roundhouse studio (Friday)
Full-throttle and thrilling hardcore in shell suits and big hair, bigged up by Henry Rollins ("megadose of extremely cool and unique songs"). On this evidence, debut album Super Snõõper is worth investing the time in (22 mins 58 sec).
Standout track: Bed Bugs (I'm pretty sure it was in there)
M(h)aol - Roundhouse studio (Friday)
The feminist, experimental post punk outfit released the disjointed and excellent album Attachment Styles earlier this year, and it has struck a chord, judging by the reaction of the crowd in the Roundhouse's studio.
Standout track: New song Jack Douglas
RVG - Roundhouse studio (Friday)
RVG's emotionally charged indie epics meet their zenith with the wonderful closer That's All, which wraps up their 2018 album A Quality of Mercy.
Standout track: That's All