With strike action returning to universities this week, employers have made offers on pay, working conditions and pensions.
The University and College Union (UCU) says around 70,000 members are taking action at about 150 locations on March 15, 16, 17, 20, 21 and 22.
The university staff join striking workers across sectors including rail, Tube and education.
On Wednesday (March 15) UCU said new offers on the table pave the way for the Universities Superannuation Scheme (USS) pension to be restored by April 2024. It said changes included would end the use of involuntary zero-hour contracts in higher education; mean new standards, frameworks and principles to tackle other forms of casualised contracts; reduce workloads; and close equality pay gaps.
The union said strikes will continue while members are asked whether they wish to stand down action to formally consider the offer. The union's higher education committee meets Friday to decide next steps.
The University and College Union (UCU)
UCU general secretary Jo Grady said: "Today, on our 10th day of strike action and after weeks of intensive negotiations, university employers have finally agreed to put forward a set of proposals on pay, conditions and pensions. This breakthrough is down to the strength, determination and sacrifice of university workers who have stood on picket lines.
"The proposals will now move through our union's democratic processes, and strike action will continue until our 70,000 UCU members have had the chance to have their say."
Universities and Colleges Employers' Association (UCEA)
Raj Jethwa, cheif executive of the UCEA, said: "We welcome this important progress following the constructive meetings and genuine determination from all parties to conclude the terms of reference for the priority issues of the pay spine restructuring, workload issues, contract types and pay gaps negotiations.
"Despite ongoing strike action attempts and further threats of disruption, employers have remained committed to these talks over essential terms of reference for key non-pay issues. This follows employers' commitment to early implementation of the pay uplift. While addressing issues raised by the unions, we very much hope this work will build on the extensive good practice which already exists in the sector. As discussed in our meeting yesterday, we have also scheduled a meeting of the UCEA Board this Thursday to consider and sign-off these ToRs on behalf of participating employers."
The striking workers
We spoke to one London graduate teaching assistant about the reasons for the action.
Why are you striking?
"We're striking for various reasons. The main national reasons are to do with cuts to lecture pensions. It's also to do with the increased precarity and casualisation of contracts. It is very difficult to get long-term contracts. A lot of people are teaching zero-hours contracts which we think is not very good.
"Pay has been going down in real terms since fees were introduced, which is obviously opposite to the amount of money that the universities have since fees have been introduced. They're getting richer and less of that is coming to lecturers.
"I'm not a lecturer, but PhD student who teaches. I'm a graduate teaching assistant.
"There are also workload issues, as the university take on more people but don't increase staff numbers.
"Your classes get bigger - and that means if you've got 25 students that you teach and they'll email you with questions, that's very different to if you have 100 students email you."
He said there remain gender, race and disability pay gaps.
"Strike action is the last resort. We would all rather be teaching but in a tenable situation. It's reaching a situation where drastic action needs to be taken and striking is one of the few ways in which we can really show our value to the university by withdrawing that and causing disruption."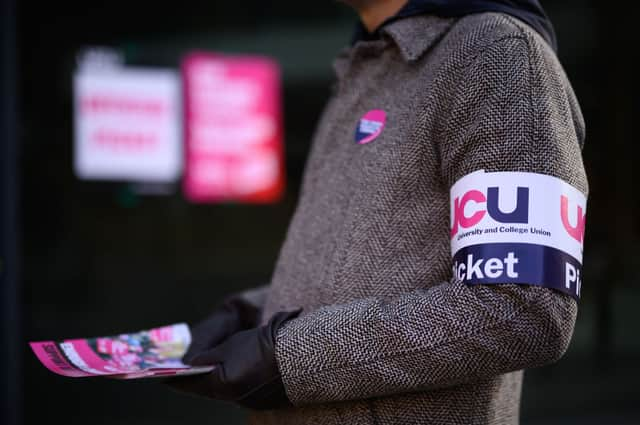 How do you feel about your working conditions?
"Frustrated. I did a lot of teaching last term for one of my modules. It wasn't in my contract, but in the blurb that we got sent it said that every person in my position in this department would mark 40 pieces of coursework. I went through the whole term presuming that would be the case, went through all the training, and then when it came to post-Christmas marking, I emailed to ask what my allocation and was and I was told 'oh no, you are not doing any marking for this department' without any warning. Immediately, that's a month's rent.
"I was pointed to a clause in my contract, which is very difficult to access and is slightly masked, which said that it's possible that I might not be given marking, which is frustrating.
"My employers are legally watertight on that, but I think one of the things that I feel, and which I voiced to the university and I think others have voiced, is that the legal minimum should not be what an employer should be aiming for. They should be aiming to provide something that's fair and good for their employees rather than what they can get away with.
"Often it feels that's what we are being faced with, which is frustrating. Really I think the quality of teaching and the quality of work is so impacted by being in a precarious situation or being undervalued by your employers."
Do you feel undervalued yourself?
"Yeah, I'd say so. The lecturers who run the modules that I teach on stuff are very good at thanking us for our work. But it's all well and good having nice words. One way in which it's nice to be valued is to be paid properly and to be treated as an employee rather than someone they can pick up and put down at their convenience."
They added: "In most salary jobs, your pay is consistent and over a year whereas ours we don't get anything over Christmas. We get the statutory holiday pay, but it's not a reliable source of income by any means. Most people are having to use it to top up other part-time jobs. In our position it is basically zero hours. If you have a month over Christmas, the last time you're paid is the last time you're taught, so you need to plan your budget because for a few weeks there won't be any money entering your bank account. Most people go poor through June, July, August because there's no teaching.
What is the best outcome for the strikes?
The strike is targeting quite a few different things: the pension issue, which is annoyingly complicated could be quite easily resolved. The university or the company that manages pensions could make a decision to return our pensions to what they were.
"In terms of equality of pay, we want those imbalances to be balanced.
"In terms of precarity, we want proper fixed contracts rather than zero-hours contracts and to be paid for the amount of work we are actually putting into our teaching, rather than a largely arbitrary framework that's being devised and pay rises to make up for those cuts."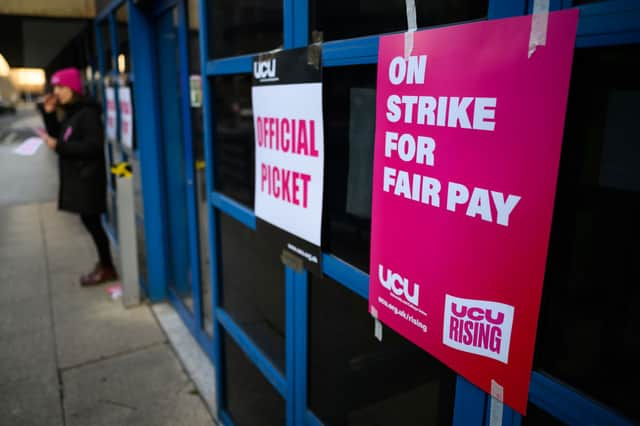 What do you say to students?
"We're lucky in that a lot of ours are very understanding. I think they understand why we do it. I think the union and staff have done well to highlight the link between our working conditions and the conditions in which they learn. If our working conditions are terrible, that has a big impact on their education and the quality of their teaching.
"I think they should be angry and I think that if they're not angry and if they don't express their anger, then we're not striking for anything.
"So it's good that we have the support, but also it's legitimate that they feel that. They are giving loads of money away for their studies and they should be angry."